Gay Today
CD Review By Jack Nichols
September 1998
I

t was early autumn, 1970. Manhattan's Continental Baths, a luxurious house of pleasures, was enjoying its heyday. Peter Silberman, who'd been hired as the Continental's press agent, called me at the offices of GAY, America's first gay weekly, inviting Lige Clarke and me to a freebee concert he promised would blow our skirts up. "This singer is an unknown right now," he told us, "but she won't be an unknown for long."Probably just another routine assignment, we thought. But publicity man Silberman and his wife had previously wined and dined us and so we couldn't tactfully turn down his urgent request that we hike up to the Continental on a Saturday night.The giant bathhouse was crowded on every floor with hundreds of horny hunks. They wore only towels, deep red. Hippie hairstyles were much in vogue. There was a glittering dance floor, a stage, a suave health food restaurant, a glorious swimming pool surrounded by fountains spraying colored waters, cavernous steam rooms, a huge sauna, and private rooms galore on the upper levels.
TheDivine Miss M used this as one of her publicity photos in her bathhouse days.
Photo Courtesy: Jack Nichols Collection
At midnight, Barry Manilow, little known outside New York, seated himself at the magnificent piano. The crowds, notified that the evening's official amusement was at hand, gathered on the dance floor to be properly entertained. Lige and I stood near the edge of the pool, close enough to catch a glimpse of the frenzy that ensued.The Divine Miss M took center stage and warmed up the audience with a comedy routine that struck me at the time as " the most electric" in my experience. Bette noted that Richard Nixon's daughter was marrying someone called "Cox". In a gay bathhouse, this name took on the kind of wry significance that only Bathhouse Betty could give it.Then she feigned annoyance. "I was most displeased," she told her audience, "when I saw some graffiti on the subway today. It said, 'Bette Midler is a drag queen from Chicago.' I am NOT from Chicago."We laughed heartily. And then she began singing.Touch me, feel me" Like everybody else in that cavernous room, I stood spellbound. Nudging Lige, I whispered, "This woman is going to be a real superstar someday." The crowds went bonkers, and to show their appreciation, they removed their red towels and threw them joyfully at the happy-faced singer, letting go with an unforgettable, passionate roar of approval. It was clear that Bette ate up the surrounding appreciative glory. There she was, singing to hundreds of handsome, naked men, all putty in the palm of her hand.Each time that Bathhouse Betty made another Continental appearance, Peter Silberman gave us a call. And each time we trekked to the Ansonia Hotel at 72nd & Broadway wherein the bathhouse had its quarters. We saw her at least five or six times. And then, one day, she showed up in GAY's offices, accompanied by Silberman.It was then that I realized that The Divine Miss M was, in fact, an act, that Bette Midler the comedian and songstress was a alterego in action. On stage, she looked larger than life. In person, I discovered, she was diminutive, private, polite, and almost unbearably quiet. A woman tiny in physical stature. Only a singular part of her upper anatomy seemed–again–larger than life.

Another of Bette's pre-stardom celebrity shots.
Photo Courtesy: Jack Nichols
Collection
She was placing a small ad in GAY, Peter explained, because she was going to be appearing in her first important Manhattan nightclub gig "at theUpstairs at the Downstairs. Lige processed the ad copy for her while I assured her she'd wow'd me aplenty at the Continental. We arranged to do an interview with her in GAY. It would be the very first in her career.
I assigned the President of the New York Mattachine Society to handle GAY's interview. Dick Leitsch went to her apartment, he told me later, and the tape he made of what she said got punctuated with the sound of her carrot-chopping in the kitchen while she answered his questions.Because of what she said then, perhaps, the current issue of The Advocate now calls Bette Midler one of the 25 coolest straight people."As an audience," she told GAY, "gay men are spectacular. They're very warm, very responsive. They are the most marvelous audience I've ever had because they're not ashamed to show how they feel about you. They applaud like hell, they scream and carry on, stamp their feet and laugh. I love it. It's going to be very hard for me when I get back before a straight audience."Among the views she expressed in that first interview?
On politics: "I'm what you might call a Conservative Liberal. I like peace, and don't like violence. I like to be left alone and not called names. I sympathize with all sorts of radical things, but when it comes to violence, you know, picking up the brick and throwing it, I call a taxi"
"On gay liberation: "I dig it. Open your mouths, for Christ's sake. Don't you get tired of being stepped on?"
On bigotry:  "I don't like bigotry in any form. I don't like gay men who are violently anti-straight, and I don't like straight people who are violently anti-gay. Any kind of prejudice frightens me."
On Escape: "Escape is necessary sometimes, but always escape heavy. Don't escape into bullshit, get stoned and listen to Santana. Come to the baths–the whole world's a bath."
Bette said it's "about the whole world"and that's what that first interview of hers in GAY was called: "The Whole World's a Bath."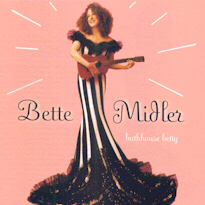 And now, nearly three decades later, The Divine Miss M has morphed into Bathhouse Betty. I read somewhere how she decided on this 1998 album title. A fanatical fan, she explained, had followed her home and had banged on her front door screaming "Bathhouse Betty! Bathhouse Betty!""Go away," she warned him, "or I'll call the police."In a quiet moment following that crazed fan's departure, Bette mused on what he'd shouted, deciding it would do to appropriately designate this season's collection of her songs.And when I read how her new CD had been named, I rushed right out to buy it.
"Bathhouse Betty!" I said, fixing the Blockbuster clerk with an enthusiastic, near-crazy grin. For over a week now, this new Bette Midler offering has been spinning on my player–sometimes just as background music–growing on me with each full spin. I find myself shaving and humming, remembering fondly the magic of those long ago bathhouse days when I was witness to miracles wrought by a tiny woman bigger than life.The opener, Leonard Cohen's Song of Bernadette, is a hymn to compassion of the sort that Bette does well:
So many hearts I find Broke like yours and mine
Next, she sings a song of assurance, I'm Beautiful. Its been written exclusively by Brinsley Evans just for her, and it tells us exactly what Miss M explained so long ago in GAY: that no matter who we are, we can savor the smorgasboard of variety, enjoying what's unique within ourselves and others.
Lullaby in Blue is poignant as only Bette can make a song.I hadn't expected–because of the instrument mentioned–to like Ukulele Lady. I knew, natch, that Bette had hailed ""not from Chicago–but from Hawaii. Strangely, however, this ingenious song is now one of my all time faves, ukulele and all: To sing where it's cool and shady Where the tricky wicky wackies woo woo woo
The fifth cut, I'm Hip is a time trip through those things that were once in and are now out. It moves in the best tradition of old Broadway's better tunes.
My almost favorite piece (#6) is a broken-hearted man's mantra, I Sold My Heart to the Junkman. Never had heard this before either, but even with my questioning the wisdom of repeat lyrics like "I'll never fall in love again," this song takes one, nevertheless, to the swing-lands of the '40s when even sad tunes made solid romantic stepping stones glitter.
A more positive reaction to a failed romance is cut #7, picking up one's broken heart just right with One Monkey Don't Stop No Show..
"Boxing is beautifully orchestrated, a perfectly sung piece.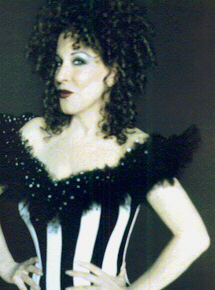 Big Socks (#9) possibly can be called a spiritual because its about values that only some heterosexual women and some gay men may fully appreciate. When the more general breed of men and women understand it, the millennium will have indeed arrived.
That's How Love Moves jumps from the center of a loving heart. Bette's.
And gee willikers, listen here to #11, My One True Friend. Why it's a spiritual too–from the motion picture soundtrack of "One True Thing." Is it a god that Bette's addressing? Or a person? Does it matter?
And the final cut? Its called Laughing Matters. If you've ever enjoyed seeing Bette smile that true happiness smile she's so good at smiling, this song puts an explanatory dimension into it. It's almost a Midler theme, so perfectly does she express in it just what she's all about. The melody enchants. The lyrics remind us–like a Christmas carol–that its time to gather close to the warmest embers of our hearts.
Related articles