Mister D: No, Bette Midler is not on this list at all, but I'm putting this up anyway, so you can see how she was slighted. The album missing is "The Divine Miss M, "
considered a groundbreaking album upon it's release. Not only did it introduce us to one of our most enduring recording artist and stars, the penultimate entertainer of our generation, it redefined what a female vocalist album could be with it's eclectic mix of genres. It is also chock full of hits and classic performances.
Another album missing was Jennifer Warnes' superb "Famous Blue Raincoat, an almost perfectly, pristine engineered album, from a great song interpreter. On this album, Ms. Warnes thrust cult pop icon Leonard Cohen's songs into the mainstream. Another big slight by NPR. I own just about all these recordings, Female artists are my thing, and these two albums were glaringly omitted.
I own the majority of these albums and agree with most of the choices, however there are some that I wouldn't include in this category and there are some on here that I think the contributors put on here just to give them the "coolness" factor.
Anyway, it's a great list, but I just get tired of Bette Midler being slighted as to her accomplishments in the recording field. I think I almost would have added "Live At Last' because it finally almost captured the manic genius of her live shows. It was a watershed album. – Don

NPR
The 150 Greatest Albums Made By Women
July 24, 20175:00 AM ET
This list, of the greatest albums made by women between 1964 and the present, is an intervention, a remedy, a correction of the historical record and hopefully the start of a new conversation. Compiled by nearly 50 women from across NPR and the public radio system and produced in partnership with Lincoln Center, it rethinks popular music to put women at the center.
---
150. The Roches
The Roches (Warner Bros., 1979)
In the late 1970s, women across America sat in circles, speaking and listening intently. These simple acts of consciousness-raising were fundamental to second-wave feminism, throwing the light of everyday experience upon the false structures of sexism. The self-titled 1979 debut album by The Roches made consciousness-raising into music. It became a cult hit, turning Maggie, Terre and Suzzy Roche — New Jersey-raised siblings who embodied both cultural feminism and Greenwich Village boho cool — into sneaker-clad heroines of the folk scene. Self-written songs about pregnancy, work, family tensions, complex love and the feminine mystique gained clarity from the utterly clear, deliberately imperfect harmonies The Roches had mastered singing holiday carols in the street. Art-rock guitarist Robert Fripp produced The Roches, and is often credited for its uniquely intimate feel. But that's wrong. His decision to mix these songs "in audio verité," so that everything in the speaker hit the ear with equal weight, was inspired by the way the sisters made their music, sitting in that consciousness-raising formation and vocalizing into each other's faces. Some male critics found The Roches startlingly intimate, but in its wryness and honesty, many women heard exactly what they were thinking. —Ann Powers (NPR Music)
---
149. Alicia Keys
Songs In A Minor (J Records, 2001)
Alicia Keys graduated from high school at age 16 with a scholarship to Columbia University. But she decided to pursue a future with a different Columbia instead — Columbia Records, the label who signed her at age 15. Like many black women artists who came before and after her, she had to contend with people who lacked respect for her as a creator and a person. As she toldThe New York Times in 2002: "So I'm working with them, and them being not receptive to the fact that I play. 'Little girl, sit over there in the corner.' Them being attracted to me, whatever, 'Little girl let's go to the movies, let's go to dinner.'" Keys couldn't work under those conditions, so she found a Queens basement and made her own studio there. When she took her finished records to Columbia, they didn't like them. So she left and released Songs In A Minor with Arista Records. It reached No. 1 on the Billboard charts and secured Keys' position as one of the most visionary composers of her time. A classically trained pianist raised on hip-hop in Hell's Kitchen, Keys took varied influences — including Chopin (her favorite composer), Marvin Gaye, Billie Holiday — and, with them, crafted a distillation of her spirit. The album's most enduring songs, "Fallin'," and "A Woman's Worth," are perfect. And when we listen to them, we should take care to remember the story of the young woman who made them. She taught an entire generation of us to persevere, to know our stuff — and yes, to know our worth. —Jenny Gathright (NPR Staff)
---
148. Terri Lyne Carrington
The Mosaic Project (Concord Jazz, 2011)
Some will say jazz, in a word, is improvisation. An equally appropriate word might be transformation: Each player comes to the gig with her arsenal of licks and voicings, but when the tune starts it's all about reacting to and being inspired by one another, giving each other space to create and shaping the simultaneous offerings into a transmuted whole. Fittingly, "Transformation," a cover of the Nona Hendryx track sung by Hendryx herself, set the tone for drummer Terri Lyne Carrington's formidable convention of female musicians. Nestled confidently between jazz and R&B, her album The Mosaic Projectwas at turns brainy, sassy, soulful and revolutionary — rather like the women it celebrated. Carrington's project, which spawned a sequel album in 2015, remains a necessary intervention in a musical community whose presumed leading lights still allege that women don't care for solos. (Tell that to Ingrid Jensen, or Esperanza Spalding, or the late Geri Allen, or any of the other women who played fine solos on this record.) It sounded like a communal metamorphosis, a circle of women passing inspiration —as rapper Shea Rose declared in "Sisters On The Rise" — "from a sister to another to another funky sister." —Rachel Horn (NPR Music)
---
147. Meredith Monk
Dolmen Music (ECM, 1981)
In the early 1980s, when so much in the "new music" realm sounded jarring and almost self-consciously difficult, Meredith Monk took a different tack with Dolmen Music. With her voice, in its infinite permutations — gorgeous slides, ululations, breaths, cries, howls, drones — she navigated a landscape that seemed both familiar and strangely unfamiliar. We have all heard a woman's voice, and women's voices are as old as time. Dolmen Music is a timeless use of the voice, in all its power and enduring mystery. Monk also plays piano, and others provide additional voices, along with subtle percussion and violin. Of particular note, the late and legendary composer Julius Eastman supplies his deep baritone on one of the tracks, and some additional percussion. But the added instrumentation never eclipses the power of the voice on Dolmen Music, which sounds ancient and modern at the same time. You could imagine it as music for a medieval ritual, or music for a science fiction future. (You've probably heard Dolmen Music even if you think you haven't: A sample from it features prominently on DJ Shadow's "Midnight in a Perfect World.") In a just world, Dolmen Music would be as big as Led Zeppelin IV, but it is a great gift for those in the know. It is like a hidden passageway, ending in a door that mysteriously opens to a secret room. It is a method, inscribed in music, of linking the old with the new. —Geeta Dayal (Contributor)
---
146. Patty Griffin
Flaming Red (A&M, 1998)
Today, Patty Griffin is best known as an all-time great American singer-songwriter. But for a brief period in the late 1990s, she also harbored serious rock ambitions. About the era during which she released her second album, the electrified (and electrifying) Flaming Red, Griffin said: "I always felt like I was a rock singer. It was all I listened to. I felt like, 'Don't call me a folksinger.'" Her stance and sound have both mellowed since 1998, but Flaming Red remains a testament to the fire simmering under all of her work preceding this album, and what came after it. This is the only album in Griffin's catalog where her preternatural vocal control approaches an edge, opening up into exhilarating hollers and cracking into an unfiltered rock and roll scream. While many artists use an "unplugged" approach to get to the heart of their sound, at this early point in her lengthy and varied career, Griffin plugged in to find hers. —Katie Presley (Contributor)
---
145. Oumou Sangare
Moussolou (Women)(Kartell/World Circuit, 1989)
Moussolou was the potent debut album from Malian singer Oumou Sangaré, who was just 21 years old when she recorded it in Abidjan, Ivory Coast. Her lyrics upended social norms: She criticized arranged marriages, polygamy and women's general subservience to men — and promptly sold a reported 200,000-plus copies of the cassette across West Africa. (World Circuit picked it up for European distribution in 1991.) But Sangaré's debut was not just notable for its topicality. By that point, she already possessed one of Africa's soaring, golden voices, which she deployed with incredible confidence and skill. And within that cassette-length framework, Sangaré helped carve out a new path for West African pop. Rather than depending on drum machines and synths to sound "modern," Sangaré and her arranger and bass player, Amadou Ba Guindo, framed her voice with a mix of acoustic and electric instruments, including the kamalengoni harp and the karinyan, a percussive metal scraper, in addition to guitar and violin. Nearly 30 years later, Moussolou retains all of its astonishing power and beauty. —Anastasia Tsioulcas (NPR Music)
---
144. The Breeders
Last Splash (4AD/Elektra, 1993)
How good must it have felt for Kim Deal to release the eclectic masterpiece Last Splash with her band The Breeders? Throughout the seven years prior to the album's 1993 release, she had made influential (but not very commercially successful) music alongside Frank Black in the Pixies, a band in which she never received credit she deserved. While Pixies is often name-checked for inspiring the likes of Nirvana to embrace dramatic dynamic shifts, Kurt Cobain bemoaned that more of Kim's songwriting wasn't featured on their albums. But on Last Splash, The Breeders' second album, Deal's songwriting moved front and center (with some co-writing from her twin sister Kelley, who was also in the band), and what was once her side project became her main gig. It left no question about her talents, as the album sold more than Frank's solo debut or any of the Pixies' albums. The brilliant Last Splash was also built for shifting attention spans: Its short songs ranged from the cotton candy single "Divine Hammer" to a grungy, racing instrumental "S.O.S.," which would later be sampled by U.K. big beat artist The Prodigy in its hard-driving international hit "Firestarter." In the age of the baby doll dress, Deal confidently stepped out bare-faced, in jeans and a t-shirt, and with a smile that said that nothing could be more fun than leading The Breeders. —Kimberly Junod (World Cafe)
---
143. Robyn
Body Talk (Konichiwa Records, 2010)
"I've got some news for you… fembots have feelings too." That's Swedish pop star Robyn for you, laying out the rules of gender politics via self-assured sing-talk proclamations, calypso synth and sparkling pop melodies. What's especially interesting about this recording, her fifth in the studio, is how it became long-overdue recognition for Robyn, born Robin Miriam Carlsson. She had actually begun her pop music career at the age of sixteen and made her stateside breakthrough with the classic dance-pop tunes "Do You Know What It Takes" and "Show Me Love," the latter of which she performed on Nickelodeon's All That. After wresting control back from Jive Records, Robyn created Konichiwa Records in 2005 to keep her artistry alive and well away from corporate control. If she hadn't done that, we likely wouldn't have the Röyksopp-produced banger "None of Dem" that calls out heteronormativity, the glittering '80s affair "Call Your Girlfriend" or the yearning-yet-empowering disco-pop gem "Dancing on My Own." Body Talk is the outspoken dance record this pop world so desperately needed, one that burns with a futuristic light and, above all, one that most certainly does not "go gentle into that good night." —Joni Deutsch (Mountain Stage)
---
142. Iris DeMent
My Life (Warner Bros., 1993)
When Iris DeMent released her 1992 debut album Infamous Angel, the first of a pair produced by Jim Rooney, country and folk music was rattled by a fresh voice packed with such honest and raw emotion that it commanded full attention. DeMent's follow-up album, My Life, released the following year, picked up where she left off, and in turn solidified her as one of our most captivating singers and songwriters of our time. My Life is the antithesis of a party album, though, given that it's filled with introspective songs and relatively sparse arrangements. But whether she's singing about a failing relationship ("You've Done Nothing Wrong"), the passing of a parent ("No Time To Cry") or emotional struggles ("Easy's Gettin' Harder Every Day"), DeMent's moving album inspires listeners to lean in and listen close to every word. —Linda Fahey (Folk Alley)
---
141. Joanna Newsom
Ys (Drag City, 2006)
Any fan of Joanna Newsom knows that to love her is to defend her. Her acolytes find ourselves defining her by what she is not: Not a waif, not an ethereal woodland sprite, not even really a folk musician. This habitual defensiveness is most common among music critics, who, in our eagerness to subvert a popular narrative, may have inadvertently kept it alive. But the truth is that Newsom long ago shook off the easy and obvious tropes that she initially accrued as a folk-adjacent female harpist. And that transformation began with her sophomore album, Ys. "Ys" is the name of a mythical Breton city that sank into the sea, and Ys is as mysterious and enchanting as its namesake. Across five sprawling epics, it's all there — Newsom's arresting warble, her dazzling musicianship, her exquisite melodic sense — but Ys is grander and more ambitious than her previous work. Composer Van Dyke Parks provides radiant orchestrations for material that is as dense and rewarding as any literary text. Newsom's medievalist predilections notwithstanding, Ys is a deeply contemporary work, intent on enfolding us in a world of the artist's own invention. In doing so, it shows us not what Newsom isn't, but what she remarkably, audaciously is. —Amelia Mason (WBUR)
140. Norah Jones
Come Away with Me (Blue Note, 2002)
At a time when the music industry was increasingly plagued by piracy and saw rapid declines in album sales, the debut album by a twenty-something old soul (who also happened to be a sitar master's daughter) was an unlikely success story. Norah Jones's distinctive voice, laced with a mellow smoke that might have originated at either the cabaret or honky-tonk, was immediately a force to contend with. On Come Away With Me, released by the storied jazz label Blue Note, she sang Great American Songbook standards like "The Nearness of You" and country classics such as "Cold Cold Heart" with rare, unhurried intimacy. Still, most of the album comprises original material, with Jones penning the memorable title song — a lovely, country-tinged waltz — and a few others. It earned her a major-category sweep at the Grammys, and in 2005, the album notched more than 10 million copies sold — a feat that made Jones the last artist to achieve diamond status for another seven years. —Rachel Horn (NPR Music)
---
139. The Bangles
All Over the Place (Columbia, 1984)
The sunshine-y MTV world of the '80s was made for The Bangles, four talented women from L.A. who brought the girl-group harmonies of the '50s and the psychedelic influences of the '60s into the decade of Rickenbacker guitars and power pop. We couldn't have asked for anything better than the slick production, well-crafted songs and hooky choruses on their first album, All Over The Place. On the infectiously catchy album, Susanna Hoffs, Vicki and Debbie Peterson and Michael Steele flexed their chops, sharing Beatles-worthy vocal harmonies and wielding jangly guitars like The Byrds. Like too many pop bands of the time, The Bangles became known more for videos with pretty faces and big hair than the true Girl Power they brought to us all. Yet to allow The Bangles' success to overshadow the group's credibility and importance would be a shame. —Rita Houston (WFUV)
---
138. Cocteau Twins
Heaven or Las Vegas (4AD, 1990)
Just under the icy synthesizers and effects-laden guitars of early Cocteau Twins albums, Elizabeth Fraser's nimble, otherworldly voice peers up at the surface, hinting at pop accessibility without ever fulling committing. But on the Scottish band's 1990 album, Heaven or Las Vegas, Fraser's voice rose to the forefront, no longer submerged. Rather than crafting instrumental textures involving Fraser's voice, Heavenpresents paintings whose principal color is her voice, and sacrifices none of the dense complexity underneath. On the album, Fraser's vocals are immediate yet still mysterious. She slurs syllables and turns vowels inside out to invoke both mood and meaning, demonstrating total control over the sounds and shapes of the words she sings. By centering Fraser's unique vocals and hooky melodies on Heaven or Las Vegas, Cocteau Twins crafted a truly gorgeous sound, and proved it was — underneath the swirling technical innovation of its sound — truly a pop band at heart. Combined with lyrics that were more personal and, at times, more uplifting than on previous records, Fraser's performance on Heaven breathed life and warmth into the band's sound. In doing so, she proved how crucial the voice can be as an instrument, especially within the dream-pop and shoegaze movements Cocteau Twins inspired. —Marissa Lorusso (NPR Music)
---
137. Ofra Haza
50 Gates Of Wisdom (Yemenite Songs) (Shanachie, 1987)
Originally released in 1984 in Israel and released in the U.S. three years later, this album by Israeli singer Ofra Haza was an unlikely international touchstone, with lyrics sprung from the work of a 16th-century Yemeni Jewish poet, Rabbi Shalom Shabazi. It boasts a clever mix of Yemeni Jewish percussion and rhythms interwoven through a palette of strings, woodwinds, brass, synths and drum machines. The album's core, however, is Haza's rich alto voice, shaded with Middle Eastern melisma but driven by pop's raw power. And you can dance to it: The opening track "Im Nin'alu" has become something of a sampling staple, heard in Eric B. and Rakim's "Paid in Full," Public Enemy's "Can't Truss It" and MARRS' "Pump Up The Volume." But this album had a whole other side, and depth of meaning, that remained largely shuttered off to non-Israeli fans. Singing in a mix of Yemenite Hebrew and Arabic, Haza made this album as a declaration of pride in her roots as a young woman from the poor Hatikva neighborhood of Tel Aviv, and as a Mizrahi Jew whose family came from Yemen (not Eastern Europe), a group historically derided and marginalized within Israeli society. At the same time, she was claiming her own power within the conservative Yemeni Jewish community, in which men held the reins. Decades before intersectionality became part of the cultural conversation, Haza (who died tragically of AIDS at age 41 in 2000) recognized that her self-identity had many layers — and as an artist, she demanded her own place at the table. —Anastasia Tsioulcas (NPR Music)
---
136. Yoko Ono/Plastic Ono Band
Yoko Ono/Plastic Ono Band (Apple Records, 1970)
Has there ever been a female artist so overshadowed by her proximity to male greatness than Yoko Ono? A truly cutting-edge figure across multiple disciplines, Ono is nonetheless more often spited for daring to influence her collaborator-turned-husband John Lennon than lauded for her pioneering works of music and performance art. 1970's twin releases from Ono and Lennon, with their newly-formed Plastic Ono Band, epitomize this. Whereas John Lennon/Plastic Ono Band was critically acclaimed as an intimate, honest rock and roll album, few audiences knew what to do with Yoko Ono/Plastic Ono Band. Jarring, experimental and stunning, Ono's album sounds like a head-on collision between her avant-garde art and Lennon's rock and roll (with touches of free jazz by way of an Ornette Coleman quartet on "AOS"). Yoko's voice is a powerful instrument, and it's honed to near perfection on this album; it ricochets with pre-punk raw aggression and incorporates hetai, a vocal style from Japanese kabuki theater. At the time of its release, critical reception to Yoko Ono/Plastic Ono Band was paternalistic at best and outright disdainful at worst; however, bands like The B-52's, Sonic Youth, Public Image Ltd, The Slits and many others bear strong signs of Ono's influence. Wide swaths of avant-garde rock, post-punk, sound art and experimental electronic music simply wouldn't exist without the fearless curiosity of Yoko Ono/Plastic Ono Band. —Marissa Lorusso (NPR Music)
---
135. The B-52's
The B-52's (Warner Bros., 1979)
The B-52's' self-titled debut album didn't sound like anything else when it was released, a fact that remains true to this day. The album is like some sort of otherworldly candy: You're not entirely sure what you're eating or where it came from, but you definitely find yourself reaching for more. The B-52's defied convention with their imaginative songs about aliens, dance crazes like the Shu-ga-loo and the Camel Walk, beachy fun with jellyfish, narwhals and rock lobsters, and loving that burns hot like lava and cracks like Krakatoa. The B-52's also represents a seismic moment in culture; this album was embraced at a time when the band's new wave and punk contemporaries gravitated towards a much more somber tone in their music. The band has been praised by everyone from R.E.M to Nirvana, and its singular style, including the vibrant clothes and beehive hairstyles of Kate Pierson and Cindy Wilson, has also become a pivotal part of pop culture. There's also the fact that its songs are endlessly quotable, thanks in large part to the whip-smart songwriting contributions Pierson and Wilson made to the album, which includes lyrics like: "Some say she's from Mars / Or one of the seven stars / That shine after three-thirty in the morning / Well, she isn't!" from "Planet Claire" and "These are the principal girls of the U.S.A / Can you name, name, name, name 'em today?" from "52 Girls." More than anything, the irresistibly danceable songs of The B-52's prove that silly can be seriously good. —Alisa Ali (WFUV)
---
134. Solange
A Seat at the Table(Saint/Columbia 2016)
Solange's A Seat at the Table was a gift during an epidemic season of police brutality, its sounds warmly embracing the ears as she spoke directly to black people in mourning. Each lyric was feathered delicately over modern New Orleans jazz compositions, alongside odes to funk, soul, R&B and hip-hop. It built a softness and sincerity that touched in areas that D'Angelo's Black Messiah and Kendrick's To Pimp A Butterfly couldn't get to (through no fault of their own). The album is also a testament to Solange's ear for arrangements and collaboration: Her choices — ranging from Questlove, Raphael Saadiq, Dev Hynesand Dirty Projectors' Dave Longstreth on the production side and Tweet, Kelela, Moses Sumney, Sampha and BJ The Chicago Kid on the album — make it both a seamless and soothing listen. By including interludes from her parents and Master P, she reflected honor and forced us to peep game. Each song exudes comfort, nuance and an affirmation, especially on "Cranes in the Sky," which deserves to be the new Black National Anthem. A Seat at the Table is a recent classic, but more importantly, it's also a solution. —Stasia Irons (KEXP)
---
133. Fanny
Fanny Hill (Reprise, 1972)
"Now the sound and the fury have some place to go," June Millington sings in one of the liberation rockers on this boundary-breaking album, her slide guitar looping through the mix like a giddy spring wind. Fury is in the mix on Fanny Hill, the third and best album by the most masterful all-female band of the classic rock era; but so is joy, tenderness and total self-confidence. Fanny had made two albums before heading to Abbey Road Studios to work with Beatles engineer Geoff Emerick on this one, the four women were deeply in tune with each other, leaping from boogie-based hard rock to delicate ballads to Southern swampiness to proto-glam without missing a beat. Keyboard player Nickey Barclay was a fierce oracle on songs like "Blind Alley" and "Borrowed Time," speaking out against hypocrisy in politics and the rock star scene. Millington's songs were more pensive; her "You've Got a Home " spoke of a single mother's love for her child — hardly typical fodder for the sausage party of hard rock. Fanny Hill did some serious world building within the realm of 1970s rock, creating a space not only for women's creativity, but for their whole humanity. —Ann Powers (NPR Music)
---
132. Shelby Lynne
I Am Shelby Lynne (Island/Mercury, 2000)
The country divas of the 1990s projected effervescence, empowerment, empathy and open emotionalism to their sisters in small-towns and suburbs. Shelby Lynne, on the other hand, spent most of that era trying to carve out a place for herself in Nashville's scene, applying her sumptuous twang to torchy, swinging and adult contemporary pop-leaning material from Music Row pros. Her participation in the country music industry concluded in the late '90s with her decision to become a very different kind of communicator — less demonstrative, more elusive and artful. She hightailed it to the West Coast, where she convinced producer Bill Bottrell to assist her in redefining herself as a singer-songwriter of cagey-cool southern pop. The result, I Am Shelby Lynne, was simultaneously more down-home and more uptown than anything else she'd done, its molten keyboards and sly, gristly guitar figures set to brittle digital percussion and opulent orchestration. For the first time, Lynne wrote or co-wrote her entire album, weaving earthy vernacular and masterful manipulation of tone into a barbed, powerfully sensual distillation of desire and disappointment. She loosened her phrasing and deployed a variety of vocal attacks — from toughened and tart to supple and insinuating — even supplying her own headstrong, soul-influenced background vocals, as if to affirm the singularity of the voice she'd cultivated. And she wasn't wrong. As both song interpreter and songwriter, she had a revelatory angle on self-regulated, southern-accented expression. —Jewly Hight (Contributor)
---
131. Shirley Horn
I Thought About You — Live At Vine St. (Verve Records, 1987)
Since the earliest days of jazz recording, women have been at the piano — Lil Hardin, Marian McPartland, Hazel Scott, Mary Lou Williams, to name a few. But they couldn't sing like Shirley Horn. I Thought About You was a much-anticipated comeback album for the combo leader who'd spent significant periods away from the bandstand, signaling the beginning of the last and most creatively satisfying period of her career. Horn's nice 'n' easy style often conjures Nat "King" Cole, but Miles Davis was her early, like-minded champion. Her mature sound has since been replicated by younger and more commercially successful women in jazz and pop music, including Norah Jones and, most particularly, Diana Krall. This album was Horn's first in 20 years. It features eleven standards performed at the Vine Street Bar & Grill, a cozy (and now defunct) Hollywood supper club. As a live recording, I Thought About You captures Horn's perfectionist leanings — the performance is immaculate. And her trademark balladry is as languid as ever: Horn's version of Antonio Carlos Jobim's "Quiet Nights of Quiet Stars" is a sumptuous, nearly twelve-minute-long affair. —Gwen Thompkins (WWNO)
130. Teena Marie
Wild and Peaceful (Motown Records, 1979)
Teena Marie's debut album, Wild and Peaceful, couldn't have had a more accurate title. Released in 1979 and largely composed by her longtime collaborator Rick James, the album bounced between moods and moments that represented either end of the emotional spectrum. On it, Marie also flits deftly from high-energy disco and funk to ballads that are steeped in rhythm & blues and jazz. She was signed to the Gordy imprint of Motown, which intentionally marketed her overtly soulful album to black radio. The cover of the album itself didn't feature Marie, but instead portrayed a serene scene of an ocean and a cloud-filled sky. When the album was released, listeners had no artist image to go off of; consequently, many listeners assumed Marie was black, based on her uninhibited singing style and the record's production. This assumption was proven wrong when she performed the album's lead single "I'm A Sucker For Your Love" with James on Soul Train, making her the show's first white female guest. Wild and Peaceful was the world's introduction to Marie and her powerhouse vocals, which were fully embraced in a space that was traditionally reserved for black artists. —Kiana Fitzgerald (Contributor)
---
129. Marianne Faithfull
Broken English (Island, 1979)
Eager to escape the pigeonhole of being Mick Jagger's beautiful girlfriend, Marianne Faithfull dropped out of her life of privilege and wound up a heroin addict on the London streets. In 1979, she resurfaced with her seventh studio album, the new wave-inflected Broken English. Her sweet and lovely lilt had disappeared, replaced by a gravelly snarl that was the permanent aftermath of an untreated case of bronchitis. It turns out that this was the voice she needed to unleash her innate powers; she spat sonic bombs in the title track, summoned her dark tribe in "Witches' Song," and eviscerated a cheating lover in "Why'd Ya Do It." But it's in "The Ballad of Lucy Jordan" that her masterful reading of a lyric really shines. Here Faithfull invoked the Shel Silverstein story of a suburban housewife who, realizing "she'd never ride through Paris in a sports car with the warm wind in her hair," slowly becomes untethered, ending up on the roof before being taken away to a mental institution. Performed with chilling empathy, Faithfull showed that even a woman who has ridden in that sports car and stood at dizzyingly glamorous heights can still end up on that proverbial roof — the singer and the song intertwined. —Jill Sternheimer (Lincoln Center)
---
128. Pauline Oliveros, Stuart Dempster, Panaiotis
Deep Listening (New Albion, 1989)
Throughout her long and distinguished life, Pauline Oliveros abided by the philosophy and practice of deep listening, which is still actively studied by many people today. The album Deep Listening, made with the trombonist and composer Stuart Dempster and the vocalist and composer Paniaotis, was a signpost for a different way of making music. By playing inside of a massive underground cistern, they were able to craft an entirely unique sound on the album. The huge cistern they used at Fort Worden in Washington was effectively an instrument of its own. It supplied massive reverb — an astonishing 45 seconds of reverb, in fact, meaning that the notes they played seemed to hang in midair and stay there. Additional notes would then add to these notes, combining and recombining to create great big clouds of sound. Deep Listening was ambient music taken to the next level. Generations of laptop noodlers that followed had nothing on Oliveros and her collaborators, who were happy to suspend themselves into abandoned metal bins to get the the most interesting sounds. Oliveros was a stalwart in the mostly male field of electronic music, supplying some the deepest, weirdest and most revelatory music on the scene for six straight decades. (Her electronic music from the 1960s, collected on an indispensable 8-CD box set, is also without parallel to this day.) Deep Listening, the first album made by what became known as the Deep Listening Band, is similarly unmatched in its genius. —Geeta Dayal (Contributor)
---
127. Sonic Youth
Sister (SST, 1987)
Kim Gordon's persona in Sonic Youth was dry, distant, deadpan and centered around ideas of elective inaccessibility. Yet she recognized the very real of the power of embracing sexuality on stage and off, and that those ideas weren't solely reserved for the assumed polarity of art school and pop music. Regardless of her talent and fearless performance approach, Gordon is often written off as merely adjacent to her ex-husband and former bandmate Thurston Moore. But it's Gordon's genius that ultimately made the band's 1987 album Sister — its first foray into melodicism, into indie rock territory — successful, with its characteristic atonal noise never fully removed. On Sister, "Beauty Lies in the Eye" exuded a goth-y psychedelia, while "Pacific Coast Highway" mirrored the beautiful and winding road of its namesake without the California lightheartedness. In "Cotton Crown," Gordon and Moore harmonized with mournful precision, a rarity in Sonic Youth's droning discography and the closest thing to a romantic gesture from the band (before it gets into love song territory, it unravels into a joke). If Sister signified Sonic Youth's inching towards convention, Gordon's presence placed a crucial boundary on its version of rock and roll. Here she confirmed that musical eclecticism works thematically, through a combination of force, aggression, humor and experimentation. —Maria Sherman (Contributor)
---
126. The Carpenters
A Song for You (A&M Records, 1972)
The late Karen Carpenter's singular voice — a no-frills contralto — shone whenever she stepped onstage, but nowhere more brightly than on The Carpenters' A Song for You. While "Top of the World" was the 1972 album's biggest hit, its first single, "Hurting Each Other," was a power ballad turned loving, angsty and dramatic. Besides displaying her mastery of the lower vocal range on the album, Karen Carpenter also showed off her talents on the drums here. On A Song for You, you get a sampling of her chops — among others, as she also played electric bass — on instrumental tracks like "Flat Baroque." In the years following her death, many prominent musicians would point to her complementary skills as a singing drummer as a key influence, one that still rings true today. —Tanya Ballard Brown (NPR Staff)
---
125. Fiona Apple
Tidal (Work Group/Clean Slate/Columbia, 1996)
Fiona Apple unfurled her debut album with a roll of thunder, in the form of "Sleep to Dream." Over the course of Tidal's ten songs, the clouds may part, but the threat of a storm is always on the horizon. Just 19 years old when Tidal was released, Apple put a voice to the crushing swirl of emotions familiar to so many teenagers, a heady combination of disdain and uncertainty, barely-contained rage and rebellious independence. As it turned out, her songwriting sprang from a past checkered with trauma and deep pain, which she plumbed to write songs right at the edge of— or just past — what many listeners were comfortable with. What's remarkable about this album, especially twenty years later, is its maturity. It doesn't read like a sullen teenager's diary. Instead it's a declaration, a willful confession, and a mission statement from a woman wrestling power back from her demons and trying to own all the parts of herself that make her human. —Sarah Handel (NPR Staff)
---
124. Carly Simon
No Secrets (Elektra, 1972)
In 2013, Taylor Swift asked a sold-out stadium crowd in Foxborough, Massachusetts: "Before I bring out my special guest, I have this question that I've always always had. Who is the song 'You're So Vain' by Carly Simon written about?" Then, Simon joined Swift onstage to perform the former's hit, which they did with the joyful abandon of pre-teens singing into hair dryer microphones while dancing around their bedrooms. That one of the biggest pop stars in the world today would be fixated on a who's-dating-who tabloid story from 1972, and that tens of thousands of her young female fans would sing along to every word of a tune that came out forty years prior, makes no sense. Except that it does when you consider Carly Simon as one of the most influential artists of her generation, and one who essentially templated the break-up song that's since become ubiquitous. "You're So Vain" alone is not what makes Simon's breakthrough 1972 album No Secrets significant, but it does point to Simon's gift for getting at universal and eternal truths through personal confessions — a gift that's exemplified in simple and profound lyrics like, "Often I wish that I never knew some of those secrets of yours." Simon's deft storytelling, coupled with her stunningly precise vocal performance, made this album feel automatically nostalgic upon its release and absolutely timeless today. —Talia Schlanger (Host, World Cafe)
---
123. Cris Williamson
The Changer and the Changed: A Record of the Times (Olivia Records, 1975)
"I'm kind of hand-carried, person to person," Cris Williamson told the journalist Ben Fong-Torres in 1981, when asked how people discovered her music. "There are secretaries who've told me they can't get through the day without running home during lunch hour and playing it." Such was the impact of the Wyoming native's voice, clear as a mountain stream, and her empathetic songwriting, which made this album one of the best-selling independent releases of all time and the cornerstone of the feminist "women's music" movement. Produced by Williamson and featuring dozens of the era's finest women musicians — including guitarists Meg Christian and June Millington, bass virtuoso Jacqueline Robbins and vocalists Holly Near and Margie Adam — Changer blended pop, country and folk elements in songs that were both cuttingly intimate and generously communal. (A few featured large choruses inspired by the sing-alongs women's music artists inspired in concert.) Williamson's own keyboard playing ranged from contemplative to dance-floor funky. The clear and confident lesbian desire behind love songs like "Sweet Woman" and "Dream Child" made Williamson a sex symbol; her philosophical side made Changer a record of spiritual growth, too. Speaking what at the time remained mostly unspoken in pop, this album truly changed lives. —Ann Powers (NPR Music)
---
122. Siouxsie and the Banshees
The Scream (Polydor, 1978)
The English singer-songwriter Siouxsie Sioux has stood as a fearless post-punk priestess since she released The Scream with her band, The Banshees, in 1978. An artist as well known for her style as her voice, Siouxsie's graphic eye makeup inspired scores of goth girls to explore the depths of black eyeliner and black hair dye. But the boldness of Siouxsie's look doesn't distract from her sound; it makes her all the more powerful and mysterious, especially when coupled with her idiosyncratic music. The Scream starts slow and then thrillingly takes off, propulsive and heavy, with the high notes of her voice pulling everyone to the future — echoing, calling, wailing and yearning on the likes of "Pure." The second side of the album reveals more hard-driving punk tunes — the guitar, bass and drum slowly hammering in a way that earned the band frequent comparisons to The Velvet Underground — but it's her voice that grounds the music and pierces your heart. —Nina Gregory (NPR Staff)
---
121. Joni Mitchell
Hejira (Asylum, 1976)
There have been few artists who have evolved with as much artistic integrity and conviction as Joni Mitchell. Hejira (whose title, in short, means "journey") was composed during a series of cross-country trips by Mitchell in 1975 and 1976. It's an album inspired by solitude, using the highway as both metaphor and muse. As her sound started to incorporate more jazz influences, Mitchell recruited renowned jazz bassist Jaco Pastorius for the album — an ambitious move that paved the road for her work with other acclaimed jazz artists like Wayne Shorter, Herbie Hancock and Charles Mingus. The bass lines on Hejira weave in and out of its songs with minimal melodic repetition, much like her vocal parts; the combination paints the perfect backdrop to Mitchell's deeply personal stories and observations. "I suppose a lot of people could have written a lot of my other songs," Mitchell has said, "But I feel the songs on Hejira could only have come from me." While the lyrics tell tales of Mitchell's past, the music hints at the musical journey she would take during the next 30 years of her career — a journey that has made Mitchell one of the most influential and universally beloved artists of all time. —Amy Miller (KXT)
120. Anita Baker
Rapture (Elektra, 1986)
To put it succinctly, Anita Baker's third album, Rapture, is akin to good home cooking. In fact, my earliest memories of this album include it being used as a soundtrack to my mom's kitchen escapades. The luscious tone of Baker's voice truly feels like soul food as she effortlessly floats on the simplest, cyclical melodic lines like: "I love you here by me, baby. You let my love fly freely." You can't help but allow yourself to be swept away as the lyrics engulf you. Since its 1986 release, which won Baker her first pair of Grammy Awards, artists ranging from George Duke to JoJo have either sampled or covered some of the album's most resonant chart-toppers, including "Same Ole Love" and "Caught Up in the Rapture;" further proof that Rapture has certainly staked its claim in the R&B Bible. —Keanna Faircloth (NPR Staff)
---
119. The Slits
Cut (Island Records, 1979)
"We are not punks. We're the Slits," Palmolive told ZigZag magazine in 1977. Although the Spanish-born drummer would leave the group before they released their 1979 debut album, her definition held strong. As outsiders to the male punk norm, Ari Up, Viv Albertineand Tessa Pollitt recognized how quickly that work had been codified ("it's all just a uniform, what they wear and what they do," Up continued), and sought to break the mold. Crucially, they wanted to avoid creating a new one while they were at it. Their debut, Cut, kicks back at the social strictures placed on women — in professional, capitalist, domestic and psychological contexts — and figures out how life might feel beyond them. Averse to consumerist sugarcoating, they weren't afraid to highlight the precariousness of living outside society's rules. "Searching for something that makes hearts move, I found myself," Up sang on "Adventures Close to Home." "But my best possession walked into the shade and threatened to drift away." Yet mostly, Cut's joyful noise — Albertine's scratchy, lilting guitar; the limber, tricksy rhythm section of Pollitt and Budgie, later of Siouxsie and the Banshees — is propaganda for agitation as a life-giving force. Anyone in doubt only needs to catch the end of "Shoplifting," where Up, overcome by the sheer exhilaration of playing alongside her co-conspirators, howls "I've pissed in my knickers!" —Laura Snapes (Contributor)
---
118. Chaka Khan
I Feel for You (Warner Bros., 1984)
In the 1970s, Chaka Khan was the darling of funk as a central member of the Chicago band Rufus. But I Feel for You, Khan's first official album released in 1984, had her standing front and center with zero distractions. (Rufus dissolved in 1983.) By that time, rhythm & blues had been largely overtaken by high-tech production tools that bent and reshaped traditional vocals and instruments, transforming them into something entirely new. That fresh landscape became the foundation for Khan's I Feel for You, a quintessential example of black '80s pop. The album's title track was originally written and performed by Prince as a ballad in 1979. But Khan, along with Stevie Wonder on chromatic harmonica and Grandmaster Melle Mel and his "Ch-ch-ch-chaka-chaka-chaka Khan" intro, turned the song into an energetic marriage of hip-hop and new-school soul that shot to number one on the Billboard R&B singles chart. Khan's impact on hip-hop would later be felt via one of rap's leading men, Kanye West, who used I Feel for You's standout ballad, "Through the Fire," as the base of his debut single "Through the Wire." This song would eventually become the blueprint of West's sample-heavy production style, which inspired scores of producers that came after him. —Kiana Fitzgerald (Contributor)
---
117. Joan Jett
I Love Rock 'n' Roll (Boardwalk, 1981)
Fresh from a path-forging run with the teenage rock band The Runaways, Joan Jett burst out in 1981 with her first album fronting the deliciously hard-rocking Blackhearts. (She'd released Bad Reputation, her solo debut, a year earlier, and it was re-released in 1981.) Aside from its incredible commercial success — more than 10 million copies sold — I Love Rock 'n' Roll was a bold collection of covers and originals whose title track became an iconic anthem for the definitive hard rock scene of the 1980s. Though there were certainly other women fronting rock bands at the time (Debbie Harry, Chrissie Hynde), Jett's daring, energetic approach to the form is singular. Where one got the sense that Harry and Hynde were specifically forging a path for women in rock, Jett was just rocking. She didn't bother changing the "her" in "Crimson and Clover" to "him," because such a change would've ruined the rhyme, and her delivery of that iconic tune paired her devil-may-care vocal delivery with heavily distorted electric guitar. The couple of tunes that Jett wrote herself (particularly "You're Too Possessive") were among the most throttling tunes on the record, and no doubt set a bar for what would become a game-changing Riot Grrrl movement a decade later. —Kim Ruehl (Folk Alley)
---
116. Macy Gray
On How Life Is (Epic, 1999)
It's the late '90s. An artist gets dropped from her first major label deal, meaning the rock record she's completed will never see the light of day. She goes through a difficult divorce and finds herself a single mother of three. What do you think her debut album, a sum of those experiences, might sound like? Whatever it is, it's nothing like the funky and fun, tender and hopeful wonder that is Macy Gray's On How Life Is. In fact, Gray's debut was so original that the industry struggled to find apt descriptions of exactly what they were hearing. Her music was too bombastically gritty, too alive with rock and roll imperfection to fit comfortably within the smooth lines drawn around R&B by two of the genre's biggest releases that year — Mary J Blige's Mary and Destiny's Child's The Writing's on the Wall. And Gray's voice was beyond compare, although that didn't stop critics referencing the likes of James Brown, Rod Stewart (on helium) and Janis Joplin while trying to find an apt descriptor. While "I Try" is the career-defining single that earned Gray a Grammy and has been covered by at least one contestant per season of every singing competition on reality TV since, it's useful to look at the two songs it's nestled between on the album to truly appreciate the ground she breaks here. "I Try" is preceded by the raunchy, thumping "Caligula" which opens with the lyrics: "Hush, the neighbors hear your moaning and groaning." It's followed by the self-explanatory "Sex-o-matic Venus Freak." In Gray's world, female sexuality is ecstatic, autonomous and wonderfully messy, and its expression is not exclusively limited to starlets whose appearance is constructed to match some ideal. That was a unique thought in 1999. Unfortunately in many circles in the music biz, it still is today. —Talia Schlanger (Host, World Cafe)
---
115. La Lupe & Tito Puente
La Pareja (Fania/Tico Records, 1978)
By 1978, Guadalupe Victoria Yoli Raymond, known as La Lupe, was a venerable star. Known for her extravagance and exuberant performances — in which she would sometimes toss off her wigs and shoes — La Lupe was the reigning queen of Latin soul in the 1960s and 1970s. The vocalist, who was Cuban but had long since settled in New York, teamed up with the percussionist and bandleader Tito Puente (a legend in his own right) for La Pareja in 1978. On the album, Puente's jazz-imbued arrangements illuminate but don't overshadow La Lupe's inimitable pipes; she refuses to bend, even to El Rey. "No Me Importa," for instance, is a refusal, as La Lupe spits pure venom as she matter-of-factly sings "no me importa que diran" (I don't care what they'll say). And on a cover of Joan Manuel Serrat's "Como Un Gorrión," she becomes the subject — inverting the observational lyrics to make them in the first person — while injecting a burst of adrenaline that the original song lacked. Often overlooked, La Pareja was lightning in a bottle, a coming together of two forces who both transcended a cultural moment to become icons. —Paula Mejia (Contributor)
---
114. Reba McEntire
Rumor Has It (MCA, 1990)
In 1990, Reba McEntire was in the midst of a streak of successes — in the recording studio, on stage and on screen, too. She might have been criticized for moving into a more country-pop crossover sound with her previous album, Sweet Sixteen. But in true Reba fashion, she didn't seem to care. She even took it a step further with Rumor Has It, sounding by turns like a slick '80s lounge singer on "Now You Tell Me," a true country music maven on the defiant anthem "Climb That Mountain High," and a 1930s traditionalist on "You Lie." And who can forget "Fancy?" That Bobbie Gentry cover about a teenage girl whose mother sells her to the highest bidder and how she triumphs fifteen years later, might well be the most memorable song Reba McEntire ever recorded. Her chameleon-like ability to take on any character and make it her own is why Rumor Has It stands apart in McEntire's huge discography. While the songs run on familiar themes — love, loss, infidelity — each one is an ode to moving on, discovering yourself, and figuring out how to live the life you want to live. —Elena See (Folk Alley/MPR)
---
113. Aretha Franklin
Young, Gifted and Black (Atlantic Records, 1972)
Young, Gifted and Black turns self-confidence into art. There's no more potential here — Franklin is at the peak of her creative and vocal powers. More than half of the songs on the album are covers that she re-imagines, creating bridges between seemingly disparate listeners by making each aware of the other. For instance, Franklin changes the center of gravity on John Lennon and Paul McCartney's "The Long and Winding Road," making it a black gospel show stopper. And in her hands, the Otis Redding and Jerry Butler classic "I've Been Loving You Too Long" becomes a woman's story of sensual fulfillment. She also tweaks the title track (a Nina Simone original) into a more joyous statement of fact. Only Franklin had the moxie to have recorded this album — at the time, the original hits had barely grown cold. But what makes To Be Young Gifted and Black the apotheosis of Franklin's best decade is its winning mix of old and new. Many of the songs Franklin wrote or co-wrote for the album — including "Day Dreaming," "Rock Steady" and "All The King's Horses" — are now standards of soul music and have been recorded by artists including Mary J. Blige, Corinne Bailey Rae, Natalie Cole, Hall and Oates, Prince and Joss Stone. —Gwen Thompkins (WWNO)
---
112. Mercedes Sosa
Mercedes Sosa en Argentina (Universal Distribution/Philips, 1982)
Mercedes Sosa was known as the "voice for the voiceless." With her deep alto voice, La Negra (as she was often called, because of her black hair and mestizo indigenous roots) popularized the socially conscious "nueva cancion" or new song movement in the 1960s. Sosa was a political activist and folk singer who gave new life to traditional Latin American music with her emotive takes on songs by greats like Violeta Parra. Her left political leanings led to her exile in 1979, when she was forced to flee an oppressive military regime. But Sosa's album Mercedes Sosa en Argentina, which came out in 1982, marked her return home. It highlights some of those signature songs like "Gracias A La Vida" (meaning "thank you to life") or "Sólo Le Pido a Dios" that became anthems for generations to come. The double album became an instant best-seller and marked another important step in the music of Argentina and Latin America, in that it incorporated more modern sounds, like rock and roll and international pop, with the folk sounds of the past. Sosa was also a champion of young artists and a constant innovator. This album and her music in general continues to be a staple of any Latino household. —Christina Cala (NPR Staff)
---
111. Diamanda Galás
The Litanies of Satan (Y, 1982)
The iconoclastic pianist-vocalist Diamanda Galás grew up in a sheltered household where she wasn't allowed to listen to the radio. Her escape became music, in a way; Galás played piano from a young age and was talented enough that she started performing with the San Diego Symphonic Orchestra at age 14, but she was forbidden from singing. There is no voice like the terrifying, terrific one that Galás possesses, though, which has been said to span eight octaves. It was bound to unleash itself into the world at some point, and it did in 1982 when she released her debut album, The Litanies of Satan. The album is comprised of two long pieces: The eponymous "The Litanies of Satan," which holds its roots in Charles Baudelaire texts, and the piercing rattle of "Wild Women with Steak-Knives (The Homicidal Love Song for Solo Scream)." The album, which clocks in at twenty-eight spine-jolting minutes of Galás's wheezing, whispering and rhythmic wailing that can be heard into the next lifetime, is one of the most singularly influential avant-garde recordings to make its way out of hell and into our world. Artists including PJ Harvey and Zola Jesus have been shaken by The Litanies of Satan, thanks to Galás's stupefying vocal acrobatics — which suggest anything is possible if you dare to pick up a microphone and start screaming. —Paula Mejia (Contributor)
110. Miranda Lambert
Platinum (RCA Nashville, 2014)
Miranda Lambert had been releasing albums made with a cultivated circle of collaborators — producer Frank Liddell, songwriters Ashley Monroe and Natalie Hemby, among others — for roughly a decade by 2014, and had long since become one of country music's hardest rocking and most recognizable stars. Due to her indelible performances in the roles of women sticking it to cruel, bullying men and gleefully flouting the rejection of feminine propriety, Lambert was — at least in the minds of either casual or casually sexist observers — tethered to a cartoonish spitfire persona. Then Platinum, her first truly great album, made her shrewd self-awareness undeniable. Throughout a 16-song set that felt simultaneously personal and engineered for popular impact, she split the difference between her singer-songwriter and arena headliner sensibilities with a tone that was playfully serious and seriously playful — here, her spry, vinegary delivery confirms her as one of her generation's great wits. Recorded with frisky production at a moment when women were relegated to the margins of a seemingly homogenized, male-dominated country format, Lambert's riffs on womanly wisdom were both proudly countrified and thoroughly contemporary. She summoned confessional vulnerability, hard rock theatricality, gossipy candor and knowing sentimentality in songs about everything from the bizarre, transformative effects of celebrity to the perverse attraction of nostalgia and the simultaneous brutality and utility of beauty regimens. She not only made one of the most sophisticated, and fun, gestures of gender solidarity in the history of country music, but on Platinum, she finally displayed her real range. —Jewly Hight (Contributor)
---
109. Against Me!
Transgender Dysphoria Blues (Total Treble, 2014)
Against Me!'s founder and singer, Laura Jane Grace, spoke publically about her gender dysphoria years before releasing Transgender Dysphoria Blues. But with this studio album, her band's sixth, she put it all on the line. Here, Grace owns her identity as a trans woman with full-throated howls and lyrics about dresses and eyelashes, but they're never a costume. The trappings of femininity become tools for singing about the tricky parts of her transition, which included moments of loneliness, disappointment and confusion. The album doesn't sacrifice anything of what fans of Against Me! might expect to hear: A band at full tilt, and songs with lyrics that cover more traditional punk ground like politics and capitalism. But it's in the moments when Grace speaks candidly about her identity — whether be they proud or profoundly heartbreaking — that the album makes your heart swell with understanding. It's important music, a milestone moment of a trans woman declaring her identity and articulating the highs and lows of her story. And Grace has never sounded stronger. —Sarah Handel (NPR Staff)
---
108. Gladys Knight and the Pips
Imagination (Buddah Records, 1973)
Imagination is a declaration of independence, of sorts. After spending years with Berry Gordy at Motown Records, Gladys Knight & The Pips departed after feeling that more attention and resources were going to other artists on the label. The leap paid off; Imagination, their first album with Buddah Records, went gold, topping the pop and soul charts. Throughout Imagination, Knight's powerful vocals are on full display — but vocals from The Pips also get an opportunity to shine, too. They'd had some experience harmonizing together, to say the least. Gladys Knight grew up singing in church, and after winning a singing competition at the age of eight, assembled her singing group with her cousins and siblings. But by the 1960s, Knight's deep alto was supported by all-male backing vocals. Gladys Knight & the Pips continued to record several albums together before Knight launched a solo career, but this album cemented their place in musical history. From "Midnight Train to Georgia" to "I've Got to Use My Imagination" and "Best Thing That Ever Happened to Me," this album is filled with classics. —Lauren Migaki (NPR Staff)
---
107. The Shangri-Las
Leader of the Pack (Red Bird Records, 1965)
The girl-group boom of the late 1950s and 1960s cast the voice of the American teenage girl squarely into the spotlight. But The Shangri-Las, with their tough-girl personas and blue-collar Queens accents, tapped into its darker side, with dispatches from the more haunted part of the adolescent psyche — where every broken date or fight with mom is weighted with potentially apocalyptic significance. Neither of the two sets of sisters — the Weisses and the Gansers — that comprised the group were over 17 when they recorded the Billboard chart-topper "Leader of the Pack," the melodramatic apex of the teen-tragedy genre that gave their 1965 debut LP its name (and which, it turned out, wouldn't even be their only song in which a young lover dies blinded by tears.) The revving motorcycles and breaking glass on the title cut, co-written by Brill Building hitmakers Ellie Greenwichand Jeff Barry alongside producer George "Shadow" Morton, along with the Morton-penned, mournful "Remember (Walking in the Sand)," set the tone for The Shangri-Las' most memorable recordings. More often than not, these were abstract, eerie radio plays as much as pop tunes. The Shangri-Las would only release one more album, but their aesthetic would reverberate for generations, through endless covers and name-checks by acts ranging from Bette Midler to Blondie to Amy Winehouse. In particular, their frequency of danger and doom resonated with the men of hard rock and punk — they've been referenced and cited by The Jesus and Mary Chain, Twisted Sister and maybe most famously, The New York Dolls — who not only quoted them on the song "Looking For A Kiss," but also put Morton at the helm of their 1974 album Too Much Too Soon. —Alison Fensterstock (Contributor)
---
106. No Doubt
Tragic Kingdom (Interscope, 1995)
Back in the the early nineties, Alanis Morissette, Courtney Love, Liz Phair and Shirley Manson were dominating the alternative rock scene. So maybe it's no surprise that amidst of all that, Gwen Stefani was there too, belting about the experience of being a woman in the world without a modicum of self-doubt. Her delivery on her band No Doubt's standout album, Tragic Kingdom, is so convincing and unabashedly self-assured that it makes the sexism she's talking about seem utterly ridiculous. "I'm just a girl in the world / That's all that you'll let me be," she sings on "Just A Girl," at once describing her confines and refusing to abide by them. By doing so in 1995, she carved out a space for other people to do the same for the next two decades: Sing about politics, gender roles, breakups and ambition all on the same album, right next to each other. They needn't be mutually exclusive. Tragic Kingdom can be goofy and cheesy and theatrical, the way ska punk sometimes is, but there's no space, on that album, to doubt what Stefani is saying. Her reality is so captivating, it's like nothing else exists. —Leah Donnella (NPR Staff)
---
105. Sheila E.
The Glamorous Life (Warner Bros., 1984)
Though she be but beautiful, she is fierce! Sheila Escovedo, better known by her moniker Sheila E., stands in command at her timbale set, with cowbells, a cymbal and a microphone. Sensuous and sexy. Poised and polished. Confident, demure and blazingly talented. She beats her drums with authority and assurance, moving her feet in perfect step. She sings and glances sideways with a smirk that suggests she's also having fun, too. And on her 1984 debut solo album, the Prince-produced The Glamorous Life,Escovedo champions young ladies' imaginations with gripping detail: "I'm in love with the Belle of St. Mark / I've been wondering what to wear, I love our noon rendezvous / We're gonna have fun, Oliver's house / All I ask is for a little decency and class / Next time wipe the lipstick off your collar / She wants to lead the glamorous life / She don't need a man's touch," she sings, a badass percussion solo following the title track's uplifting hook. These days, The Glamorous Life is garnering more rightful celebrations as one of the greatest, if underrated funk albums of the mid-1980s, thanks in no small part to Sheila's flawless drum technique and swaggering stage presence. —Suraya Mohamed (NPR Music)
---
104. ESG
Come Away With ESG (99 Records, 1983)
Four teenage sisters from the South Bronx — Deborah, Marie, Renee and Valerie Scroggins — started writing punkified dance songs together in the 1970s. They named themselves ESG, an acronym stands for Emerald, Sapphire and Gold. It's not hard to see why: Every second of their rhythm-centered debut album, Come Away With ESG, is a gem that casts light in every direction. It's unexpected, too. A surging surf rock current runs through the likes of "Chistelle," while the woozy "About You" is perhaps the sultriest song to ever feature the cowbell. Come Away With ESG bursts with lean, rhythm-driven love letters to the dance floor— including the funk-punk jam "You Make No Sense" and the infectious "Dance," which will make just about anybody start to move and groove — that have been sampled countless times and undoubtedly contributed to hip-hop's development. At the time, ESG's prescient songs defied definition; today, they're proof that seemingly-disparate influences, like Latin funk and post-punk, can indeed coexist in the same sonic universe, the very one they're urging us to along to. We'll follow them anywhere. — Paula Mejia (Contributor)
---
103. Umm Kulthum
Enta Omri (You Are My Life) (Sono, 1964)
It's been over five decades since the Egyptian singer Umm Kulthum — the Star of the East, and still the all-time most famous star of the Arab world — began performing what might still be the love song to end all love songs: "Enta Omri." Written in 1964 by Mohammed Abd el-Wahab, a composer who would later become a frequent collaborator for Kulthum, and with poetry by Ahmad Ramy, it's a song that Arabs of all ages still listen to and sing along with, note for note and aching word for aching word. Like other songs in her repertory, Umm Kulthum would frequently spin out a live performance of "Enta Omri" for over an hour or even two — bringing something new to each phrase, each note a perfect gem but imbued with a deep, unrelenting pathos. But there is something uniquely, and universally, appealing about this Abd el-Wahab song in particular. The enticement begins with that compelling, sinuous melody that he gave to an electric guitar — a watershed moment for Arab music, which had previously been played with all-acoustic instruments. Take a hint from her adoring fans: Some Thursday evening — the night of the week when, once a month in a practice that went on for decades, Umm Kulthum would spellbind millions of people with a live, hours-long radio performance — turn on one of those slowly unspooling, completely dazzling performances of "Enta Omri," and be transported to another time, another world. —Anastasia Tsioulcas (NPR Music)
---
102. Alabama Shakes
Sound & Color (ATO, 2015)
While Alabama Shakes were nominated for three Grammy Awards following the group's 2012 debut, its members proved themselves masters of rock texture and rhythm on their second studio album, Sound & Color. The album begins and ends with an otherworldly synthesizer pulse beautiful enough to stop even the most jaded music fan in their tracks, yet vocalist and guitarist Brittany Howard brings us back down to earth with a voice that carries real longing and range. Howard's intimate, introspective lyrics probe love, and every rise and crash that it brings, on songs like "Don't Wanna Fight." In front of the world she is remembering, letting go of frustration and calling out to a lover who will never hear. And on "Future People," Howard's voice ranges from angelic to soulful, hitting like a volt of electricity. Meanwhile, "Miss You" is melodic with doo-wop rhythms and poignant details of a love since lost: "I'm gonna miss you and your Mickey Mouse tattoo," she sings. It's a prime example of what's most remarkable about Sound & Color; it tackles the familiar anticipation of unexpected love, all while treading new sonic territory. —Michele Myers (KEXP)
---
101. Eurythmics
Touch (RCA, 1983)
In 1983, Eurythmics — the formerly romantic creative duo of Annie Lennox and Dave Stewart — finally had a hit, one that would prove to the biggest of their career: "Sweet Dreams (Are Made of This)." The soulful synth pop masterpiece was plagued by romantic longing — sonic storytelling far removed from the robotic isolation that punctuated many new wave songs at the time. The same year, the prolific pop savants released Touch, another commercial success confirming their idiosyncratic greatness. Who knew that sad, strange and human could also be popular? Melancholy, as delivered by vocalist Lennox, is what made them great. Her rich contralto teeters a line of theatrics and overdramatics that creates a cohesion to Touch that would otherwise go unrealized. In "Right by Your Side," she levitates in love, only to tear herself down with a cringe-worthy moment of clarity: "When depression starts to win / I need to be right by your side." Even steel pans and joyous synthesizers can't distract from harsh reality — and there is a particular loneliness to this album, particularly on "Who's That Girl?" which allows narrative longing and minimal production to cut to the core. Sadness never sounded so cool. —Maria Sherman (Contributor)
---
100. Buffy Sainte-Marie
It's My Way! (Vanguard Records, 1964)
Buffy Sainte-Marie, who was born into the Cree Tribe in Canada, released her debut album, It's My Way! in 1964. The cover photo showed Sainte-Marie herself with a mouth bow — an image that was at once foreign, innocent, and intense, and a mere foretelling of the depths contained within the music. From the power of her warbling voice on "Cod'ine" to the insistence with which she commanded the lyrics on "Now That the Buffalo's Gone," It's My Way! is unusual, urgent debut oozing with an anger barely contained. While the album didn't hit it big on the charts, its influence goes far beyond it, with dozens of artists — including Janis Joplin, Glen Campbell, Roberta Flack and Joni Mitchell — covering her songs over the years. It's My Way! also launched Sainte-Marie's remarkable career; she continues to break new ground as the decades pass (she released an early electronic album, Illuminations, in 1969) while maintaining steadfast roots in advocacy for indigenous peoples of the Americas. —Jessie Scott (WMOT)
---
99. Taylor Swift
Fearless (Big Machine Records, 2008)
No listenership is cast aside with the same fervent damnation as young women—their interests are frequently written off with complete critical derision. Challenging that notion is best accomplished by being too damn good (and confident in that excellence) to ignore. So goes the success of the then-teenage Taylor Swift, a Nashville-via-Pennsylvania talent whose ideation reached its full fruition on Fearless, a self-written country-pop album of immeasurable catchiness. In "Fifteen," she writes from a place of newfound maturity, adopting a big sister role for those most affected by being young and vulnerable (everyone). In "Love Song," fantasy is grounded in intimate reality, a Romeo & Juliet metaphor imbued with restraint — she avoids grandiose gestures and instead offers timeless confessions. Fearless manages to play to Taylor's admiration for her female pop forbearers (Sheryl Crow is mentioned in interviews), the narrative songwriting of the country music she grew up on and her own personal hybridity. At its simplest, Fearless displays Swift as a brilliant songwriter. At its truest, the album shines with an explosive voice, an ineffable gift. No one can question Swift's success now, and Fearless proved it then. Just ask a girl. —Maria Sherman (Contributor)
---
98. Bikini Kill
Yeah Yeah Yeah Yeah (Kill Rock Stars, 1993)
In the 1990s, feminism's third wave had a soundtrack. Riot grrl — the raucous, scathing brand of women's punk rock — decried sexism, racism and homophobia, demanded justice for the oppressed and celebrated solidarity among women and girls. Its personification was the rebel girl, described in a song of the same name from Olympia, Washington's Bikini Kill; she is the "queen of the neighborhood" who spurns the male gaze and embodies revolution. The song "Rebel Girl" first appeared on Yeah Yeah Yeah Yeah, a split album Bikini Kill did with British riot grrl band Huggy Bear. Recorded in a D.C. punk house called The Embassy, it's less polished than the band's studio releases. But in that process, it celebrates its homemade veneer instead of shying away from it. Over the course of Yeah Yeah Yeah Yeah's seven original songs (and those that were added in 2014's reissue), singer Kathleen Hanna takes aim at sexist oppression with terrifying force, rage and precision. These songs gave immediate, unfiltered language to a generation of young women who were ready to shout down rapists, who knew that their struggles were interconnected and who believed that women were stronger together. In Hanna's many voices through Yeah Yeah Yeah Yeah — the Valley Girl-esque whine, the punk bark, the rock and roll howl — refracted the diverse needs and desires of a new movement, opening the doors for any grrl angry enough to walk through. —Marissa Lorusso (NPR Music)
---
97. Mariah Carey
Daydream (Columbia Records, 1995)
Mariah Carey could have become a glitter-laden version of the '80s pop princess who ruled the decade before, Whitney Houston. Instead, Carey and her six-octave spanning pipes smashed the "Best New Artist" Grammy curse and sashayed off with the rest of the '90s, scoring a No. 1 hit nearly every year that decade. Daydream, released in 1995, was the fifth album into that run. The lead single "Fantasy" is a dreamy party-starter that, in part thanks to a remix featuring Ol' Dirty Bastard, came to define a whole genre of singles that followed its songbird plus gravelly-voiced rapper formula, a la Ja Rule and Ashanti. And on the track "One Sweet Day," all four members of Boyz II Men just barely match Carey's sole star power. Despite being one of her best-selling albums, Daydream was shut out of that year's Grammys (she lost all six categories for which she was nominated). But it proved that Carey had the creative savvy to embrace a new sound, and it established a different template for success than that of her earpiece-and-costumed competitors. Ultimately Carey is still finding her footing as a legacy artist, but she's been too good for too long. At this point, she's only competing with herself. —Audie Cornish (Host, All Things Considered)
---
96. Lil' Kim
Hard Core (Big Beat/Undeas Recordings, 1996)
We all knew Lil' Kim from Junior M.A.F.I.A., but we still weren't ready for her solo debut, Hard Core, when it released in November 1996. The album's title speaks for itself: The introductory track features a man pleasuring himself, presumably while watching a porn flick starring the diminutive rap diva. Track two cues up, and Lil' Kim's wordplay immediately lets us know how she used to be scared of the male member. On Hard Core she owned her sexuality; it was a Big Momma Thang. Lil' Kim goes in on these tracks, deftly weaving in between rapper's moll and hard-edged gold digger. She wasn't doing anything that women hadn't done before — using what they got to get what they want — but Hard Core didn't sugarcoat it. Lil' Kim had no time for fake dudes; all they could do was give her orgasms, buy her jewels, cars and designer goods, then disappear. (Except for Biggie, of course, as she reps hard for him on "Queen B@#$H"). Luminaries like B.I.G., Lil' Cease and even Jay Z jump in with some bars here and there on the album. But trust, this is a Queen Bee jawn. Is it feminist? No idea. But Kim did it first, Nicki Minaj. —Tanya Ballard Brown (NPR Staff)
---
95. Shakira
¿Dónde Están los Ladrones? (Sony, 1998)
Shakira's luggage was once stolen at the airport in Bogotá, Colombia. The loss, which included a trove of lyrics in one of the suitcases, left her devastated and shook. But the incident also fueled the inspiration for what would be her next album, ¿Dónde Están los Ladrones? (its title means "where are the thieves?"). While it's in partially inspired by the robbery, the album hints towards the political corruption and mistrust Colombian society held towards their own government. As a follow up to her success with Pies Descalzos, Shakira produced every song on her fourth studio record while experimenting with new pop and rock arrangements. She certainly made the most of a bad situation: The imaginative songs of ¿Dónde Están los Ladrones?, brimming with Shakira's witty and brutally honest wordplay, cemented her place in the alternative Latin rock canon. Some Shakira fans see this album as her last piece of work in this genre before crossing over into the English-speaking market with her following record Laundry Service, which ignited cultural conversations about Shakira's authenticity. Yet as a half-Colombiana half Salvadoreña young girl, I never saw other young mujeres from my countries in the media doing what they loved. Shakira, and this album, represented embracing my "otherness" and owning it unapologetically. —Jessica Diaz-Hurtado (NPR Staff)
---
94. Sheryl Crow
Tuesday Night Music Club (A&M, 1993)
By 1993, Sheryl Crow had earned some solid music credibility by working as a backup vocalist with the likes of Don Henley and Michael Jackson, among others. Although she didn't know it at the time, she was on the cusp of superstardom. Enter the Tuesday Night Music Club, a group of musicians who'd get together once a week to push the boundaries of what constituted rock and roll, roots and soul music. It was in that setting that Crow, and several co-writers, created an incredibly diverse 11-song tracklist. While "All I Wanna Do" is so pop-tastically infectious that it easily could have thrown Crow into the "one-hit-wonder" category, songs like "Strong Enough," "No One Said It Would Be Easy" and "Run, Baby, Run" proved that a multi-faceted musician had arrived. It also earned Crow a rightful place in the public consciousness as a soulful singer and lyricist possessing a true gift for knowing which phrases to lean on, and a musician not afraid to get some new mileage out of some familiar country instruments (pedal steel and accordion, to name two). But it's the variety of textures, sounds and ideas you'll find in Tuesday Night Music Club that showed the music industry that women didn't have to be pigeonholed into any one category or genre. —Elena See (Folk Alley/MPR)
---
93. Britney Spears
…Baby One More Time (Jive Records, 1999)
Oh baby, baby, how were we supposed to know that 1999 would birth one of the most lasting pop albums of the millennium (and beyond)? The combination of Britney Jean Spears' vocals and stellar production work from Max Martin made for an incredibly prescient record, one that still sounds pristine and poppy nearly two decades after its original release. This record broke through the boy band molds and showed me, as a seven-year-old growing up in West Virginia, the power of an independent woman on a single mic. But not everyone felt the same way. At the time Spears dropped her debut, critics immediately wrote her off as a Madonna rip-off and a Lolita-type with no discernible talent, complaints that tend to follow achieving young women with unique voices. And yet …Baby One More Time went on to become one of the best-selling records of all time, the best-selling album by a teenage solo artist and a multi-platinum Grammy-nominated release for Spears, not to mention an international pop model for artists like Ariana Grande, Nicki Minaj, Grimes and South Korea's Girls' Generation. Teen pop is typecast as being irrelevant or shallow, but Britney Spears' debut is a multi-generational time capsule that's proven to be as relevant then as it is today when dealing with broken hearts, finding light in dark places and navigating the ups and downs of adulthood. Starting with that one record, Spears redefined pop music and (she drove us) crazy with her showswomanship. —Joni Deutsch (Mountain Stage)
---
92. Meshell Ndegeocello
Peace Beyond Passion (Maverick, 1996)
Few artists working in the '90s straddled groove-centric styles with more finesse, or exploited the potential of fluidity more masterfully, than Me'shell Ndegeocello. On 1996's Peace Beyond Passion, her second and best-known album, she brought cool precision to her fusion of hip-hop snap, taut funk, glistening soul orchestration, knotty jazz patterns and psychedelic rock eruptions, a combination that could've easily grown unwieldy in less steady hands. Since she played bass, her primary instrument, and plenty else on there, in addition to being vocalist, songwriter and co-arranger (with producer David Gamson), she was clearly the one shaping the feel and setting the tone on the album. Ndegeocello's vocal performances — sometimes singing, sometimes speaking — were powerfully composed, though her lyrics conveyed deep conviction, and some were artfully provocative. She began the album sagely savaging the oppressive, death-dealing use of religious texts and teachings against black people, queer people and people judged for their carnality, invoking and poetically interrogating familiar devotional language. Then, she turned her attention to quietly intense, androgynous, almost mystical meditations on owning kaleidoscopic sexual desire and negotiating mutual pleasure. Taking that journey with her was its own reward. —Jewly Hight (Contributor)
---
91. Alison Krauss And Union Station
New Favorite (Rounder, 2001)
Alison Krauss had been perfecting her brand of sleek, songwriterly bluegrass for more than a decade by the time she and her band, Union Station, put out New Favorite in 2001. Though it was released the same year as the massively popular soundtrack to the film O Brother, Where Art Thou?, which prominently features both Krauss and Union Station's Dan Tyminski, New Favorite contains none of O Brother's sepia-toned nostalgia. Instead, the album evokes the tenebrous imprint left in the wake of a dream, and simultaneously represents the pinnacle of the group's patented sound. Its songs are shaded by minor-key melancholy and elevated by Krauss' singular voice, which seems to exist on its own cosmic plane. Some critics have written off the album for its polish. But Krauss, a former fiddle champion, did not reject bluegrass's characteristic grit so much as she synthesized it into something new, channeling the talents of her band's superlative pickers in service to the songs. That approach changed the landscape of the genre, and you can hear its influence in practically every contemporary bluegrass act today, from Punch Brothersto Sarah Jarosz. With New Favorite, Krauss showed, once and for all, that she had nothing to prove. —Amelia Mason (WBUR)
90. Barbra Streisand
Funny Girl, Broadway Cast Album (Capitol Records, 1964)
Any number of doors — the blues, gospel, r&b, country, rap, rock and roll, even opera — can lead to pop music. Barbra Streisand entered via Broadway. While ambivalent about a pop career in the early 1960s, Streisand nevertheless sang at New York City nightclubs before landing her first Broadway theater role. Her second job, as the 1920s comedy star Fanny Brice in the musical Funny Girl, changed popular culture, launching Streisand to super stardom as both a vocalist and actor. "She threw her head back, sang her heart out and knocked New York on its ear," Joanne Stang wrote of Streisand in her 1964 New York Times review. The original cast album is neither Streisand's first, nor most successful, but it captured a rare cultural moment in which one performer emerges bigger than the medium itself, outshining an entire Broadway cast with an unmistakable voice and a most extraordinary musical ear. This recording features Streisand singing on a dozen numbers, including "Don't Rain on My Parade" and the ever-popular "People," which inspired covers by Ella Fitzgerald, Aretha Franklin, Dionne Warwick, Nat King Cole, and The Supremes, among others. —Gwen Thompkins (WWNO)
---
89. Shania Twain
Come On Over (Mercury Records, 1997)
Whether you love or hate today's mainstream country, you gotta give it up to Shania Twain for inventing its urbane sensibility and much of its forward-thinking sound. Her blend of country and pop, including big rock drums and dance-music synthesizers, revolutionized the genre — but only because her songs and delivery made those innovations feel right to country listeners. Instead of a nostalgically wistful cowboy in a turquoise belt buckle and ten-gallon hat, here was a modern woman in leopard skin prints and pumps she kicked off after a hard day conquering the workplace (which, in Twain's case, was the recording studio — she deserves credit as a true collaborator there with her then-husband, producer Robert "Mutt" Lange). Twain provided the worldview that made her and Lange's sonic innovations work in a tradition-minded genre. Her songs about equality in marriage (her "9 to 5" update "Honey, I'm Home"), femininity that was never passive ("Men's shirts, short skirts, oh, really go wild," she sang in "Man! I Feel Like a Woman!," perfecting the Southern gal-on-a-bender trope that persists throughout country to this day), and mutually satisfying sex ("If You Wanna Touch Her, Ask!" she sang, lending her trademark positivity to the feminist idea of consent). With Come on Over, Twain's third album, she and Lange got her balance of home truths and forward thinking totally right — and shipped 40 million copies worldwide, making this the best-selling country album of all time. —Ann Powers (NPR Music)
---
88. k. d. lang
Ingénue (Sire, 1992)
Early adopters who recognized the power and grace of k.d. lang's voice behind her early cowpunk performance art were graced with the ultimate gift in Ingénue. More torch than twang, it announced a new stylistic chapter for lang, who has proven her ability to embrace new aesthetics with artful flair time and again. Co-written and produced by Ben Mink, the album is a capital-R romantic listen on the surface — with a sound rounded out by fiddles, pedal steel and sitar — but has so much more to say. Specifically, there's intimate, personal lyrics about love ("Save Me") and the lack of it ("Season of Hollow Souls"), gender questions ("Miss Chatelaine"), obsession ("Wash Me Clean") and desire ("Constant Craving"). Big ballads with sweeping choruses were not mainstream fare in 1992, but Ingénue turned out to be the album that got lang all over the radio. The awards followed, as did the media storm over her Vanity Fair cover photo with Cindy Crawford, in which the model, in a high femme leotard, shaved the face of the besuited lang. Bold, butch and beautiful, k.d. lang made an album that was never of its time, and as such, is timeless. —Rita Houston (WFUV)
---
87. X
Los Angeles (Slash/Rhino, 1980)
X is a propulsive rock machine made up of two singer-poets, Exene Cervenka and John Doe, guitarist Billy Zoom and the classically trained drummer D.J. Bonebrake, who stomped into the world in 1980 with Los Angeles and are still going strong. From the first distorted chords of the album's opening song "Your Phone's Off the Hook, But You're Not," X's raw sonic script scrawls you a dark description of the City of Angels. Their debut album is a simple, unique punk formula: the deadpan-yet-melodic singing style plus the literate lyrics of Exene and Doe. X is at their best on the more melodic tracks, kicking into high gear with the anti-rape song "Johny Hit and Run Paulene," the cautionary tale "Los Angeles" and the wry and glorious "Sex and Dying in High Society." Yet Exene and Doe's call-and-response vocal style on the swaggering likes of "The World's a Mess; It's In My Kiss" is what makes X one of the most riveting punk bands of all time. Not that their was their intention; it just happened. "Nobody was planning on a career," Exene has said of X. "It was just a bunch of misfits who didn't know what they were doing, playing music and inventing fashion. People would pull over on the side of the road and flip you off. You knew that it was important because people were fighting it." —Michele Myers (KEXP)
---
86. Alice Coltrane
Journey in Satchidananda(GRP/Impulse!, 1971)
Alice Coltrane made some of the deepest, most luminous and spiritual music of any musician, jazz or otherwise. She died in 2007, and left behind a long and varied legacy. It is strange that she is still continually compared to the accomplishments of her husband, John Coltrane, who died in 1967, or thought of as being in John Coltrane's long shadow. Alice Coltrane was her own artist. Alice McLeod was an accomplished musician before she met John — she was a respected player in Detroit's diverse and thriving music scenes, and was an incredible pianist (awesome 1960s footage of her furious performances can be found on YouTube.) She soon mastered many other instruments, most famously the harp, which underpinned so many of her greatest records. Journey in Satchidananda was named for Alice's guru, the charismatic Swami Satchidananda, who was a great source of support and solace for her after her husband's untimely death; Alice later became a guru of her own, adopting the name Swamini Turiyasangitanda, and establishing her own ashram in California. Journey in Satchidananda is a transporting experience combining oud, tamboura, bass, harp, drums, bells, tambourine and piano. There's a cast of all-star jazz players on the record — Pharaoh Sanders, Charlie Haden, and Rashied Ali among them — but the true star is Alice and her cosmic harp. —Geeta Dayal (Contributor)
---
85. Joan Baez
Diamonds & Rust (A&M, 1975)
Joan Baez was more than fifteen years into her music career when she struck out in a new direction, in 1975, with her album Diamonds & Rust. While she was used to interpreting other people's songs, it's here that she began to trust her own voice as a songwriter. How brave she was. Not only was she becoming increasingly more vocal — and more critical — about America's controversial actions in the world, but she also started sharing her original songs with an audience used to her voice, and not to her words. That took a leap of faith, for sure, much like the album's title track, which lays bare her intensely personal relationship with Bob Dylan in 1960s New York City. Dylan shows up again in the Baez-penned "Winds of the Old Days," while "Children and All That Jazz," another Baez original, offers a slicker sound with experimental vocal harmonies and jazz instrumentation. Her cover of Dylan's "Simple Twist of Fate" is a more upbeat version of this existential loner's theme song and her covers of tunes by John Prine and Stevie Wonder (among others) round out an album that works on two levels: Baez as "the voice of a generation," and Baez as the songwriter with a unique perspective to share. —Elena See (Folk Alley/Minnesota Public Radio)
---
84. Roberta Flack
First Take (Atlantic, 1969)
The first time most Americans came around to Roberta Flack's chamomile voice was with her hit song "The First Time I Ever Saw Your Face," which shot to the top of the Billboard charts in 1972 after being featured in Clint Eastwood's Play Misty for Me. But the rest of the country was a few years late in discovering what supperclub audiences in Washington, D.C., already knew — that the teen piano prodigy-turned-junior high school music teacher had a seemingly innate knack for tapping into the joy and pain of the times through song. Because of the delayed timing of Flack's breakout success, her debut album, First Take, is commonly associated with the early 1970s, but it was actually recorded in 1968 and is heavily anchored to the struggles of that year. A simmering jazz cover of the protest song "Compared to What" and urgent reading of Donny Hathaway's "Tryin' Times" delve into the same social issues that the nation is still grappling with five decades later. The way Flack's voice pivots nimbly between prayerful reverie and untethered defiance gives the listener the impression that she alone is capable of tackling societal tensions with such depth. What's more, First Takefirmly established Flack as one of the most versatile and expressive vocalists of the soul era. —Andrea Swensson (Minnesota Public Radio)
---
83. Bobbie Gentry
Ode To Billie Joe (Capitol Records, 1967)
After a 15-week reign that lasted through the Summer of Love and well into the fall of 1967, the album that bumped the psychedelic three-ring English circus Sgt. Pepper's Lonely Hearts Club Band off the top of the charts was debut singer-songwriter Bobbie Gentry's dispatch from the sweatiest, swampiest bottom of America. Ode to Billie Joe is a richly atmospheric production, juxtaposing the sounds of the deepest American South — raw, funky blues guitar, sprightly fiddles, rattlesnake percussion — into a gorgeous slice of country soul. The title track, of course, became one of American music's most compelling riddles, the splash off the Tallahatchie Bridge heard 'round the world forever. The power of "Ode to Billie Joe," a Southern Gothic mystery about the loneliness, distance and ultimately, tragedy lurking beneath a pleasant family scene, is so enduring that it almost distracts from the extraordinary storytelling craft of the album as a whole. All of the songs are complex and abstract, full of bright details — a checkered feed-sack dress, two postcards from California — and few of them tell you the whole story. Dramatized by Jimmie Haskell's cinematic string arrangements, Ode to Billie Joe is a compendium of intriguing, evocative scraps of poetry that always hint at something more lingering just outside the frame, in the dark. —Alison Fensterstock (Contributor)
---
82. Laura Nyro
New York Tendaberry (Columbia, 1969)
When New York Tendaberry came out, Laura Nyrowas a well-regarded songwriter whose compositions had been hits for bands like Blood, Sweat & Tears and The 5th Dimension. Songs from Tendaberry — "Save The Country," "Time And Love" — would also be successfully covered; label exec Clive Davis later noted in his memoir that Nyro's own recordings effectively served as demos for other artists. But such an attitude undercuts how surprising and intensely moving New York Tendaberry was, not to mention how deeply the Bronx-born singer and pianist influenced artists from Rickie Lee Jones to Billy Childs. Released well into the guitar's long era of pop dominance, this album barely incorporated the instrument. Instead, Nyro's jazz-inflected piano playing and expressive, birdlike voice grounded each song, whether built up cinematically with brass and strings or left stark and sighing. Lyrically somber, Tendaberry teemed with allusions to the devil and darkness, brightened briefly by the gospel strain of "Save The Country," which she'd written in response to Bobby Kennedy's assassination. Perhaps the album's most apt review came from the artist herself, in a 1970 Down Beat interview: "It's abstract, it's unobvious and yet I feel that it's very true." —Rachel Horn (NPR Music)
---
81. Sleater-Kinney
Dig Me Out (Kill Rock Stars, 1997)
Following the 1996 release of its album Call the Doctor, the members of Sleater-Kinney were beloved next-gen riot grrrls. And by the time the band released its next record The Hot Rock, in 1999, they were rock stars. Dig Me Out is the album that took the Olympia, Wash. trio from one echelon to the other, and the one that made Sleater-Kinney as we know it. Drummer Janet Weiss joined co-founders Corin Tucker and Carrie Brownstein before recording the 1997 album, after years of the band rotating through drummers. The cosmic effect of those three musicians finding each other was immediate. Here, Weiss tightened up the group's sound, honing its strengths while giving Tucker's gargantuan voice and Brownstein's emotive guitar an unshakable foundation. At its core, Dig Me Out drew the blueprint for feminist musicians aiming to maintain their integrity, politics and vision while honing their craft and expanding their reach. —Katie Presley (Contributor)
80. Laurie Anderson
Big Science (Warner Bros., 1982)
Laurie Anderson never intended to become a pop star. After an initially tiny pressing of "O Superman" found its way to BBC DJ John Peel's ears and later became an unexpected U.K. hit, Warner Brothers beseeched her to make an album. She assented, turning the "politics" section of her six-hour performance piece United States I – IV into her 1982 debut Big Science, and in doing so, wielded a mass medium as a critique against itself. Aware of her novelty value, she used her uncanny delivery to highlight humankind's frighteningly banal secession to the post-industrial age, lulling audiences into the placid state that she sought to critique. Big Science is simultaneously silly and prescient, and takes a refreshingly wry attitude to technology's perils compared to today's often obvious commentary on the subject. Anderson's playful use of machine-speak subverts the industry's reliance on women's voices as a shortcut to maternal comfort while also progressing the trailblazing synthesizer work of pioneers like Delia Derbyshire and Suzanne Ciani. Despite Anderson's clear aversion to dehumanization at the hands of technology, Big Science is thrilling because it isn't a case of clashing binaries arguing for or against. "I don't want to nail things down," she told Sounds in 1986. "I want them to either breathe or explode." —Laura Snapes (contributor)
---
79. Portishead
Dummy (Go! Beat, 1994)
Portishead has a long-standing reputation for being enigmatic, due to the fact that its members don't often perform live and that they make music in a deliberate, unhurried way (the group has released three impeccable albums since its inception in 1991). But in terms of a mission statement, look no further than the chorus of "It Could Be Sweet," a song from the Bristol trio's standout debut album Dummy: "It could be sweet," Beth Gibbons sings. "Like a lone forgotten dream." This band could be sweet, but it's not. It's that very tension that makes Dummy one of the most urgent, burning albums to ever be put to tape, and a high water mark of the trip-hop genre that flourished in the early 1990s. Dummy sounds familiar yet foreign; sultry and sure, but something's not quite right. These extremes are grounded by Gibbons' achingly soulful vocals — which overlay Geoff Barrow's electronic production and Adrian Utley's sweeping guitar work — and range from pleadingly sincere to knowing within a single verse, from the lonesome reminisces of "Sour Times" to the strutting "Wandering Star." Though Gibbons has said that she never had aspirations to be a songwriter, she had previously been singing in pubs before joining Portishead. Yet some of the vocal demos she made at home, like "Strangers," were so potent that they were left intact on Dummy, which nabbed the Mercury Prize the following year. It's especially telling that the centerpiece of the album — and Portishead's most popular song, to boot — is "Glory Box," a slow, subtle nudge for gender equality as Gibbons sings: "Move over and give us some room." —Paula Mejia (contributor)
---
78. The Bulgarian State Radio & Television Choir
Le Mystère Des Voix Bulgares(Nonesuch, 1987)
Spine-tingling, otherworldly beauty is not what the world might have expected from a Soviet-ish group called the Bulgarian State Radio & Television Female Vocal Choir. And yet a string of albums, beginning with an alluringly named 37-minute compilation called Le Mystère Des Voix Bulgares (The Mystery of Bulgarian Voices), cracked open a whole sonic world largely unknown beyond the Balkans, full of gorgeous dissonances and fierce, sung-out emotion. Originally released in 1975 by the Swiss ethnomusicologist Marcel Cellier, who ran his own boutique label, the first Mystère album became a hotly sought-after prize among cognoscenti, who dubbed cassette copies for each other. One of those fans was 4AD Records founder Ivo Watts-Russell, who managed to license the material and re-release it in the U.K. in 1986 (and in 1987, Nonesuch did the same in the U.S.). Soon these women from all over Bulgaria became international stars, with their plushly layered, plangent voices weaving together Bulgarian dissonance and Western European-style choral singing. Despite any lyrical context (given that in their U.S. and U.K. versions, these translation-less village songs carried such unrevealing English titles as "Diaphonic Chant"), the music's emotive power and haunting beauty comes shining through. —Anastasia Tsioulcas (NPR Music)
---
77. Aaliyah
Aaliyah (Blackground/Virgin America 2001)
For her third and final act, Aaliyah made her strongest and most important offering. Her very tragic and untimely death shortly after the release of this self-titled album made it difficult and haunting for most people to listen to. But Aaliyah is a revelation that projects an effortlessly cool aesthetic coupled with the actual vulnerability that comes with being cool. The compositions on the forward-thinking album, most by Stephen Garrett (Static Major), were complex and futuristic, much more so than any other R&B records released at the time, and the way Aaliyah perfectly embodied Garrett's songwriting is astounding. You'd never think that she didn't write these songs herself. On this album, Aaliyah continued the legacy of soprano singers like Minnie Riperton and Mariah Carey, and simultaneously set the stage for artists like Kelela and Solange to emerge. In the process, Aaliyah became a catalyst and bridge that created a smooth transition from '90s style R&B into Modern PBR&B. —Stasia Irons (KEXP)
---
76. Tammy Wynette
Stand By Your Man (Epic, 1969)
There's a generation of feminists who might know Stand By Your Man and its title song primarily by an infamous 1992 interview Hillary Clinton gave in support of her husband's first presidential bid. There's a generation before that, though, who know the album for its perceived affront to the women's movement of the 1960s and 1970s. But if Tammy Wynette's focus on domestic life ran counter to many women's aspirations, it gave voice to many others who could identify with what they heard. The songs on Stand By Your Manexemplified the way Wynette centered the personal heartaches that women suppress in order to care for loved ones: The burden of holding an imperfect marriage together, the strength summoned to comfort a child whose father's walked out, the difference between a weekend fling and a commitment that lasts through the weekday routine. This album also portended Wynette's role in shaping the lush countrypolitan style with which Nashville infiltrated the pop charts into the '70s. And while sweeping strings weren't yet supplanting steel guitar, Stand By Your Man's crossover-friendly backing choirs and tearful evocation of middle-class hardiness ushered it into the mainstream. —Rachel Horn (NPR Music)
---
75. Donna Summer
Bad Girls (Casablanca, 1979)
Right before Donna Summer released Bad Girls in April 1979, she had struggled with depression and became a born-again Christian, which makes it all the more interesting that this album — her best-selling one, no less — displays Summer as a prostitute on the cover, and its signature song is about streetwalkers on a stroll. Maybe her background in theater helped with separating art from faith? In any case, Bad Girls earned Summer the title "Queen of Disco," and marked her reign over a music genre that seemed to personify a culture of hedonism and decadence. The singles it spawned, from the guitar riffs of "Hot Stuff" that transition into the horn-driven "Bad Girls" to the soulful "Walk Away," are a perfect encapsulation of the disco era. That said, Summer also proved she was more than a disco diva, as the songs drew from rock, soul, country and electronic elements. The last few songs on the album, including the stripped down "Sunset People," sound like they were wooing people into a new electro-pop age. It was a prescient move, especially now that we know these literally were the last days of disco. —Tanya Ballard Brown (NPR Staff)
---
74. The Raincoats
The Raincoats (Rough Trade, 1979)
Musicians are often asked when they first realized they could be their truest selves through art. It's as important an origin story as one's actual arrival into the world, and one that few artists have ever captured like the Raincoats. On the London band's ecstatic 1979 debut, the members of the four-piece sound as if they're playing for their lives atop a crumbling cliff, shouting joyfully into the wind, constantly reassessing their footing, and showing the simultaneous pleasure and negotiation required to survive as women and opponents of punk orthodoxy. Eight months prior to The Raincoats' release on Rough Trade, Margaret Thatcher became the U.K.'s first female prime minister, a moment that was naively heralded as a feminist win. Although the Raincoats didn't explicitly critique the country's political climate, they represented the disempowering futility of aping men to seize power, coining a unique musical language that rebelled against the male-dominated canon and its values. The Raincoats is complex and "nonlinear," as noted band scholar Jenn Pelly has described it, pitting discordant emotional experiences and sounds against one another. Rather than contradictory, the effect precisely encapsulates the messiness of being alive. —Laura Snapes (Contributor)
---
73. Astrud Gilberto
The Astrud Gilberto Album(Verve Records, 1965)
In the mid-1960s, Verve Records thought that a collaboration between Astrud Gilberto's husband Joao Gilberto and saxophonist Stan Getz would be what would jettison Brazilian bossa nova—which melded samba and jazz together—into the American popular consciousness. The Getz/Gilberto combo was a hit, but it was Astrud's voice — fragile, yet cool and sophisticated — singing "The Girl from Ipanema" that topped the charts and helped usher in a stateside Bossa Nova craze. Some thought her sound came from her poor grasp of English. In fact, she was fluent in both Portuguese and English, but she was asked to sing the English version of the "Girl from Ipanema" because her husband only spoke Portuguese (so the style is really more of a choice). Following the hit song, Verve then tested her star power by releasing The Astrud Gilberto Album; soon Gilberto's soft voice floated around suburban homes and swimming pools. In songs like "Once I Loved," Gilberto's voice is almost affectless as she sings "love is the saddest thing when it goes away" over violins, flute and delicate percussive sounds. Yet it's her understated delivery of these words that makes them all the more bittersweet. While Bossa Nova and Gilberto no longer top charts, songs from this album, including "Agua De Beber" and "Once I Loved" continue to stand the test of time, popping up in soundtracks of TV shows like Mad Men and films like Juno. —Laura Sydell (NPR Staff)
---
72. The Runaways
The Runaways (Mercury, 1976)
The Runaways is the sound of a handful of untested chemicals being poured into a beaker and exploding. It's the sound of a knee-high platform boot stomping down onto the top of a guitar amp, of a gang of warriors, of defiance. It's the sound of a band too good to last — a band so sure of its chops that it started its record with "Cherry Bomb," the first of many hits Joan Jett would help pen in her career, and refused to back down from there. Decades of documentaries, biopics and interviews have revealed just how much the group endured just to get into the studio and on stage, but damn if it wasn't already a chilling experience to listen to Cherie Currie wail about her "Secrets" and whisper back and forth with Jett on the album's final track, "Dead End Justice." From start to finish, The Runaways captures a band that tapped into the zeitgeist of its era with curiosity and passion, chugging power chords, snarls and screams. Though it was underappreciated when it was released, it captures a moment in quintessential '70s rock. —Andrea Swensson (Minnesota Public Radio)
---
71. Salt-N-Pepa
Blacks' Magic (London, 1990)
Blacks' Magic was Salt-N-Pepa's third album. In 1990, the Queens trio broke down the concept for the album as simply as the lyrics to the track of the same name: "We call this song "Black Magic" cuz it's a fact," they said. "Anything that's tragic relates to black. Coincidental? (No)." Racial politics played a role in the album, but what made Blacks' Magic a hit was a message of female empowerment — it was unabashedly sexual yet responsible. "All the ladies, louder now, let's talk about sex," the trio chanted on the certified gold song of the same name. Just a month later, Madonnawould tour the country, dressed with her signature pointy bras, ferociously expressing herself. But Salt-N-Pepa was not rapping about letting go of your inhibitions: Blacks' Magic was a call for female equality, while tracks like "Independent" and "Expression" established them as rappers with credibility and sass. They no longer were the R&B crossovers doing covers. Blacks' Magic was an encapsulation of their sound and their voices — and everyone was listening. —Monika Evstatieva (NPR Staff)
70. Stevie Nicks
Bella Donna (Modern, 1981)
On September 3, 1981, Stevie Nicks graced the cover of Rolling Stone magazine, flanked only by the same pet cockatoo that accompanied her on the cover of her newly-released solo debut, Bella Donna. In the sub-header, Rolling Stone dubbed Nicks the "Reigning Queen of Rock & Roll" — a title cemented two days later when Bella Donna hit No. 1 on the Billboard 200 chart. It was a seminal turning point in Nicks' career, transforming her from one of three songwriters in Fleetwood Mac into a bona fide icon. Here was the ethereal gypsy woman pulling back the shroud and emerging stronger than ever. Her voice unfurled, backed by a propulsive guitar riff on "Edge of Seventeen," one of the album's four Top 40 singles and arguably her most recognizable song. (Destiny's Child even sampled the riff in their 2001 hit, "Bootylicious," with Nicks making a cameo appearance in the music video.) With "Stop Draggin' My Heart Around" (featuring Tom Petty & The Heartbreakers) and "Leather and Lace" (featuring the Eagles' Don Henley) peaking at No. 3 and No. 6 respectively, Nicks not only proved that she could hold court with some of the biggest male names in rock, but that she was a pioneer in her own right. Throughout the years, Nicks' voice has been a gateway to a world of depth, and her words a vehicle for nostalgia. As she sings midway through Bella Donna, "the feelings remain" long after these songs end. But when it comes to Stevie Nicks, the glitter never fades. —Desiré Moses (WNRN)
---
69. Cyndi Lauper
She's So Unusual (Portrait/Sony 1983)
She's So Unusual helped usher in the sound of a decade; specifically, the "I Want My MTV" 1980s. The album — Cyndi Lauper's first — burst out in 1983 with a synth-pop confetti cannon and that little earworm, "Girls Just Want To Have Fun." Yet the album is sprinkled with other hits, like "Time After Time" and "All Through the Night," and went platinum six times. Lauper unabashedly sung about female empowerment all over the album, but on "She Bop," a song about masturbation, she really drove the message home. Heavy panting punctuates the song's upbeat synths and features lyrics like: "Well I see them every night in tight blue jeans / In the pages of a Blue Boy magazine / Hey I've been thinking of a new sensation / I'm picking up good vibrations." The song was a hit on the charts, but also made its way onto a different sort of chart: "She Bop" landed on the Filthy Fifteen list, a list of songs deemed inappropriate by the Parents Music Resource Center that ultimately played a role in the creation of the parental advisory label (Lauper was in good company, with the likes of Prince, Madonna and AC/DC). Controversy aside, the album manages to touch on heavy topics (her powerful cover of The Brains' "Money Changes Everything," for example) while still staying true to its joyful core. The cover art and synth sounds root this album firmly in the '80s, but Cyndi Lauper's She's So Unusual transcends time. —Lauren Migaki (NPR Staff)
---
68. Rosanne Cash
King's Record Shop (Columbia, 1987)
It's most often been men credited with bringing about major shifts and innovations in the country music landscape of the 1980s, from a resurgence in neotraditional sturdiness to an infusion of singer-songwriter intellectualism. But Rosanne Cash deserves as much credit as anyone for the latter development. She spent her twenties sharpening an approach to country music-making that was stylishly contemporary and embedded with emotional complexity, yet also wise to tradition, in the process developing an artistic identity entirely distinct from that of her legendary dad, the Man in Black. At age 32, with a decade of recording under her belt, she set a high-water mark for sophisticated, commercially successful country album-making with King's Record Shop. Cash's then-husband/producer Rodney Crowell foregrounded her sultry, self-possessed performances in front of a stylish, shimmery, jangling guitar attack. Over the course of 10 songs, she was the very embodiment of a woman owning her desires and laying out her limits, summoning a combination of rocking attitude, confessional clarity and deep self-knowledge that felt utterly new in her format, and would prove influential for years to come. —Jewly Hight (Contributor)
---
67. Sinead O'Connor
I Do Not Want What I Haven't Got(Chrysalis Records, 1990)
The same year Madonna released "Vogue" and MC Hammer's "Can't Touch This" was a monster hit on MTV, Sinéad O'Connor dropped her sophomore album, I Do Not Want What I Haven't Got. The 1990 album opened with a serenity prayer before spinning into a nearly-seven-minute-long song about disillusionment ("Feels So Different"), which preceded the similarly themed "Smells Like Teen Spirit" by a year. Whereas Nirvana's breakthrough was propelled by testosterone-fueled distorted guitars and banging drums, O'Connor's tune on the same subject stood on the strength of her nuanced vocals and a string ensemble. Here, disillusionment was less a momentary burst of anger than it was truer to life, a dark room through which one must find their way alone. Still, it was the album's Prince-penned lead single, "Nothing Compares 2 U," which most listeners will remember best. The video featured O'Connor's closeup face framed by a black background, as she unloaded the song with so much emotion it was almost uncomfortable to watch. Meanwhile, "Last Day of Our Acquaintance" remains the breakup song to which every other breakup song aspires to this day. This felt like a punk record at the time, but was held together with folk and classical instrumentation, making it ahead of its time in far too many ways to sum up in this space. —Kim Ruehl (Folk Alley)
---
66. Miriam Makeba
Pata Pata (Reprise, 1967)
In 1967, the South African singer and songwriter Miriam Makeba was living in exile when the U.S. audience first heard modern African music — Afropop— with the album Pata Pata (Touch, Touch). Sung mostly in Makeba's native Xhosa language, the unforgettable melody of the title tune is perhaps known by most everyone. But exactly, what is it? "Pata Pata is the name of the dance / We do down Johannesburg where / And everybody starts to move / As soon as Pata Pata starts to play — whoo!" she sings. Though melodically and harmonically jubilant, the music on Makeba's album challenged serious social themes like apartheid and land reclamation. Forbidden to return to South Africa for more than 30 years, Makeba, dubbed "Mama Africa," said in a 2006 NPR interview: "… in life you make choices. You say, 'OK, are you going to sit here, Miriam Makeba, and say, I'm a star and forget about home?' Or do you decide to say, 'I'm a South African, and this is what is happening to our people and so on.' And I made that decision. And from then on, I was branded that artist who sings politics." —Suraya Mohamed (NPR Music)
---
65. Cassandra Wilson
Blue Light 'Til Dawn (Blue Note, 1993)
When you grow up a fan of folk and country blues music, after a while you think you've heard enough Joni Mitchell and Robert Johnson covers. That is, until you're introduced to the unique and compelling voice of Cassandra Wilson and her 1993 Blue Note Records release, Blue Light 'Til Dawn. From a jazz singer, you'd expect interesting interpretations of cover songs, but the album is a unique amalgamation blending Wilson's sensual voice overlain with unique arrangements of familiar songs that meld together jazz, folk, blues, and pop. Her version of Van Morrison's "Tupelo Honey" is relatively straightforward but nonetheless captivating, and when you listen to Robert Johnson's "Hellhound On My Trail" and "Come On In My Kitchen," plus Joni Mitchell's "Black Crow," you realize this is an artist you've been waiting to hear for a long time. Ann Peebles' "I Can't Stand the Rain," which closes out the album, is another standout here, along with Wilson's original tune "Redbone." With Blue Light 'Til Dawn, Wilson not only crafted a musical milestone but also carved out a pathway for what jazz-pop was capable of becoming. —Linda Fahey (Folk Alley)
---
64. Spice Girls
Spice (Virgin, 1996)
20 years ago, the sound of platform sneakers scuttling across the floor hit American airwaves, giving way to the laugh heard round the world. Those three seconds before the beat drops serve as the introduction to "Wannabe," Spice Girls' first single from their debut album, Spice. They are so universally recognizable that "Wannabe" was ranked the catchiest pop song since the 1940s in a recent study. Ushering in a new wave of zealous pop, Spice Girls knew what the world really, really wanted — and delivered. "Wannabe" topped the Billboard Hot 100 for four weeks and became the best-selling single by a girl group in history. The rest of Spice followed suit, borrowing from R&B, hip-hop and even disco to relay messages about safe sex ("2 Become 1") and female solidarity ("Love Thing"). Scary, Sporty, Ginger, Baby and Posh influenced a whole generation of women (even Adele is a fan) and last year, Project Everyone's#WhatIReallyReallyWant campaign repurposed "Wannabe" as a call for women's rights internationally. While riot grrrl champions Bikini Kill released a zine titled 'Girl Power' in 1991, The Spice Girls were the first to peddle the concept to the mainstream. Despite the complicated implications of their commodified feminism, their overarching message of empowerment and strength in numbers was one to get behind. And as a unit, they were a multifaceted force to be reckoned with. Spice was a manifesto by women who ditched their management team in search of more independence and evenly split song royalties amongst the group, and its endurance is palpable; Spice is still the best-selling album ever released by an all-female group. Now, that's girl power. —Desiré Moses (WNRN)
---
63. Madonna
Like a Virgin (Sire, 1984)
Her self-titled debut, in 1983, had been MadonnaLouise Ciccone's declaration, of sorts. She would one day be a household name — and just one name, thank you, would be plenty. But it was the follow-up album Madonna released, Like a Virgin, that made that a reality. Co-produced with Nile Rodgers, its buoyant, confectionery dance-pop glossed with a modern, new wave sheen helped usher in the golden age of MTV, an era that still feels defined by her ecstatic writhing, wrapped in acres of bridal tulle, dangling crucifixes, and rubber bracelets, on the stage of the first VMAs two months before the full album's release. She went on to show savvy, intuitive mastery of the new form (and marketing platform) to build a dazzling, ever-shapeshifting 360-degree persona — sound, image, art, text — which she manipulated with an iron fist clad in a fingerless lace glove. Like a Virgin, and all that came with it, made it clear that there would never be a pop music landscape without the impact and influence of Madonna again — and it made it hard to imagine how there had even been one without her in the first place. —Alison Fensterstock (Contributor)
---
62. Dixie Chicks
Wide Open Spaces (BMG/Sony, 1998)
Wide Open Spaces is not only the Dixie Chicks' most important work — it's also arguably one of the greatest country albums of all time. It's the album that launched the Texas trio to international stardom, won a Grammy for Best Country Album, and set the record for the best-selling group album in country music history. A wide-ranging mix of bluegrass, contemporary Americana and mega-hits, Wide Open Spacesestablished the trio as masters of country music. The Dixie Chicks emerged after Garth Brooks transformed the sound of pop-country. These three women rejected that sound by instead distilling bluegrass aesthetics for a mainstream audience. Natalie Maines, the lead vocalist and proven firecracker, became an outspoken icon for women's independence through the album's title track. While most women in country music declare their independence in opposition to a man, Maines finds autonomy without even considering a man, driving away from her hometown to a place large enough "to make her big mistakes." That set the stage for Maines to become one of the most controversial figures in music history. When she declares "she knows the highest stakes," it's perfect foreshadowing for the day she'd take on a sitting president and see her trio's fall from grace — all because a woman wasn't afraid to speak her mind. —Alyssa Edes (NPR Staff)
---
61. Destiny's Child
The Writing's on the Wall(Columbia, 1999)
Feminism in the late 1990s was about asserting independence and a woman's ability to define her relationships. The Writing's on the Wall set down the commandments of relationships — and showed how strong black women navigate them. It gave a voice to women balancing the fierceness of work, men and taking care of themselves and their own. The group's second studio album (and the last recorded by original four members Beyoncé, Kelly Rowland, LaTavia Roberson and LeToya Luckett) also saw them asserting more control over the music they put out. The pop classic "Bills, Bills, Bills," which advocates dumping a guy who can't pay your bills, and "Bug a Boo," about a guy who's too clingy, were some of the first the four women wrote and produced — and also some of their finest songs. And while "Jumpin' Jumpin'" calls for a night out doing whatever you'd like, "Say My Name" asserts a need for love the way you deserve it. The likes of "Hey Ladies" ask the tough questions; specifically, why it's so hard to leave someone who's treating you wrong. While some critics at the time said the album's lyrics were full of nonsense, Destiny's Child asserted themselves with this album as a girl group that served as the voice of a new generation of women, like their collaborator Missy Elliott, TLC before them, and many more in the future.—Christina Cala (NPR Staff)
60. The Pretenders
Pretenders (Sire, 1980)
The word most often used to describe this debut — the crowning achievement of hard rock in the era of punk— is "perfect." Chrissie Hynde made it that way: Raised in the rock and roll wellspring of Cleveland, Ohio, she'd moved to London at age 22 and spent years studying British cool and American songcraft, forming a band that had enough flash to embody the former and enough chops to apply punk's furious mandates to the latter. The sound of Pretenders connects early R&B and rockabilly with the reggae and classic rock that Hynde's friends in The Clash and Rockpile were remaking alongside her. Hynde had the best voice, with a girl group singer's sob and a snarl as disdainful as Johnny Rotten's. In her red leather jacket and kohl eyeliner, she was a self-conceived love child of Keith Richards and Ronnie Spector, but what made the rock chick persona Hynde cultivated so special was her willingness to go deep. Songs like "Precious, "Brass in Pocket" and "The Wait" were forthright about subjects most rockers sneered through, from rough sex to artistic ambition to the vulnerability women who wanted to live in the world had to manage somehow. "Not me baby, I'm too precious," Hynde spat at the haters; from her, a million young women trying to find their place within rock's noise gained the courage to say it, too. —Ann Powers (NPR Music)
---
59. Indigo Girls
Indigo Girls (Epic, 1989)
The notes opening Indigo Girls' 1989 self-titled album are the most important ones of their careers to date. The thesis posited by the Atlanta duo on this song, "Closer to Fine," was unequivocal: We are here to get free. It would be years before Emily Saliers and Amy Ray would solidify their cultural standing as gay icons, but with progressive-leaning lyrics about growing horizons, and harmonies that were so compatible that they sounded more like fate than music theory, it was immediately clear that this band was making music for anyone who felt the pinch of being a big spirit in a small world. Their influence on the '90s coffeehouse sound, which became a defining thread of that decade, was indelible. On this album, Indigo Girls managed to make two guitars and two voices sound bigger than any identity box, any closet and any wall standing between a person and the best, truest version of themselves. —Katie Presley (Contributor)
---
58. Labelle
Nightbirds (Epic, 1974)
Patti LaBelle and The Bluebelles, a doo-wop group known for releasing honeyed ballads in the '60s, found themselves at a crossroads midway through their careers. Girl groups were beginning to fall out of favor with major labels and mainstream consumers; in order to remain relevant, they had to do something drastic. So, they did. They switched up their style, look, musical direction and name, becoming simply Labelle. By the time their 1974 album Nightbirds released, the group members had fully transitioned from bouffant wigs and modest gowns to headdresses and interplanetary outfits. With this record, they began covering topics previously off-limits to black female groups, such as politics and sexual freedom. No song better represented that course change than the opening track of Nightbirds, "Lady Marmalade." Rooted in funk and disco but drizzled with the brashness of rock, the song appealed to listeners across genres with its candid storytelling. By March 1975, the song had hit No. 1 on the Billboard Hot 100. In 2001, "Lady Marmalade" was reborn when singer-rapper-producer Missy Elliott flipped the track for the Moulin Rouge soundtrack, giving a new set of women — Christina Aguilera, Lil' Kim, Mýa and Pink — the chance to tell the story to a new generation. —Kiana Fitzgerald (Contributor)
---
57. Mary J. Blige
What's the 411? (Uptown/MCA, 1992)
Mary J. Blige's debut album, What's the 411?, was a game-changer. It not only earned Blige the title of queen of the then-emerging hip-hop soul genre, but it became the blueprint that R&B would end up using for decades to come. Just two examples: Notorious B.I.Gwould reference "Real Love" from the album a couple of years later on his song "Dreams," and Frank Oceanwould end up incorporating the song's refrain on his 2012 song "Super Rich Kids." Half of the tracks on What's the 411? became hit singles, and it wasn't unusual to hear Mary J. Blige blasting out of cars in many urban neighborhoods (I remember being struck by seeing a bunch of guys standing in front of a bodega in Harlem listening to her cover of Chaka Khan's "Sweet Thing"). Her music brought a new level of sensitivity to men, but it also meant the world to ladies. On the closing track, Mary J. Blige responds to rapper Grand Puba's macho bravado with her own rap in which she declares that she's "not having that" and, furthermore, she "don't have no time for no wham bam, thank you ma'am!". Blige then brilliantly transitions into a short cover of a Debra Law's "Very Special." It's fitting, because What's the 411? is just that. —Alisa Ali (WFUV)
---
56. X-Ray Spex
Germfree Adolescents (EMI, 1978)
Decades before the likes of Radiohead bemoaned ecological destruction and the pitfalls of capitalism, the English punk group X-Ray Spex stormed into the world with bracing, no-bullshit anthems about the cult of cleanliness, consumerism and exploitation on their debut album Germfree Adolescents. Led by the volcanic Poly Styrene, the opera-trained daughter of a Somalian father and a Scottish-Irish mother, the group merged conceptual brilliance with inventive rhythms. It's hard to overstate how much Germfree Adolescentsrattled the then-oversaturated punk scene in the late 1970s, and challenged it to push past a generic formula of chugging chords, injecting the likes of saxophone-threaded hit "The World Turned Day-Glo" and the biting "Identity" into the mainstream. From the moment it released its first single (the seething "Oh Bondage! Up Yours!") the group combined music imbued with a simultaneous social consciousness an urgent reminder of why any of us got into music in the first place: It's a damn blast. Clever and captivating, and sparing none in the pursuit to unmask artificiality, Germfree Adolescents remains one of the most searing and irresistibly danceable punk albums ever recorded. —Paula Mejia (Contributor)
---
55. The Go-Gos
Beauty And The Beat (I.R.S., 1981)
Leave it to the spiritual daughters of The Shirelles and The Ronettes to do backflips off the Wall of Sound. The Go-Gos wrote their own growling, gleeful songs combining the audacity and yearning of 1960's-era girl groups with the boyish bravado of surf rock and late-1970s punk. But the band — comprised of Belinda Carlisle, Gina Schock, Kathy Valentine, Charlotte Caffey and Jane Wiedlin — also brought a hard-driving playfulness to their music, and an insouciant insistence upon being heard. They eschewed a male manager and no label would sign them, even with a Top 40 hit, "We Got The Beat." That single finally helped The Go-Go's secure a record deal in 1981, though, and the group's first album, Beauty and the Beat, sold millions of copies. It also became the first No. 1 record by an all-female band that played their own instruments and composed their own music. Beauty and the Beat remains celebrated as a cornerstone of American new wave music. Caffey and Wiedlin were the album's primary songwriters, and along with the rest of the band, they were initially dismayed by its bouncy, bubble gum production. They'd wanted Beauty and the Beat to sound rougher, grittier and more reflective of their punk roots. But something about that sheen of Southern California sunshine throws its shadows in relief. —Neda Ulaby (NPR Staff)
---
54. Nico
Chelsea Girl (Verve, 1967)
There's something endearing about a singer who sounds unrefined and raw, and Nico is certainly one of those artists. Her voice is one-of-a-kind yet completely relatable — she's you, she's me, she's vulnerable and melancholic, and so imperfectly authentic. Before releasing her debut solo album Chelsea Girl, Nico spent time as a model, actress (Chelsea Girl gets its name from an Andy Warhol film in which she starred) and, most notably, a musician who performed with The Velvet Underground. This opened the door for her to record as a solo artist, and her debut album sounds as peculiar and unorthodox as Nico herself. Chelsea Girlis composed of songs written by Lou Reed, Jackson Browne and Bob Dylan, among others. There are no drums on the album, despite Nico's request to add them. There is no bass either. Instead, the guitars are accompanied by keyboards, strings, and flute — a last minute addition Nico knew nothing about and abhorred after hearing the finished product. The album may have been despised by Nico herself, but it's adored by fans worldwide. —Amy Miller (KXT)
---
53. Linda Ronstadt
Heart Like A Wheel (Capitol, 1974)
Linda Ronstadt first received public attention in 1967, when her band, The Stone Poneys, found a hit with the rollicking folk-rock song "A Different Drum." Ronstadt soon became a household name, though, both because of her talents and because she railed against stereotypes of the time. That trailblazing instinct included her desire to have input into her own production, something she was incredibly impassioned about. It's nowhere clearer than on her fifth solo album, Heart Like a Wheel, released in 1974. The album, which Ronstadt co-produced with Andrew Gold and Peter Asher, was the first of many collaborations with Asher, who gave her the freedom to have full agency over her work. The contributing songwriters on the album are impressive, as well, and include the likes of Hank Williams, Phil Everly, J.D. Souther, Lowell George and Anna McGarrigle. The album proved to be a catapult for Linda Ronstadt, as it spent several weeks atop of the Billboard country album chart and garnered Ronstadt her first Grammy win for "I Can't Help It If I'm Still In Love with You." Heart Like a Wheel also solidified Ronstadt's position as the most successful female artist of the time. Her powerful vocals, musicality, and stage presence were a revelation, which, in turn, opened the door for more women in the industry while illuminating country rock as a genre to be taken seriously. —Jessie Scott (WMOT)
---
52. Bonnie Raitt
Nick Of Time (Capitol/EMI, 1989)
It has been 28 years since Bonnie Raitt's debut, came, well, in the nick of time. Raitt had long held a singular level of respect as a female blues guitarist for her slide work, but large scale commercial success had evaded her. Nick of Time, her 10th studio album, changed all that. It signified redemption after being dropped by Warner Bros., and gave her a sweep at the Grammys. It was also the first she made after getting sober, and while Raitt is more often known for the way she can make another songwriter's work her own, on this album her clear-headed compositions are the most resonant. The opening title track is one that still holds meaning for women today — the then-39-year-old Raitt brings into sharp focus the emotions of a female friend having to decide about kids before she is no longer able to have them. On the last track listeners hear Raitt's personal ode to career over coupledom — that guy may love her, but touring beckons to her in "The Road's My Middle Name." Nick of Time set Bonnie Raitt up for future commercial success, which she also saw with 1991's Luck of the Draw, but more importantly, it gave voice to the personal choices women still weigh heavily today. —Kimberly Junod (World Cafe)
---
51. Sarah Vaughan
Sassy Swings Again (Mercury, 1967)
Hearing Sarah Vaughan's 1967 recording of Sassy Swings Again is like taking a master class in the juxtaposition of vocal acuity and fluidity. Here, she teaches women how to run a band with the sheer grace and unassuming power of her voice. On this album, she also effortlessly takes on horn solos and goes toe-to toe with the likes of Freddie Hubbard on trumpet, and Kai Winding on trombone. Manny Albam and Thad Jones arranged the instrumentation like a mosaic around Vaughan's vocals, putting the spotlight on her signature sound while ushering her seamlessly through each measure. The perfectly complementary relationship between the orchestra and Vaughan's vocalese makes this classic recording required listening for jazz disciples and fanatics alike. —Keanna Faircloth (NPR Staff)
50. Hole
Live Through This (DGC, 1994)
Released on April 12, 1994 — seven days after her late husband's suicide, Live Through This is the first major label release and most definitive work by Courtney Love and her band Hole. Often viewed in the shadow of Kurt Cobain but built to eclipse it, the album is a mosaic of songs piecing together the band's former noise-grunge sound ("She Walks On Me") with an accessible rock melodicism ("Doll Parts"). At its heart is the turmoil of a new feminist punk revolution, images of beauty made ugly-pretty by Love's brassy vocals and distaste for expectation, tales of postpartum depression and tender lyrics revealing a female reality deemed unacceptable in the grunge rock boy's club Hole and Love operated outside of. Live Through Thissolidifies Love's place as one of rock music's most magnetic front people and a high-octane performer from the raucous opener "Violet" to the sentimental and critical "Rock Star." A fellow force to be reckoned with, Bikini Kill's Kathleen Hanna famously offered the riot grrl rallying cry "Find the biggest bitch in town and start a band with her." Courtney Love took that one step further, as though suggesting: Be the bitch. —Maria Sherman (Contributor)
---
49. Rickie Lee Jones
Pirates (Warner Bros., 1981)
Her startling debut and "Chuck E's In Love" made Rickie Lee Jones a fast-rising star, but her follow-up album, which came two years later, proved to be her masterwork. On Pirates, Jones refined the sonic stew of jazz, pop and R&B that earned her the Best New Artist Grammy Award, adding lyrical finesse in the form of high-culture nods and colorful street smarts that fly by so fast you nearly miss them. (Take that, Springsteen.) Add to that a breakup with Tom Waits and a move to New York to bring hard-earned life experience to the forefront — the opening piano notes of "We Belong Together" signal the beautiful, melodic drama about to unfold: "I say this was no game of chicken / You were aiming at your best friend." Characters shine in pictures so vivid it's remarkable they were squeezed into song structure: "Eddie's got one crazy eye / That turns him into a cartoon / When a pretty girl comes by," she sings. The rare mix of swagger and fragility on Pirates makes it clear how underrated Rickie Lee Jones has been, and how much we still need her now. —Rita Houston (WFUV)
---
48. Etta James
Rocks The House (Argo, 1964)
On September 27 and 28th, 1963, Etta James howled her way through juke-joint blues, soul, and R&B numbers at the New Era Club in Nashville. These performances comprise her first live album, Rocks the House, released the following year. Hailed as one of the greatest live blues records ever captured, Rocks the House showcases an equally magnetizing but different side of James, whose strength as a balladeer was already popularized on stunning studio tracks like "A Sunday Kind of Love" and "At Last." On stage at the New Era Club, which James hand-picked specifically for these recordings, the 25-year-old attacks each song with the perfect storm of fire and grit. From the crowd's beckoning on the opener "Something's Got A Hold On Me" to the call and response on the raucous "What'd I Say," James' performance is a testament to the power of the human voice. With a backing band led by guitarist David T. Walker, she unabashedly delivers the blues and embodies soul in its rawest form. After all, she knew what it meant to experience the messier parts of life and to come out on the other side. (The ace bandage covering her wrist on the album's cover was meant to hide the track marks from her heroin usage — an addiction that would interrupt her career off-and-on throughout the years.) With her captivating rasp and sass, Miss Peaches got a hold on the world and never let go. —Desiré Moses (WNRN)
---
47. Celia Cruz
Son con Guaguanco(Emusica/Fania, 1966)
When Úrsula Hilaria Celia de la Caridad Cruz Alfonso sang, people stopped and listened. Alfonso, known by her stage name Celia Cruz, possessed a full-bodied voice filled with emotion and sincerity that makes you feel viscerally what she's singing. She took Cuban music out of Cuba, out of Latin America and into the world. And she did it as a black woman in a male dominated field that valued whiteness. On her 1966 album Son con Guaguanco, she sings about daily life—about not having manteca to cook, losing her purse and being deeply in love. As women fought to be taken seriously in the workplace, Celia Cruz tirelessly put out albums and toured the world as a single woman — something many people looked down on. But she was the ultimate example of a woman carving her own path and demanding the respect she merited. Though Son con Guaguanco didn't have much commercial success, it marks the type of music she popularized from the beginning of her career called pregón, which is a Cuban musical style based on the calls and chants of street vendors. She also popularized the Afro-Cuban sounds filled with the raucous horns and drums that comprise the basis of salsa, which became the music of Latinos in the 1970s. A true legend and superstar, and compared to Ella Fitzgerald by many in the American press for her soneos (improvisational sections of salsa songs more nuanced than jazz scats), Celia Cruz continues to be a shining example for being completely yourself. —Christina Cala (NPR Staff)
---
46. Emmylou Harris
Wrecking Ball (Elektra, 1995)
Country singer Emmylou Harris was on the brink of fading from the musical landscape — until she successfully transformed herself, and the way we view Americana music, on her 1995 album Wrecking Ball. After finally throwing in the towel on country radio supporting her, Harris left her major label for Elektra Records, where they encouraged her to follow her vision of working with the sonically intuitive producer, Daniel Lanois. Lanois's solo work and his production on Dylan's Oh Mercy had moved Harris, and their collaboration resulted in one of the most stunning partnerships in modern music. With her haunting, soaring voice and Lanois's sultry and experimental production, the result was no less than magic from the first listen. Emmylou Harris has spent her career as a master interpreter and Wrecking Ball displays her gift for curation at its finest. Songs from Neil Young, Julie Miller, Lucinda Williams and others spring to life with Lanois' subtle, powerful sonic landscape. It's no wonder that Wrecking Ball won the Grammy for best Contemporary Folk Album. It was a courageous reinvention that gave Harris's career a second wind and left the music world questioning what was thought of as roots music, which previously would have been fiddles, pedal steel guitar and maybe a banjo. But this album helped to opened up endless possibilities within Americana and country. —Cindy Howes (WYEP)
---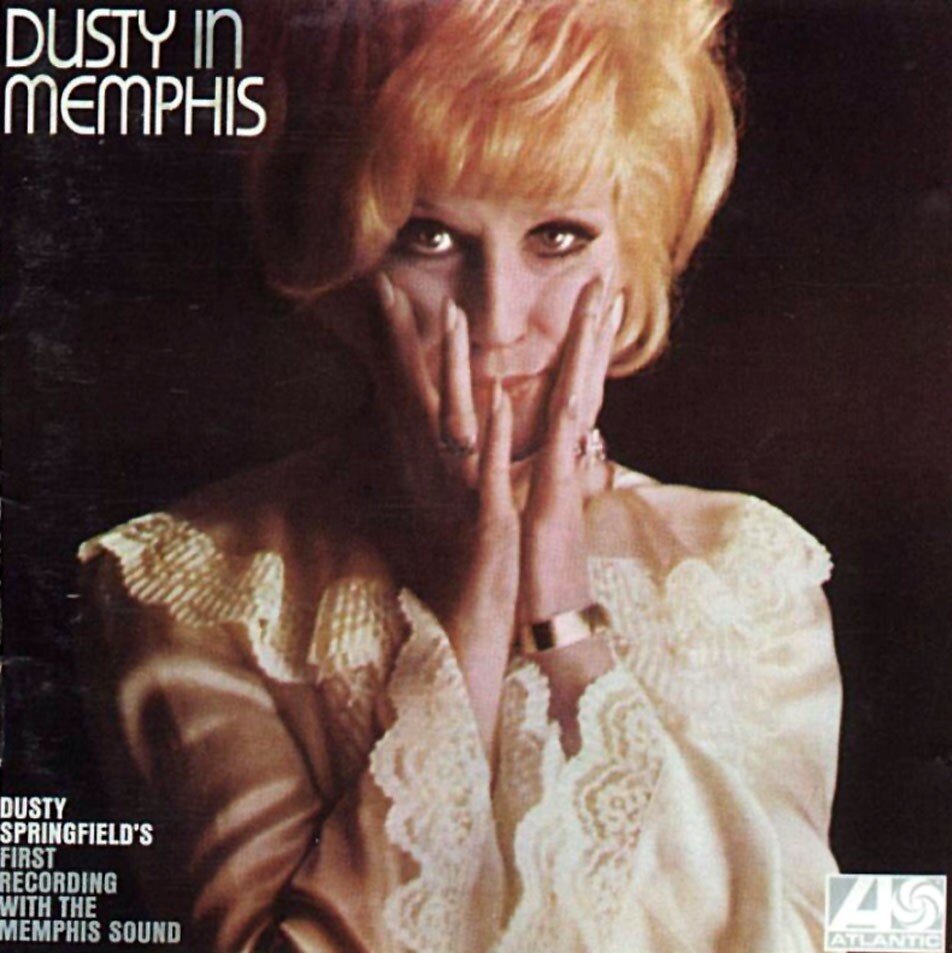 45. Dusty Springfield
Dusty in Memphis (Atlantic, 1969)
Following a string of more traditional pop hits in the mid 1960s, Dusty Springfield decided to stretch her sound and traveled to the now-famed American Sound Studio in Memphis to produce a more R&B-heavy record … or at least try to. Springfield never actually managed to sing a note in that southern studio, as she was too intimidated to sing in the same booth as her musical hero Aretha Franklin (who was originally offered the song "Son of a Preacher Man" before turning it down). Regardless, Dusty in Memphis came together thanks to some vocal overdubs in New York, and in turn marked Springfield's debut on a major label. Although a commercial failure at the time, the record slowly became a pop culture milestone. Some might say the record's eventual success came from A-list producers (Jerry Wexler, Tom Dowd and Arif Mardin) or songwriters (including Randy Newman, Burt Bacharach and Barry Mann and Cynthia Weil), but it's truly Springfield's slow-burning sensual soul that anchors the record, shaping the soundscape of a woman so desperately in love with love. And by singing just a touch off beat, her rich voice keeps us hanging on, wanting more, knowing that we've been in Dusty's lyrical shoes but still want to hear her side of the story. —Joni Deutsch (Mountain Stage)
---
44. Heart
Dreamboat Annie (Mushroom, 1976)
In the mid-1970s, Ann and Nancy Wilson proved that hard rock was no longer the domain of men. Dreamboat Annie, the debut album from the Wilson sisters and their band Heart, first found success in Canada, where they recorded the album. Later, Dreamboat Annie's expansive blend of hard rock and folk crept across the border to radio stations across the United States. At a time when hard rock records invariably touted male perspectives, Dreamboat Annie — unabashedly focused on the female experience — offered a refreshing rock and roll reversal. The album's singles "Crazy On You" and "Magic Man" are bold proclamations of autonomy that center female pleasure without apology or excuse. Dreamboat Annie has its share of breezy '70s ballads, flutes and orchestral arrangements. But it also features prog rock flourishes, screaming guitars and Ann Wilson's impressive, versatile voice, replete with shrieks that would have Robert Plantshaking. Nancy's intricate acoustic guitar playing — as well as her technical prowess on electric guitar — made her an icon of hard rock guitar, especially for young women. With Dreamboat Annie, the sisters Wilson launched themselves into a stardom that would not be without sexist backlash. But in the process, they provided a model for a generation of unapologetic rock and roll women. —Marissa Lorusso
---
43. M.I.A.
Kala (XL/Interscope, 2007)
Kala is the album that launched M.I.A., a rapper-producer with an irrepressible flow and a disruptive sensibility, into bona-fide stardom. Before she started making scrappy, exhilarating dance tracks on a borrowed Roland MC-505, the Sri Lankan-born Londoner studied film; fittingly, Kala aims to challenge the brain and ears alike. This is no pedantic art-school experiment, however — Kala is visceral, intrepid and endearingly weird. During its recording, M.I.A. was stymied by visa troubles that prevented her from entering the United States, so she made the album in exile, jetting between studios in the likes of Trinidad and India. Likewise, Kala bounces exuberantly across borders, from Bollywood to Jamaican dance halls to the Australian bush. The album made M.I.A. into the standard-bearer for a new kind of pop, one in which the omnivorous absorption of musical motifs from across the Global South, far from being incidental, was the whole point: It was the music of immigrants, outsiders, rebels. Though M.I.A. has been accused of being more provocateur than activist, Kalashowed that it was possible to tie radical sounds to radical notions — and still make people dance. —Amelia Mason (WBUR)
---
42. Ella Fitzgerald
Ella Fitzgerald Sings the Johnny Mercer Song Book (Verve, 1964)
"You're just too marvelous for words," go the title lyrics to the first tune on Ella Fitzgerald's 1964 studio album, Ella Fitzgerald Sings the Johnny Mercer Song Book. But it's also a fine characterization of the First Lady of Song. This album shows the queen perfecting her craft, thirty years after her debut amateur performance at the Apollo. Arguably one of the best of her eight songbook performances, Fitzgerald indubitably executes the libretto written by one of the most brilliant American lyricists, Johnny Mercer, on this album. Take the enchanting imagery in "Midnight Sun," in which she sings: "Your lips were like a red and ruby chalice / Warmer than the Summer night / The clouds were like an alabaster palace / Rising to a snowy height," the mellifluous melody complementing her bewitching vocals. Fitzgerald's elegant interpretations and sophisticated musical sensibilities float above the exquisite arrangements by Nelson Riddle, an American popular song genius. Collaborations with luminaries Harold Arlen on "This Time the Dream's on Me" and Hoagy Carmichael on "Skylark" further contribute to the album's prominence. Though not as popular as the well known Cole Porter, Duke Ellington and George and Ira Gershwin songbooks, the album's heartfelt emotion and impeccable musical architecture solidify this as one of Fitzgerald's finest works of art. —Suraya Mohamed (NPR Music)
---
41. Tracy Chapman
Tracy Chapman (Elektra, 1988)
When the Ohio native Tracy Chapman released her self-titled debut album in 1988, she instantly scooped up six Grammy nominations and three wins, including the Best New Artist award. Not that it was a surprise. Each one of Tracy Chapman's talents could have made her famous on its own merit. Take her soulful, gender-defying voice that stops you in your tracks and inevitably gives you goosebumps. Or her songwriting, which is personal, human and unpresumptuous. Yet you don't sell 20 million copies worldwide just based on that. That year, we all swayed to Bobby McFerrin's "Don't Worry Be Happy," but that was more of a wishful state. What Tracy Chapman the album gave the world in 1988 was something much bigger: She gave us hope. Chapman did not write "Talkin' 'bout A Revolution" about a girl in Eastern Europe, but the story of struggle and fervent desire for change resonated with the people waiting in the unemployment lines in Cleveland and the Balkans. "Poor people gonna rise up," she sang — and they did a year later. Then, we all began dreaming of our "Fast Cars," sitting next to the ones we love, running away from all our problems not of our making. Those eleven songs would outlast just about everything, because they will forever be humanity's anthems of hope for a better life. —Monika Evstatieva (NPR Staff)
40. The Staple Singers
Be Altitude: Respect Yourself(Stax, 1972)
Chicago's Staple Singers, comprised of Pops, Cleotha, Mavis, Pervis and Yvonne Staples, had a sound that evolved through various labels and producers. It ranged from their gospel beginnings in the church in the '50s and through the turbulent '60s, where they marched with Dr. Martin Luther King, Jr. and into the early '70s on the heels of the Civil Rights era. The group's album Be Altitude: Respect Yourself, released in 1972, was its second album on Stax Records with producer Al Bell, who brought in The Memphis Horns and the storied Muscle Shoals Rhythm Section grooves. Alongside the Staples' voices — especially Mavis' — it's nothing short of glorious. The enlightening album features some of the group's top hits like "This World," the track that kicks off the album and its subsequent joyous celebration. It then quickly leads into the enduringly relevant, powerful and up-lifting funk/soul classic, "Respect Yourself." The Al Bell-penned "I'll Take You There" topped the Billboard charts then, and to this day, when Mavis Staples performs it live, has people of all ages on their feet with the first six notes. —Linda Fahey (Folk Alley)
---
39. Gillian Welch
Time (The Revelator) (Acony Records, 2001)
One year after O Brother, Where Art Thou? threw American music culture into an unexpected place, one of the soundtrack's core musical performers, Gillian Welch, released this wallop of a record. While Time (The Revelator) was her third release, it was the first that connected culturally beyond the niche roots music world. What's more, Time (The Revelator) helped set the tone for a new century's definitive folk boom. Welch and longtime musical partner David Rawlingsmade the album alone, in what has become Rawlings's signature simplistic approach to production — its title track was recorded in just one take, and the pair captured "I Want to Sing That Rock and Roll" live during a rehearsal at Nashville's Ryman Auditorium. The result is a raw, emotionally stirring collection of songs that are at once deeply influenced by various southern music traditions, including string band gospel, country-blues and Appalachian old-time, while definitively contemporary and palatable to twenty-first century listeners. It's been almost two decades since it's been released, and hindsight makes it even more clear that Welch and Rawlings's approach to roots songwriting on Time (The Revelator) has proven to be a guiding force in roots and Americana. —Kim Ruehl (Folk Alley)
---
38. Odetta
It's a Mighty World (RCA Victor, 1964)
During her fifty-year career as an American folk icon, Odetta Holmes was a singer, guitarist, actress and activist who inspired generations of folk, blues and rock musicians. Exuding intelligence, outrage and hope, the 1964 album It's a Mighty World showcases Odetta as a folk original. Fans of Joni Mitchell, Pete Seeger, Joan Baez and (most notably) Bob Dylan may be shocked to hear guitar and vocal arrangements usually credited to those musicians on this record in their original form. In context of her struggles as an African-American woman in a brutally oppressed time, Odetta believed in free will. The might of her truth and persistence, particularly on this album, is undeniable. On it, Odetta leads the listener through powerful melodic histories of the oppressed, including old spirituals, prison camp and slavery songs, transforming them into anthems of liberation. Odetta said she read in her elementary school books that slaves were "happy and singing," so when she discovered folk music, her intention was to rewrite false and oppressive history. The words of folk music helped to voice her and others' hatred of oppression, and she once said: "It got to a point that doing the music actually healed me." Many of what she called her "interpretations" (Odetta did not often compose) became part of the soundtrack for the Civil Rights movement of the '60s, inspiring Dr. Martin Luther King, Jr. to name Odetta the "Queen of American folk music." Yet another mark of Odetta's genius is that most of these recordings still feel relevant, thanks to her unique guitar work and her vast vocal range, which soars through a variety of styles from field calls to operatic to bluesy. —Michele Myers (KEXP)
---
37. Kate Bush
Hounds Of Love (EMI, 1985)
During the press cycle for 1985's Hounds of Love — her first album in three years — Kate Bush was too circumspect to criticize those who mocked her perfectionism. But the subtext of her remarks to ZigZag magazine were clear: "It can seem like what you're doing is mad," she said. "You need to be in control to get away with that stuff." More than any other Bush album, Hounds of Love is her treatise on the power of imagination. Its creative potential is clear from the sound of Bush's fifth record, where she wrangles the 48-track Fairlight CMI synthesizer as an instrument in its own right, feeding it atavistic sounds to forge pop's uncanny future. Across these twelve songs, fantasy is a liberating force as well, promoting understanding between men and women on "Hounds of Love," and protecting childhood innocence on "Mother Stands for Comfort" and "Cloudbusting." But it can also be a dark power. "I can't be left to my imagination," she cries on "And Dream of Sheep," the first song of the Ninth Wave suite, in which Bush's protagonist almost drowns (or succumbs to depression). If Hounds of Love's first half fears relationships' fragile intensity, its second half — where love jolts Bush's character back to life — suggests that anxiety is a part of anything worth fighting for. Hounds of Love is proof of concept. —Laura Snapes (Contributor)
---
36. Grace Jones
Nightclubbing (Island Records, 1981)
On her fifth album, model, actress and scenester Grace Jones hit a winning and lasting formula. Tethered by the ace rhythm section of Sly Dunbar and Robbie Shakespeare, keyboardist Wally Badarou, drummer Uziah "Stickey" Thompson and guitarists Mikey Chung and Barry Reynolds — together known as the Compass Point All Stars — Nightclubbing is a new wave, post-disco blend with a visceral thread of reggae throughout. This newly-found sound proved to be the perfect foundation for Jones' vocals, with the reggae bounce serving as a foil to her staccato snarl. She's every bit as imposing, angular and intimidating in her music as she is on her iconic album cover and in her music videos. Every line sounds like a command, and the listener has no choice but to do what they are told. Use her — OK. Pull up to the bumper — no problem. Don't mess around with the demolition man — wouldn't dream of it! And yet, underneath the surface of those cheekbones and shoulder pads is a sly wink and a devil-may-care smile. Looking like a beautiful chain-smoking Amazonian android, Jones serves up cool funk that up until that very moment had always been served piping hot. —Jill Sternheimer (Lincoln Center)
---
35. Blondie
Parallel Lines (Chrysalis, 1978)
Emerging from New York's punk and new wave scenes in the mid-70's, Blondie released its third and most popular album, Parallel Lines, in 1978. At first it was met with skepticism by the band's label, as it contained some songs that were only half-finished upon entering the studio. Nonetheless, it went on to sell more than 20 million copies worldwide and catapulted the band into international superstardom. Parallel Lines saw Blondie pull from its varied influences, although the album as a whole was dominated by one singular sound: pop. It produced six singles and consisted of as much glamour as grit — all led by Debbie Harry, a singer who would quickly become a music and fashion icon in her own right. This groundbreaking album showcases Harry's full range as a vocalist — from a punk rock growl to polished pop songstress —and her artistic fearlessness continues to inspire women and men to this day. With hit singles like "Heart of Glass" and "One Way Or Another," Parallel Lines is undoubtedly the band's most definitive album and remains one of the most revered pop albums of all time. —Amy Miller (KXT)
---
34. Tina Turner
Private Dancer (Capitol, 1984)
When Tina Turner strode back onto the music scene in her sky-high heels with 1984's Private Dancer, she reentered the charts alongside a group of talented twenty-somethings including Madonna, Prince and Michael Jackson. She made history by becoming the oldest woman, at the time, to reach No. 1 on the Billboard Hot 100 chart with "What's Love Got To Do With It?" She followed that triumph by winning three Grammys for that album. ("What's Love Got To Do With It" also won the Grammy for Song of the Year that year, though the award was given to the songwriters, and not Turner herself.) Private Danceralso introduced a new generation to her, a generation unaware of her early career and tumultuous past with Ike Turner — her ex-husband and former musical partner. (Ike once said in an interview, "Yeah, I hit her, but I didn't hit her more than the average guy beats his wife)." Tina Turner left Ike in the mid-1970s with nothing but a few cents in her pocket, and had to survive for a while on food stamps. This is a lady whose parents left her when she was a little girl, and who worked in the cotton fields of Tennessee. This personal history matters when it comes to appreciating the importance of Private Dancer. Although she didn't write the songs on the album, she makes them autobiographical. When she sings "Help, I Need Somebody," you want to reach out and be that somebody. Or on the song, "I Might Have Been Queen," Turner sings, "For every sun that sets / There is a new one dawning." Private Dancer was Turner's coming out of the dark moment, and proclaiming herself a "soul survivor." —Gemma Watters (NPR Staff)
---
33. Queen Latifah
All Hail The Queen (Tommy Boy, 1989)
It's easy to forget that Queen Latifah was a teenager when she recorded All Hail the Queen. How many nineteen-year-olds are so commanding, so cerebral? How many comfortably reference the likes of poet Frances Ellen Watkins Harper? With her debut album, Queen Latifah overthrew a reigning set of expectations about women in rap and established herself as a formidable talent. From the effusive beats of "Come Dance For Me" to the emphatic social messages of "Evil That Men Do," her music demands movement on any number of levels. Latifah, born Dana Owens, marshalled a dynamic assortment of producers to execute her vision, which was reggae-inflected, infused with social consciousness and generously female-forward. The celebratory "Ladies First" features filigree fills, glittering wordplay and an ensemble of voices that includes Ms. Melodie, Shelly Thunder and MC Monie Love, all players in the 1990s female rap renaissance. As it happens, Queen Latifah would move away from music (after becoming the first female rap solo artist to put out a gold album) and into a celebrated career as an actor. But that first album was — and remains — a clarion call. —Neda Ulaby (NPR Staff)
---
32. Björk
Post (Elektra, 1995)
From the moment you hear the electronic explosion and driving drum beat of "Army of Me" that opens Björk's 1995 album Post, you can tell that the Icelandic singer is not messing around. The album, the follow up to her much-beloved 1993 Debut, is even more emotive and electronically influenced, and is reflective of a move from her small island homeland to London. Björk co-produced the album with a variety of collaborators, but her singular vision is unmistakable here. This is the album that secured in every fan's mind who Björk was as an artist — not one to repeat herself,and one so far removed from the alternative rock that was popular at the time that she inhabited an entirely separate universe. Björk's playful and dark sides are writ large here; she draws on '50s big band jazz ("It's Oh So Quiet") and a futuristic combo of melodic bleeps, strings and a heavily effected beat ("Hyperballad"). At the time, critics loved the album for its originality and freewheeling embrace of a variety of sounds. And for the most innovative artists making music today today, particularly those who enjoy a carefree sense of melody (like David Longstreth of Dirty Projectors), Björk is still a refreshing role model. —Kimberly Junod (World Cafe)
---
31. Liz Phair
Exile In Guyville(Capitol/EMI/Matador, 1993)
Liz Phair's 18-song double-LP, Exile in Guyville, is her first and best album. Thick with tomboy swagger, it's a wrecked confessional detailing the insanity of dating and screwing in your twenties. It's also an ingenious, track-by-track response to The Rolling Stones' oppressively masculine Exile On Main Street. In her unsparing songs, the 25-year-old Oberlin graduate broke through Chicago's indie scene with some of the most self-assured and explicit feminist rock to date, with lyrics like, "I want to f*** you like a dog / I'll take you home and make you like it." Phair wasn't afraid of anything, and in many ways, this album is one big middle finger to the dudes of her personal "Guyville." In addition to humor and confidence, she navigates vulnerability and heavy emotion across tracks, especially in less-celebrated songs like "Shatter" and "Strange Loop," which hold up just as well as hits like "F*** and Run." The entirety of this album is timeless: Guyvilleresonates as much for those maneuvering messy relationships today as it did in the early '90s. —Alyssa Edes (NPR Staff)
30. Adele
21 (Columbia/XL, 2011)
No one refuses to let go like Adele. Her soaring voice against the simplicity of her accompaniments (sometimes strings or guitar, often just piano) barely masks the fact that 21 is a collection of songs about stubbornness. This is a woman grasping at dead things: Relationships, emotions, phases of life. But within that desperation lies so much power, too. 21 is an album that begs for people to sing along, and own up to the fact that they haven't recovered yet, either. When it was released in 2011, in the era of hyper-produced, self-assured pop-hop, 21 felt old school — there were no features, remixes or mottos. Just a woman singing into a mic about the things she wasn't over. The album is so inward-facing that it might have felt petty if it weren't for Adele's unwavering delivery. And it reminded people that that was enough: Just singing a story about a feeling you're not ready to move past. Not quite a kiss-off, but certainly a valediction. —Leah Donnella (NPR Staff)
---
29. Alanis Morissette
Jagged Little Pill (Maverick, 1995)
Every teenager is expected to be angry at some point over the course of her adolescence. But not every teenager manages to shatter expectations surrounding women worldwide, as well as their access to and expressions of that anger. At age 19, the Canadian pop star Alanis Morissette started work on Jagged Little Pill, the 1995 record that would ultimately sell 40 million copies and which offered an unprecedented lyrical vocabulary for processing and experiencing young womanhood. A generation of listeners smashed plates to this record, and then gathered up the pieces and built something better. Jagged Little Pill contains flawless angry songs, but it also contains perfect songs of introspection and self-belief, radically centering the narrative on (female) self instead of (male) other. Often miscast as a breakup album, Morissette's blockbuster is really a fully-formed exploration of being a person feeling their way through the world. It broke ground by giving equal space and value to emotions that women are expected to express publicly, as well as those they aren't. —Katie Presley (Contributor)
---
28. Nina Simone
Nina Simone Sings the Blues (RCA Victor, 1967)
The High Priestess of Soul, Nina Simone, was 34 years old in 1967. She'd been making music her whole life — she was trained as a classical pianist — and, at 21, started singing in clubs. For the next decade, she bounced around, recording jazz and blues standards, and steadily earning a reputation as a remarkable performer. People loved watching and hearing Nina Simone perform, though critics weren't quite sure what to do with her. Was she a blues singer? A jazz pianist and performer? And what about those original songs — how did they fit in? When Simone made the move to RCA in 1967, those questions started to become less important, and the focus now found itself on her voice— that voice! Slip-sliding between sultry sensuality ("In the Dark"), heart-wrenching reminiscences ("My Man's Gone Now") and the biting social commentary ("Backlash Blues," a song she co-wrote with Langston Hughes), Nina Simone proved, with Sings the Blues, that hers was a voice capable of anything. It made people fall in and out of love, it made them pay attention to the past, and it forced them to become aware of the social inequalities all around them. —Elena See (Folk Alley/Minnesota Public Radio)
---
27. Tori Amos
Little Earthquakes (Atlantic, 1992)
Tori Amos was dropped by her record label following the lukewarm success of her synth-pop act, Y Kant Tori Read. So the singer-songwriter was forced to reevaluate. Given that said project hadn't truly represented the image or music Amos wanted to create, she looked inward to find her true self. The introspection paid off, and yielded her game-changing 1992 debut, Little Earthquakes. On it, Amos sung brutally honest lyrics about typically taboo topicsincluding but not limited to sex, religion and sexism. Little Earthquakes was so earth-shattering upon its release that it almost immediately became a standard influence for idiosyncratic singer/songwriters — annoyingly, any woman playing a piano was hereby compared to Amos following the release. Little Earthquakes is rife with evidence that Amos was and is a bold musician, but that's nowhere clearer than on "Me and a Gun." The song is based on her own account of sexual assault and started a movement, as well as her assault and rape crisis hotline RAINN that encouraged victims of violence against women to speak out. Through Little Earthquakes Tori exuded sexual empowerment that was not for anyone else but her, which, in turn, transformed her into an icon. —Cindy Howes (WYEP)
---
26. TLC
CrazySexyCool (LaFace, 1994)
The album title says it all. With this record, TLCinvented a new hybrid adjective and created a sound to match. CrazySexyCool posited that there's no one way to exist — as a woman, as a partner, as a friend. These songs are about women who are always real, women who can be unabashed about their sexuality, tender or righteously distant, depending on the moment. They're wise without being condescending or aloof; Chilli, T-Boz and Left Eye make it plain that they're telling the truth. Their delivery embodies "crazysexycool," too. In "Waterfalls," for example, the gone but not forgotten Left Eye serves thirty seconds of flow that rank among the best of all time. It should go without saying that almost all pop music to come after this record owes it a debt. But TLC's impact went way beyond the music. The question of whether their project is "feminist" is perhaps misguided; the popular understanding of the word failed to even include them. But with baggy clothes, condom accessories celebrating safe sex, an undying commitment to each other — and yes, a knack for exerting control over the very definitions of "sexy" and "cool" — TLC was an undeniable revolution. —Jenny Gathright (NPR Staff)
---
25. Ani Difranco
Little Plastic Castle (Righteous Babe Records, 1998)
Indie folk pioneer Ani DiFranco was well into her career, as well as heading her Righteous Babe Records, when she released her most sonically ambitious album, Little Plastic Castle. DiFranco, who had been consistently releasing albums once a year since 1990, had just come off of promoting the live album Living in Clip and took that band back to the studio in Austin, Texas. There, they crafted an album that reflected the true explosive energy of her live shows. Lyrically, the songwriting is not necessarily as challenging or refined as her previous work. But DiFranco's words resonated with her audience, which expanded considerably following this release. The album scored her highest ranking on the Billboard charts, and with it gave the alternative mainstream a chance to experience the potency of this remarkably independent and outspoken songwriter. Young teenagers in suburban America soon began singing her songs at open mics, playing her music on their college radio stations and making sure their "great female singers" mix tapes all had an Ani song. The album's lyrics dealt with infidelity, relationships across the gender spectrum and fighting for respect. And although some misunderstood her outspokenness for anger, many found her music completely cathartic, seeing themselves reflected in her pain and struggle. —Cindy Howes (WYEP)
---
24. Loretta Lynn
Coal Miner's Daughter (Decca, 1970)
If Loretta Lynn is one of the queens of country music, Coal Miner's Daughter is the jewel in her honky-tonk crown. By 1971, Lynn was already a well-established Nashville songwriter, had sung her way onto the Grand Ole Opry, and had a reputation for her boundary-pushing, feminist songs about infidelity and domestic abuse. While the album doesn't betray those roots, its most beloved song is a sentimental autobiography; furthermore, Coal Miner's Daughter tells the story of Lynn's childhood in Butcher Hollow, Ky. She grew up with eight siblings, a mother who worked hard to care for them, and a father who worked in the Van Lear coal mines, an experience that's immortalized in the album's title track: "Well I was born a coal miner's daughter / In a cabin, on a hill in Butcher Holler / We were poor but we had love / That's the one thing that daddy made sure of / He'd shovel coal to make a poor man's dollar." It became her best-known song, the title of her autobiography and a 1980 Oscar-award winning movie about her life. But sadly, her father never lived to hear the album, or any of Lynn's recordings. He died of black lung disease in 1959. —Lauren Migaki (NPR Staff)
---
23. Aretha Franklin
Amazing Grace (Atlantic, 1972)
Aretha Franklin got her start in church, singing at her minister father's side as a young girl. She found critical success in the secular market, but her best-selling album, 1972's Amazing Grace, represented a grand homecoming. For two days, Franklin sang with mentor Reverend James Cleveland and his choir, the Southern California Community Choir, at the New Temple Missionary Baptist Church in Los Angeles. Throughout the hour and a half of the recording, Franklin whips and wields her incomparable instrument in a way that leaves little room for any reaction other than awe. The record lives and breathes with the raw emotion of the spirit: Franklin connects with her choir and her audience through laughter and shouts, testimonies and affirmations. It's participatory, but never does the session's control leave the hands of Franklin herself. In a church that was filled to capacity, The Rolling Stones' Mick Jagger and Charlie Watts were students of Franklin; the group's next album, Exile on Main Street, wound up being their most gospel-influenced record to date. Amazing Grace is audio evidence that gospel is best experienced in the house it lives in. And it was proof to industry executives and fellow musicians alike that gospel music could chart, and sell. —Kiana Fitzgerald (Contributor)
---
22. Sade
Diamond Life (Sony, 1984)
Sade's album Diamond Life dropped when some of pop's biggest stars like Michael Jackson, Madonna, Prince and Duran Duran were topping the charts with their bright, punchy songs. Sade stepped into the middle of that and slowed the pace down with a subdued, graceful album that was simultaneously soulful and jazzy. Diamond Life wasn't the kind of album on constant rotation at the club: People listened to this album in a much more intimate way, especially as many of its songs focus on themes of love and undoubtedly provided the soundtrack to many romantic evenings for couples around the world. It wasn't all love, though. Diamond Life shone with socially conscious songs like "When Am I Going to Make a Living" and the moving Timmy Thomas cover "Why Can't We Live Together." Some critics at the time seemed genuinely surprised that someone so attractive (Sade was formerly a model) could sing with such accomplishment, as though somehow beauty was a reason for skepticism. But with Diamond Life, Sade stormed in with timeless music that featured both groove and sophistication. —Alisa Ali (WFUV)
---
21. PJ Harvey
Rid Of Me (Island Records, 1993)
In 1992, PJ Harvey emerged from the rural town of Yeovil, England, and into the musical world with the seething tune "Sheela-Na-Gig." While Harvey's subsequent debut album Dry was a radical step forward, it didn't prepare anyone for her uncompromising next album — her best — that would follow the next year, Rid Of Me. The album was pulled together against all odds, and you can hear it in the stark recording: Done in isolation, while the band sparked with internal tensions and Harvey's songwriting directly bristled against Steve Albini's abrasive production. Yet from the opening chords of Rid Of Me's title track — in which Harvey crooned "Tie yourself to me / No one else, no / You're not rid of me"— she made it perfectly clear on this album that not only was she not intimidated by having all eyes on her, but also that she wasn't going anywhere. Behind the thrum of guitars on "50 Foot Queenie" she delivered a series of declarations that have rightful places as anthems: "I'm number one / Second to no one … I'll tell you my name / F-*-*-* / Fifty foot queenie / Force ten hurricane." On Rid Of Me, Harvey also proved that she wasn't just capable of hanging with the boys; she had surpassed them entirely. "Can you hear can you hear me now / I'm man-sized," she roars on the eponymous song, one that, among others, once caused her contemporary Courtney Love to declare: "The one rock star that makes me know I'm shit is Polly Harvey. I'm nothing next to the purity that she experiences." —Paula Mejia (Contributor)
---
20. The Ronettes
Presenting the Fabulous Ronettes Featuring Veronica (Philles Records, 1964)
The British Invasion hit American shores in February 1964, changing the course of American pop for the foreseeable future — but three girls from Spanish Harlem invaded the British first. Twenty-year-old Veronica Bennett, her sister Estelle and their cousin Nedra Talley arrived at Heathrow that January with a Billboard No. 2 hit, "Be My Baby," under their belts, and when they met The Beatles, the four mop tops were already adoring fans (so was their opening act — The Rolling Stones). "Be My Baby" — the centerpiece of the trio's debut album — would hook millions more, rock royalty and commoners alike, with its heart-thumping kick drum, plaintive whoah-oh-oh's and dense production courtesy of Phil Spector's Wall of Sound, which dependably takes the listener's breath away by filling every available molecule of air with music. The studio work is wizardly, but it's Veronica — the future ex-Mrs. Phil, and the forever Ronnie Spector — who is the magic element, switching between rock and roll swagger on the loose-hipped "(The Best Part) of Breaking Up" and demure teen yearning on "I Wonder," plus a loose, muscular, full-throated take on Ray Charles' "What'd I Say," all stamped with her indelible sweet-tart voice. Everything about The Ronettes always teetered on the blissful edge of too much — too-tight dresses, too-bountiful beehives, too-heavy eyeliner drawn to a razor-sharp wing, and Fabulous Ronettes is an overflowing platter. But whoah-oh-oh is what passion sounds like, when transcends the capacity of language. —Alison Fensterstock (Contributor)
---
19. Selena
Amor Prohibido (EMI Latin, 1994)
It's tough to overstate the impact and power SelenaQuintanilla had across the United States and in Latin America as the Queen of Tejano music. Her humility, talent and sense of style influenced generations of Latinos enamored with and overwhelmed with pride of their culture — a culture often perceived to be less than. With her music, she made the voices and experiences of Latinos in the United States visible. That's especially true of her album Amor Prohibido. Her last release before she was killed in 1995, Amor Prohibido is an ageless cultural symbol that was meant to transcend a moment in history. It did, to say the least. It became the best-selling U.S. Latin album of all time, went platinum, had four No. 1 singles and put Tejano music on the map. With Amor Prohibido, Selena was able to reach larger audiences with her more experimental and cross-cultural sounds, including a fusion of Mexican mariachi and Colombian cumbia sounds, and elements of R&B, techno, pop and the ballads known as corridos. Writing about her is surreal, though. I remember hearing my aunts and mom sing "Bidi Bidi Bom Bom" growing up. The floors would tremble when this song came on as everyone was pulled to the dance floor. In college, my friends and I would blast these songs to find some kind of familiarity when everything felt so different from us. She didn't break barriers with this album as much as she tore them down.—Jessica Diaz-Hurtado (NPR Staff)
---
18. Lucinda Williams
Car Wheels On A Gravel Road (Mercury, 1998)
Lucinda Williams had released four albums when she began recording songs for what would, years later, become Car Wheels On A Gravel Road, now an Americana standard. On the album, Williams successfully married rural snapshots with articulate, near-photographic songwriting. The combination resulted in a vibrant and vividly-detailed album, especially for the time. In the late 1990s, alternative country was still a nascent scene with a palpable absence of both female voices and female songwriters in the genre. Car Wheels On A Gravel Road changed all of that. The album won the 1998 Grammy Award for Contemporary Folk, and also went gold — a first for Williams. Tracks like "Can't Let Go" and "Right In Time" became modern classics and solidified Lucinda's position as one of the best American songwriters of our time, thanks in part to her talents for capturing granular slices of life, delivering them with a poet's eye and a craggy, world-weary voice. —Jessie Scott (WMOT)
---
17. Janet Jackson
Control (A&M, 1986)
There would be no Rhythm Nation, Janet, or Velvet Rope without Control. This was the breakout album for then-19-year-old Janet Jackson, who until then was fondly known as Michael Jackson's little sister, Penny from Good Times and Willis' girlfriend on Diff'rent Strokes. She fired her dad as her manager, got with producers Terry Lewis and Jimmy Jam from The Time, and made an album that clearly said "I'm a grown-ass woman," in case anyone was confused. The album, released February 1986, took on important issues such as sexual harassment, safe sex and abstinence, and we sang right along with her, making hits out of "What Have You Don't For Me Lately," "Nasty," "Control," "When I Think Of You," "Let's Wait Awhile" and "Funny How Time Flies (When You're Having Fun)." But Janet did something especially pivotal with the video for "Pleasure Principle," another single from the album. She walked alone into an empty loft with kneepads on, kicked over a chair, cabbage-patched and clarified for those in the cheap seats that she was as great a performer as her big brother: "Ba-by you can't hold me down! Ba-by you can't hold me dow-ow-own!" —Tanya Ballard Brown (NPR Staff)
---
16. Fleetwood Mac
Rumours (Warner Bros., 1977)
For those of us who didn't live through the late 1970s, the Fleetwood Mac story — of sex and drugs and rock and roll and epic songwriting sessions in the middle of it all, this member breaking up with that member and taking up with another, piles of cocaine, or was it champagne? — is beyond tantalizing. But it wouldn't be anything more than tabloid trash if the band hadn't made the music it did, particularly on the monster of an album, Rumours. Stevie Nicks, Christine McVie, Lindsey Buckingham, Mick Fleetwood and John McVie set out to make a record with no fillers, and they very nearly hit their mark. When Rumours came out, it topped the British and U.S. charts and won the Grammy for Album of the Year, eventually becoming one of the best-selling albums of all time. Why?Rumours is the sound of a band bending but not breaking, led by two women who wrote songs about the full range of human emotion. It's Stevie responding to Lindsey singing "You can go your own way," with "Dreams," a song she wrote in 10 minutes, that became the band's only Billboard Hot 100 #1 hit ever. It's Christine McVie crooning "You Make Loving Fun" to her new love, while her ex plays bass. And in the depths of all the romantic turmoil that was going on within the band, Christine wrote "Don't Stop," cheerfully reminding everyone to look ahead to tomorrow. It's personal, it's relatable, and because it captures the whole scope of a romantic experience, from new love through breakups and back again, it's a mainstay. —Sarah Handel (NPR Staff)
---
15. Diana Ross and the Supremes
Where Did Our Love Go (Motown, 1964)
It's surreal to go back and listen to The Supremes' breakout album all these years later, when most of the singles on it have become synonymous with oldies FM radio and baked into our nostalgic memories of early R&B. Hit singles were the name of the game back in the early 1960s and they had started pouring out of Detroit's Hitsville U.S.A., the cramped Motown studio where Diana Ross, Florence Ballard and Mary Wilson would hang around every day after school hoping to clap and sing in the background of someone else's #1 song. R&B fans were used to women appearing as backup singers, but The Supremes and their peers like The Shirelles and Martha and the Vandellas turned the whole game around. A woman's voice could deliver the lead as well as support it, harmonies locking together, a squad unified in power and voice. Where Did Our Love Go captures The Supremes in that tender moment between finding their footing as a "girl group" and rocketing to superstardom; by the end of the decade, they would be Motown's best-selling act, and will have paved the way for a long lineage of powerhouse trios like the Pointer Sisters, En Vogue and Destiny's Child. —Andrea Swensson (Minnesota Public Radio)
---
14. Whitney Houston
Whitney Houston (Arista, 1985)
From sweet flirtation to full-throated proclamation, Whitney Houston's vocal range remains fresh and vibrant some three decades after this album was released. There are just 10 songs on this debut album by a daughter of soul royalty (her mother is Cissy Houston; her cousin, Dionne Warwick and her godmother, Aretha Franklin). But it's chock full of Whitney classics, including the lovelorn ballad "All At Once" and the breezy "Saving All My Love for You." This album also includes the perfect '80s song, "How Will I Know," though admittedly it's hard to separate the iconic video from the song. Whitney bobbing her head with a silver bow in her hair, hot pink lips glimmering while crooning, "There's a boy!" captures the joy and innocence of first love. And then, of course, the reason so many of us bought this album in the first place: the show-stopping singalong, "The Greatest Love of All." Like her 1992 hit version of Dolly Parton's, "I Will Always Love You," this song is a cover that Whitney made a signature. Her velvety voice defiantly proclaiming, "No matter what they take from me they can't take away my dignity," was my power anthem as an 11-year-old, and I still revisit it. We all need to be reminded from time to time of the beauty we possess inside. Yes, Jermaine Jackson and Clive Davis had hands in this album, but no one outshines Whitey's performance throughout, and it's one that sustains over time and trends. —Nina Gregory (NPR Staff)
---
13. Madonna
Like a Prayer (Sire, 1989)
In 1989, AIDS was ravaging cities everywhere, particularly New York, Los Angeles and San Francisco. The Supreme Court had begun to chip away at abortion rights. Activists were handing out condoms in the streets and fighting the indifference of the Reagan Administration, which instead supported the abstinence-only policies of fundamentalist Christians and the Catholic Church. Madonna's album Like A Prayer, released that same year, daringly takes on the struggles of a generation that refused to accept spirituality without sensuality. Through interweaving gospel, funk, soul and pop, the album's songs raise questions about religion, sexuality, gender equality and interdependence. For one thing, the title song opens with a few seconds of a hard rock guitar that stop abruptly and make way for a gospel choir and an organ. The lyrics suggest a girl who might experience God as a lover — or is it a girl who loves a man as if he is God? While "Oh Father" was in many ways about Madonna's own father, it goes beyond her relationship with him and instead alludes to someone who abuses power. And when all those activists weren't agitating in the streets they were dancing to "Keep It Together," Madonna's tribute to her family. While most critics saw this as the album where Madonna went from bubblegum pop to true artistry, that wasn't the only thing she did with Like a Prayer. With this album she also led the way for a new generation top female pop stars to express themselves. —Laura Sydell (NPR Staff)
---
12. Erykah Badu
Baduizm (Universal, 1997)
Erykah Badu is not afraid to repeat herself. Baduizmbegins and ends with "Rim Shot." The songs in between echo themselves and each other over and over and over again — "On and On" is referenced in "Appletree"; "Certainly" and "Certainly (Flipped It)" are mirror images; there are two different songs called "Sometimes." In "No Love," Badu repeats the same phrase ("You don't show no love") eighteen times. But time doesn't seem to be a concern for Badu — she sings like she's having a conversation that might go on forever, accidentally. Lines like "Take your time," "I don't need nobody telling me the time" and "I'll see you next lifetime," are littered throughout out the album. For Badu, if there's a thought worth articulating, it's worth ruminating. And when she's not doing it herself, her sound is still echoed by people around her, like The Roots, Kendrick Lamar, Andre 3000, Mos Def, India Arie and Drake. —Leah Donnella (NPR Staff)
---
11. Dolly Parton
Coat Of Many Colors (RCA Records, 1971)
For most of Dolly Parton's performing career, it's been impossible to separate the sequins and spangles of her outsize image from her humble, hardscrabble mountain roots, so intertwined are the two in the persona she's presented. Her 1971 album Coat of Many Colors was a formative moment both in the way it helped established her artistic self-sufficiency — no longer viewed simply as Porter Wagoner's "girl singer," she was making her mark on the country charts as a standalone singer-songwriter — and how it sketched the contours of her enduring narrative. It's hard to overstate the importance of the self-penned title track; through the lens of plainspoken reflection, Parton's lilting folk-country ballad wove together a touching account of her mother's Appalachian ingenuity and her own alternative vision of beauty and glamour, grounding both in a homespun yet nonetheless aspirational ethic that would frame her music forever after. Released during a fruitful period in country's autobiographical storytelling tradition, during which peers like Loretta Lynn and Tom T. Hall were also doing important work, the song is one of the reasons that Parton came to be recognized as the tradition's archetype. With the remainder of the album, mostly written by her with a few Wagoner compositions thrown in, she laid out more of her musical template: her supple modernizing of ancient-sounding folk's gothic, modal melodies and pastoral sentimentality; her fabulously knowing backwoods wit; her amplifying of emotions shaken loose by adult heartbreak; her openness to pop's buoyancy. She was, it would become clear, a splashy, savvy, broadly appealing complete package like neither the country nor pop worlds had seen. —Jewly Hight (Contributor)
---
10. Carole King
Tapestry (Ode, 1971)
With Tapestry, Carole King cemented her place as one of the key architects of 20th-century popular music. Here, she fully claims the spotlight, not only as a top-notch composer, but as a deeply soulful lyricist and singer. Considered her crowning achievement by critics, record sales of over 25 million confirmed that the public agreed. From "I Feel the Earth Move" to "You've Got a Friend," the track list is a veritable master class in pop standards with King, one of America's most dependable hitmakers, flexing in a new genre. With her unadorned piano wrapped in plainspoken lyrics about the pulls of kinship and self-actualization, it's no wonder the record stands the test of time as not only a bedrock in the singer-songwriter genre but also as the soundtrack of suburban feminism of the early 1970's. King's evolution as both an artist and woman are perhaps most evident in the grown-up version of "Will You Love Me Tomorrow?" that appears on Tapestry. The first major writing credit for the then-teenaged King and lyricist husband Gerry Goffin, which hit No. 1 for The Shirelles in 1961, is transformed from a girl's yearning question into the bittersweet doubts of a woman wise enough to know that even true love doesn't always last "til the night meets the morning sun." —Jill Sternheimer (Lincoln Center)
---
9. Amy Winehouse
Back To Black (Island, 2006)
The late '00s saw an explosive, cross-genre revival of retro-sounding soul music that continues to shape the pop landscape to this day. Arguably, that trend's catalyst was Amy Winehouse's earth-shaking final album. Working closely with producers Mark Ronsonand Salaam Remi, plus a then-little-known Brooklyn soul ensemble called the Dap-Kings, the young, beehived-and-tattooed London singer pivoted from jazz to the velvet musical vocabulary of '60s girl groups and Motown. Yet however smartly it evoked the sounds of an earlier era, Back To Black could never have been mistaken for anything but contemporary — or anyone but Winehouse. Funk and R&B grooves snapped through a post-breakbeat filter; her lyrics about lost love and self-destructive habits pulled zero punches; her delivery came fluid as exhaled cigarette smoke. Even "Tears Dry On Their Own," whose arrangement reproduced Tammi Terrell and Marvin Gaye's version of "Ain't No Mountain High Enough" down to the drum fills, sounded magnificently fresh with Winehouse's lead line — a romantic duet flipped into a frank, lonely rendering of a breakup's aftermath. This was a soul record that wouldn't forget that hip-hop happened, a thoroughly modern tract on heartbreak whose bluntness made it believable. —Rachel Horn (NPR Music)
---
8. Janis Joplin
Pearl (Columbia, 1971)
One of rock's most misunderstood artists, Janis Joplinwas often portrayed as victim, a dysfunctional mess who only fronted a band, who didn't have the power to call the shots. Until Pearl. In 1971, with Monterey Pop, Woodstock, and Festival Express behind her, the vision of blues, rock and soul coming together with a band that could follow her was realized. It was her high point, and tragically, she didn't live to see it. Janis had put the band together — saying "it's my band, it's finally my band" — and approved all the songs. (It was unusual at the time for a female artist to actually have that control, the very reason we need this list.) She wrote the opening track "Move Over" and the a cappella "Mercedes Benz," which was recorded just days before her passing. Janis once said, "None of us are who we started out as." She was a "good girl" as a Texas kid, in a stable home full of music, with her Mom's Broadway musicals like Porgy and Bess as her favorites. Bad skin and some extra weight brought the usual social problems once she hit high school, and she drifted toward the creative crowd. Once she made it to San Francisco, she discovered how her heroes, like Bessie Smith, could inspire her voice. She became known as Pearl — sassy, fearless, sexy, uninhibited, not one to ever hold her tongue. She was fast and free with her sexuality, like Bessie. And she called the shots. Pearl hit No. 1 on the charts, making Janis Joplin one of rock's most successful artists.You can't help but wonder what she would be doing now. —Rita Houston (WFUV)
---
7. Patti Smith
Horses (Arista, 1975)
The very nature of Patti Smith's debut album Horsesrails against what many other "best of" albums are celebrated for — broad appeal, sonically pleasing aesthetics and hits. Horses is confrontational, defiant and completely unafraid of the ugly. And so was its author, who in 1975, for arguably the first time in music, set the lyrical stage for academia and animalism to writhe together; for the sophisticated and heady virtues of capital-P Poetry to crash into the visceral, bodily base of rock and roll. Any beauty on Horses feels like a bi-product of story — from Smith's breathless bleating to wailing and warbling against collaborator Lenny Kaye's characteristically jagged guitar to her historic presentation on the album's cover. As photographed by Robert Mapplethorpe, Smith's unapologetic androgyny predates a time when that was an en vogue or even available option for women, and represents a seminal moment in the reversal of the female gaze. Smith is looking at you, and could care less what you think about looking at her. That was radical for a woman in 1975. It is still radical today. There are legions of artists who cite Patti Smith's Horses as an earth-shattering influence, from Courtney Love to R.E.M's Michael Stipe to Garbage's Shirley Manson to The Smiths' Johnny Marr — but they don't necessarily reflect Smith's influence in terms of sound so much as attitude. It was her unfiltered, fearless singularity that galvanized believers in the Church of Smith not to become more like her but to become more like themselves. And for that, we owe Smith everything. —Talia Schlanger (Host, World Cafe)
---
6. Beyoncé
Lemonade (Parkwood/Columbia, 2016)
One of the most recent projects to be part of our new canon, Lemonade is a masterful excursion through terrains at once visually fantastical and emotionally all too real, exploring shattered trust in a broken relationship; the singular pain borne by the mothers of men like Trayvon Martin, Eric Garner and Michael Brown; the battering down of black women throughout history; the scars of all of these kinds of trauma; white-hot rage and hopeful, though not blind, reconciliation. The inventive, stunning Lemonade film — credited to seven directors, with each dream-like scene lapped atop the next — has already generated a thousand points of exegesis (Was that yellow dress and gushing water in honor of the Cuban orisha Oshun? Was it coincidence that while wearing that dress, Bey smashes a closed-circuit TV with her baseball bat?). But those visual shifts also provide sinew and shape to the hugely varied sonic palette that Beyoncé employs as she flits between genres with everyone from Jack White to The Weeknd. Lemonade is as much a pastiche musically as it is visually, but taken in totality, it is so artfully constructed that it feels right. Pop music has only very rarely sprung from the mind or talent of a single auteur, but few solo artists have conceived of collaboration in as wide-ranging, or as dimension-shifting, a way as Beyoncé has on this project — and she is the one most definitely in command. —Anastasia Tsioulcas (NPR Music)
---
5. Missy Elliott
Supa Dupa Fly (The Goldmind/Elektra, 1997)
This album dismantled the hip-hop boy's club. For the first time in history a woman rapped, sang, wrote and produced every song on a major rap release. Within the first sounds that we hear, Missy Elliott invites you to become engulfed with the undeniable Virginia-based funk, a region that's equally Southern and Eastern, through aquatic synth sounds paired with earthy drum patterns. The result? A vibe that's both familiar and futuristic. Without selling overly sexualized imagery and without imitating hypermasculine gangster rap, Elliott awards us with pure originality. She didn't just change the scope on how we interpreted sexy and gangster: The genres bended to her liking. The sound shifted to jazz with her vocal improvisations and scatting on "The Rain (Supa Dupa Fly)," over an Ann Peebles sample. It became the blues on "Beep Me 911," a somber song about uncertainty and urgency. And her esteemed comrades Busta Rhymes, Timbaland, Lil Kim, Aaliyah, Da Brat and Ginuwine complemented and fit comfortably within the theme of the perfect album. Elliott presciently knew her music was groundbreaking and reminded us throughout the record with her boisterous lyrics. Today, Supa Dupa Fly remains one of the best hip-hop records of all time, and its level of innovation and musicianship remains unparalleled. —Stasia Irons (KEXP)
---
4. Aretha Franklin
I Never Loved a Man The Way I Love You (Atlantic, 1967)
In the universe of popular music, this album exploded like a brand new sun. It took Aretha Franklin eleven songs to shift the canon of AM radio away from the realm of girlish glee to the cataclysms of womanly love. I Never Loved a Man connected with black and white audiences and became the biggest commercial success of her building career. On this Atlantic Records debut, Franklin trucks confidently in the desires of a modern-day woman. In a word, she's "real" — plain-spoken and passionate, without guile or undue glamour. The album has funky rhythms, of course. And horns. And some of the most memorable hooks in popular music. Franklin's re-imagining of the Otis Redding single "Respect" is now on the National Recording Registry of the Library of Congress, reportedly as a feminist anthem. But the song is also redolent of black consciousness and pride. And yet, it's Franklin's renderings of vulnerability in love that make the album universal. The title track was her first million-seller. She also wrote or co-wrote some of the best-known songs of her career for the release, including Baby, Baby, Baby and Dr. Feelgood. For better or worse, each song here sounds like she lived it. Producer Jerry Wexler called the famously private Franklin "Our Lady of Mysterious Sorrows." —Gwen Thompkins (WWNO)
---
3. Nina Simone
I Put A Spell on You (Philips, 1965)
Nina Simone knew her own power. Not only did she cover the song "I Put A Spell on You," but she also used it as the title of her autobiography. The song, originally released in 1956 by Jay Hawkins, cemented his "Screamin" moniker. But in Simone's hands, it became something more, a kind of simmering sorcery.
Simone's 1965 album, also entitled I Put A Spell on You, is the closest you'll ever hear her come to pop. The swaying strings and delicate vocals of "Marriage is for Old Folks" give you a sense of Simone's incredible musical range. Plus it's a joyful reminder of the humor people forgot Simone possessed once she became the siren of the civil rights movement with searing songs like 1964's "Mississippi Goddam." The standout on this album, "Feeling Good," is a number that Simone transformed from a show tune for a barely-remembered British musical into a gold-standard strutter. Simone's version trades wide-eyed pouting for unadulterated power, from the opening bars — featuring her voice and nothing else — to the brass line that bows down to her pipes. By the time she careens towards the climax, you know this woman has indeed put a spell on you — and just about anyone else that dares get in her way. —Audie Cornish (Host, All Things Considered)
---
2. Lauryn Hill
The Miseducation of Lauryn Hill (Ruffhouse/Columbia, 1998)
The Fugees struck gold in the late 1990s with albums like The Score, a feat that also made their resident wordsmith, Lauryn Hill, a household name. But when Hill went out on her own two years later and dropped her debut, the neo-soul masterpiece The Miseducation of Lauryn Hill, she schooled everyone all over again in new and necessary ways. In it, Hill refuses to shy away from topics often left unspoken, injecting classroom love lesson interludes and hard-hitting lyrics about how money changes people in the banger "Lost Ones." Then there's the cautionary tale "Doo Wop (That Thing)," a bold song that unpacked sexual politics and not only scored Hill two Grammys, but also earned her the distinction of becoming the first woman since Debbie Gibson (with 1988's "Foolish Beat") to have a song that she simultaneously wrote, recorded and produced soar to the top of the Billboard charts. And that's just one song on The Miseducation of Lauryn Hill. The album, rife with Hill's biting rhymes and sharp turns of phrase, is a wonder from start to finish, from her smoldering duet with fellow R&B superstar Mary J. Blige "I Used To Love Him" to the unapologetic, plucky "To Zion," in which Hill details how people discouraged her from having a child in order to further her career: "Everybody told me to be smart / Look at your career, they said / Lauryn baby use your head / But instead I chose to use my heart." It's further proof that, yes, women absolutely can — and will continue — to have it all. —Paula Mejia (Contributor)
---
1. Joni Mitchell
Blue (Reprise, 1971)
After nearly fifty years, Blue remains the clearest and most animated musical map to the new world that women traced, sometimes invisibly, within their daily lives in the aftermath of the utopian, dream-crushing 1960s. It is a record full of love songs, of sad songs; but more than that, it is a compendium of reasonable demands that too many men in too many women's lives heard, in 1971, as pipe dreams or outrageous follies. "All I really, really want our love to do, is to bring out the best in me and in you, too," Mitchell sang to an elusive partner on the album's first track. That line, like so many of the melodic and lyrical gestures throughout Blue, is simple, but so radical. With the counterculture collapsing under the weight of its machismo-driven mythologies, women pushed forward with calls to imagine genuine equality in real life — in the private places where love and art is made. Blue articulates that demand and its effects more clearly than any other work of art. Musically, it reflects Mitchell's belief in what she's called "the feminine appetite for intimacy," with her nearly naked guitar playing, Appalachian dulcimer and occasional piano dominating the mix. Yet its rhythms and unexpected flights of melody also reveal Mitchell's movement toward the deeper improvisational waters of jazz, a sonic illustration for her love of crossing lines, the "white lines of the highway" or the generic ones of the recording studio. Lyrically Blue communicates both the cool of Joan Didion and the rawness of Sylvia Plath, and reminds us that emotional writing is only powerful when it is punishingly precise. The way Mitchell made the album was also revolutionary: She produced the sessions herself, directing a small band that included rival/peers like James Taylor (one of several lovers honored and exposed by her observations) and Stephen Stills. Mitchell would travel much farther on the lonely road she identifies in "All I Want," but Blue is her crossroads, where she bests her devils and invents a mode of expression that every singer-songwriter must master, but none can truly imitate. —Ann Powers (NPR Music)