Huffington Post
A Powerful Film Is Putting The Struggles Of A Genderfluid Teen Front And Center
By James Michael Nichols
01/26/2018 04:35 pm ET
A new film from director Trudie Styler is placing the story of a genderfluid teen in the limelight and humanizing the struggles of young people living outside of binary notions of gender.
"Freakshow" tells the fictional story of Billy Bloom (Alex Lawther). Billy is a young, queer teen who suddenly has to deal with the painful realities of a quintessential American high school after his mother (Bette Midler) pushes the responsibility for his well-being onto her husband (Larry Pine) years after their divorce.
Bloom, who enjoys dressing up and presenting his gender nontraditionally, is forced to find a way to live at his new ultra-conservative high school ? and ultimately decides to run for homecoming queen against one of his biggest bullies, Lynette (Abigal Breslin).
"Freakshow" is based on a book of the same name by James St. James, of "Party Monster" and Club Kid culture fame. St. James told HuffPost he hopes the film contributes to a larger conversation about the bullying that queer and genderfluid kids face every day in schools all across America.
"The book was written almost 10 years ago, long before the subject of LGBTQ bullying was a national dialogue, and long before LGTBTQ teens were actually running for ? and becoming! ? prom queens and homecoming queens," St. James told HuffPost. "In that way, it's ahead of its time. And, in a way, I'm glad that it took so long to make. The themes of bullying feel more relevant now in Trump's America than they did back then. I hope the movie furthers the discussion of bullying and the acceptance of the genderqueer and genderfluid kids out there who are defiantly making an impact and getting their voices heard."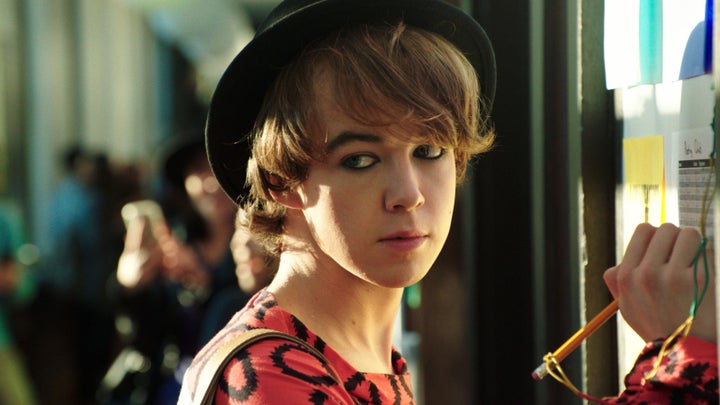 The film also tackles another important topic: the bonds between queer youth and their straight peers, and how precious these relationships can feel.
The central relationship in the film is the one between Bloom and his best friend Flip ? a straight jock whose kindness and compassion literally save Bloom's life at one point.
"The characters of Billy and Flip could not be more different, and yet they find a commonality," St. James said. "They bond and form a friendship that they both learn from and both grow because of it … This story feels modern in that it focuses on two boys, one gay one straight, and how they form a powerful lifelong bond based on mutual respect. I hope kids can learn from that."