---
Showbiz CheatSheet
5 Bette Midler Covers That Completely Reinvented the Original Recordings
By Josh Lezmi
April 1, 2020


---
---
Though Bette Midler is known for several original recordings — ranging from the heartwrenching ballad to the quick-tempo pop number — she is also famous for reinventing other artists' hit tunes.
Often bringing an added degree of emotion or a musical approach starkly contrasting the original song, The Divine Miss M has covered several hit numbers in her years as an ever-influential original Diva.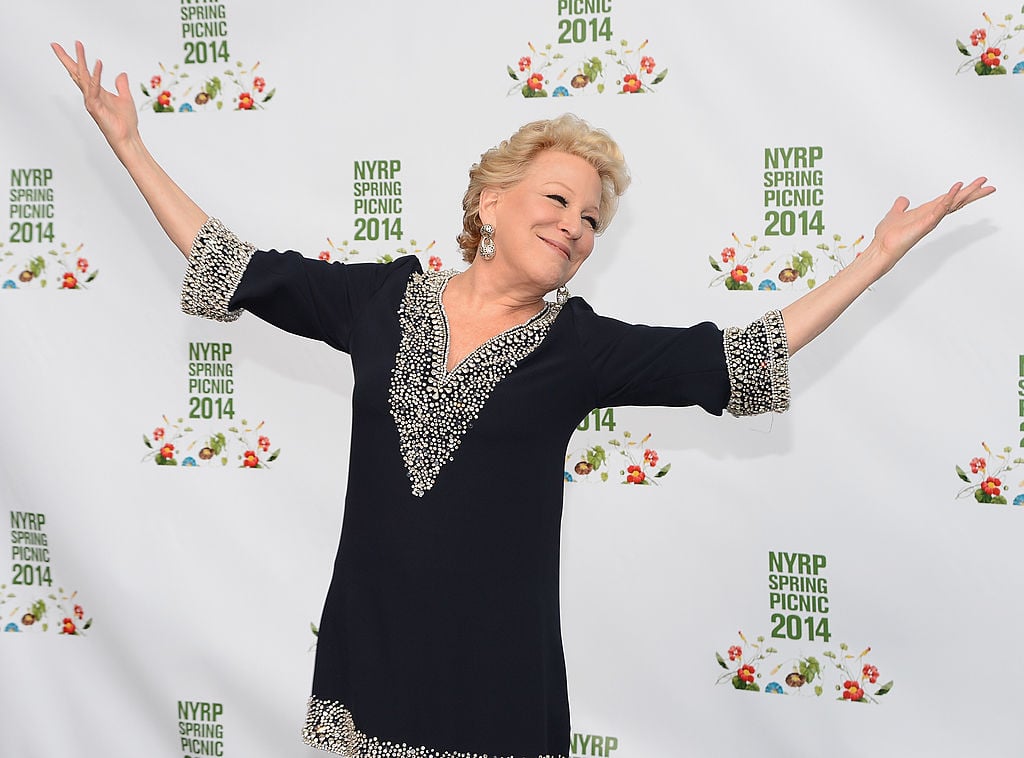 Below, please find five songs that Bette Midler completely reinvented with a memorable rendition. While the original recordings all deserve praise and recognition, this list will highlight how Bette Midler brought a unique and seemingly better-suited styling to each tune.
1. "Delta Dawn:" Performed previously by Tanya Tucker and Helen Reddy
Tanya Tucker's original "Delta Dawn" boasts a country twang and a moderately fast pace; the recording has a sing-a-long nature, making it perfect for campfire hours. Helen Reddy's later recording — picking up the pace — almost wholly erases the song's somber essence, which Midler brings to the forefront.

When Bette Midler recorded "Delta Dawn" for The Divine Miss M, she opened with a soft yet piercing tone, transforming the number's onset into a slow ballad, perfectly complementing the song's tender narrative. When slowed down — as to be pondered — the pensiveness and poignancy inherent to the lyrics come forward. With Mider's recording, each line punctures the heart — from "her daddy still called her baby" to "she walks downtown with a suitcase in her hand." The lyrics do not pass you by, they pass through you as if the song was waiting to be a deeper, more reflective ballad all along.
2. "Miss Otis Regrets:" Performed previously by Douglas Byng, Ethel Waters, and Ella Fitzgerald
Most recordings of "Miss Otis Regrets" are slow, recounting Miss Otis' final act. Before she is hung upon a willow tree, she shoots her cheating lover down, which leads her "so far astray." While Fitzgerald's and other earlier recordings victimize Miss Otis, aligning the musical approach with the character's sorrowful and regret mental space, Midler picks up the pace.
Midler turns "Miss Otis Regrets" into a fast and catchy tune, and while Miss Otis knows she has done wrong, some of the attached guilt is removed, as if owning the action with just a bit of vindication and pride. "Sorry, she can't make it to lunch because she killed the bastard," instead of, "Sorry, she can't make it to lunch for she must pay the price for her momentary lapse in judgment."
Midler modernizes the number for a 1990s Divine Miss M fan base, who loves to watch and listen to a powerful woman in her prime own her actions.
3 and 4. "E-Street Shuffle / Leader of the Pack:" Originally performed by Bruce Springsteen and The Shangri Las respectively
Bruce Springsteen's "E-Street Shuffle" has that classic Bruce, Jersey boy essence: it's got a fast and fun vibe and shows off Springsteen's captivating shtick for storytelling. However, Midler also retains that shtick. For, the Divine has always said, she is first and foremost an entertainer.
Midler uses her voice to get across the "E-Street Shuffle" setting — extending certain notes and using a breathy delivery to capture the summer heat and environment. Instead of merely recounting the days as if flipping through a scrapbook, she enters the nostalgiac neighborhood, placing herself within the story, as opposed to commenting on it. Thus, her transition into The Shangri-Las' "Leader of the Pack," in which she falls for the song's male protagonist, is all the more apropos.

She falls in love, and she falls to the stage. She whimpers and reflects, remembering the boy, and closing her romantic escapade with a return to "E-Street Shuffle" — a return to the neighborhood and the hot summer day that started it all.
5. "Waterfalls:" Originally performed by TLC
No one will deny that TLC's "Waterfalls" is perfect in every way. From the beautiful harmonizing to the impactful lyrics, TLC's "Waterfalls" remains one of, if not the group's most famous recording. However, Bette Midler brings a degree of personal pain to the song, whereas there seems to exist a degree of separation between the group and the character they are discussing.
Bette Midler seemingly comes across as a mother (or the mother) in the song, changing the perspective to one of intimate relatability; thus, slowing it down is appropriate, for the vocalist's identity shift requires a change of pace — one from commentary to reflection. One from a lesson to be a taught to a tearful message to be understood.

---