---
Screen Rant
Bette Midler's Top 10 Movies, Ranked By IMDb
BY KENDRA ACKERMAN
May 19, 2021
---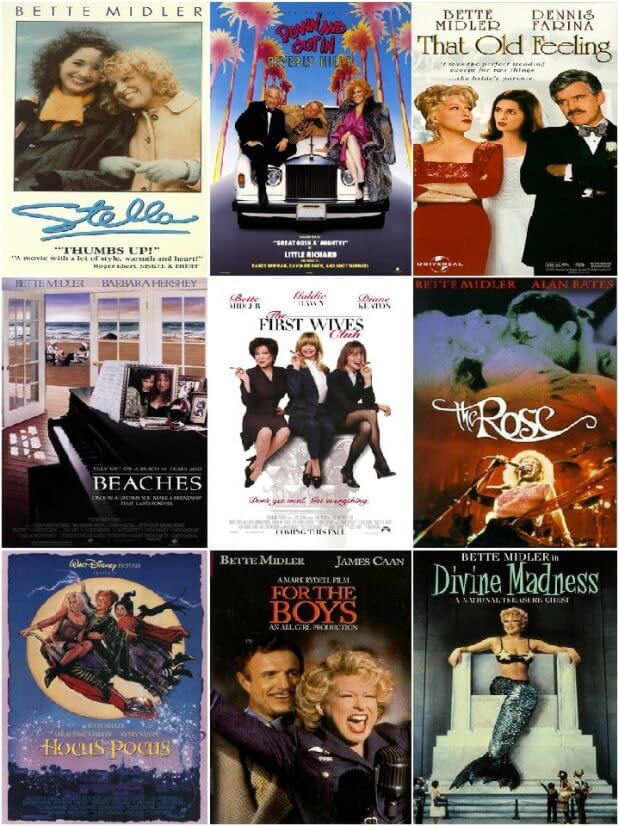 ---
Bette Midler Movies: Which Ones Make The Cut And Which One's Don't?
---
In the past several decades, many icons have stepped out of the movie screens and have become some of the most loved actors and actresses of this generation. It's hard to group them into one category because they're each unique in their own way, but when it comes to Bette Midler, she's a woman of many talents. Midler is a multi-Grammy Award-winner who is also a singer, comedian, and author. There's nothing Midler can't do, and that's why she's one of the best actresses around.
So, to truly recognize how talented she is, looking back at her top films is the best starting place. Bette Midler doesn't mold herself into a specific genre; she basically makes her own.

The Top 10 Bette Midler Movies:
---
10. Parental Guidance – 2012 (6.0)
Artie Decker (Billy Crystal) and Diane Decker (Bette Midler) are empty-nesters who enjoy their lives. When their daughter Alice (Marisa Tomei) asks them to look after her three children, they reluctantly agree because they don't get to see them enough. While Artie and Diane are old school, Alice and her husband Phil (Tom Everett Scott) are "new school" and have a different outlook on how to raise their children.
Parental Guidance is a classic comedy with lessons and road bumps that teach everyone that it doesn't hurt to live a little.
9. Stella – 1990 (6.2)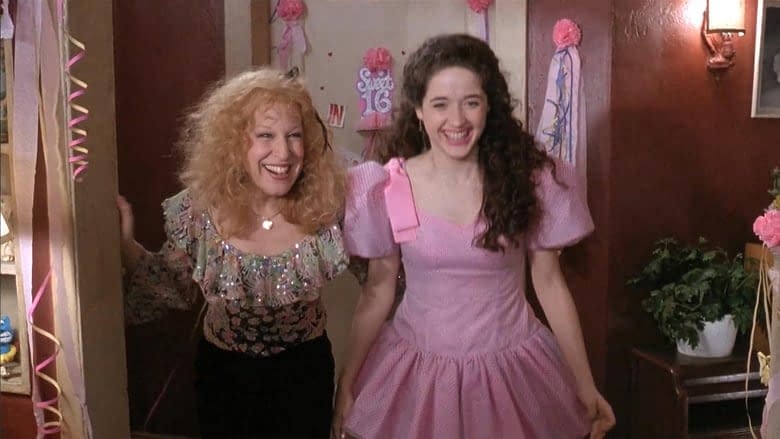 Based on the 1923 novel Stella Dallas by Olive Higgins Prouty, Stella centers on a vulgar, independent, and unfashionable single mother named Stella Claire (Midler) who wants the best for her daughter Jenny (Trini Alvarado). Because Stella raised Jenny on her own, she doesn't have much but will do just about anything to assure her happiness.
When Jenny's father, Steve Dallas (Stephen Collins), comes back into her life, she's torn between the rich lifestyle she's suddenly given and the hard-working and humble life she's used to. Stella realizes this and hopes the contrasts between the two don't jeopardize the bond she has with her daughter.
8. Down And Out In Beverly Hills – 1986 (6.2)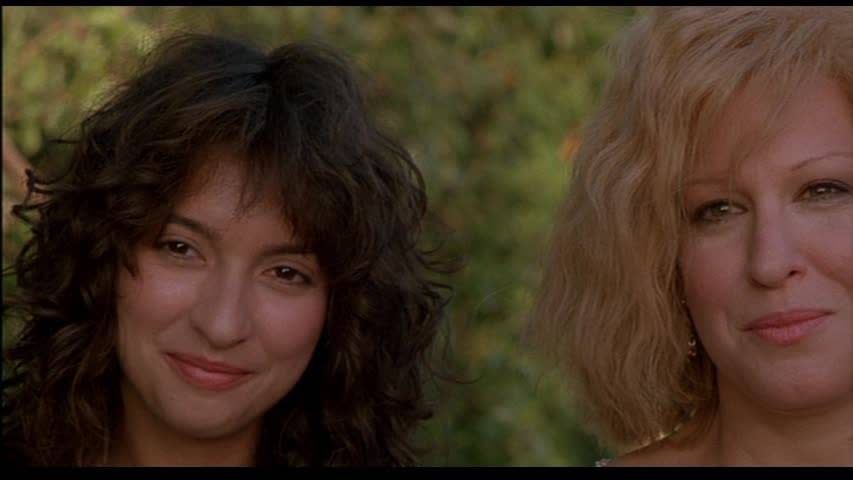 Down And Out In Beverly Hillsis a 1986 comedy film based on the 1919 French play called Boudu Sauvé Des Eaux. The movie follows the wealthy Whiteman family that seems to have everything, but they're extremely dysfunctional in reality. While celebrating Thanksgiving, they realize a homeless man is trying to drown himself in their pool after losing the little he had.
Dave Whiteman (Richard Dreyfuss) invites the man in for a warm meal, and from then on, everything changes. Bette Midler stars as Barbara Whiteman, the unhappy wife of Dave who only cares about materialistic value and is blind to her husband's affairs.
7. For The Boys – 1991 (6.4)
For the Boys is a 1991 comedy-music drama starring Bette Midler, James Caan, and George Segal. Set in the World War II era, a man named Eddie Sparks (Caan) wants to entertain the American soldiers and turns to singer/actress Dixie Leonard's (Midler) for help.
Together, Sparks and Leonard move across the United States with their act and perform "for the boys" to brighten their war-ravaged days. Midler won a Golden Globe award for her performance and was nominated for an Academy Award for Best Actress.
6. Big Business – 1988 (6.4)
Lily Tomlin might be best known today for her hilarious role as Frankie in the comedy sitcom Grace and Frankie, but years prior, she joined Better Midler in the American comedy called Big Business. Tomlin and Midler play two roles as identical twins who are separated at birth. Both sets of twins were born in the small town of Jupiter Hollow, and by accident, they are mixed up by the nurse on duty. As a result, one set lives a humble lifestyle on a farm, while the other lives a charmed life in the city.
Fast-forward to the 1980s, and the long-lost twins are about to come face-to-face when they happen to be at the place where it switch-up happened: Jupiter Hollow.
5. The First Wives Club – 1996 (6.4)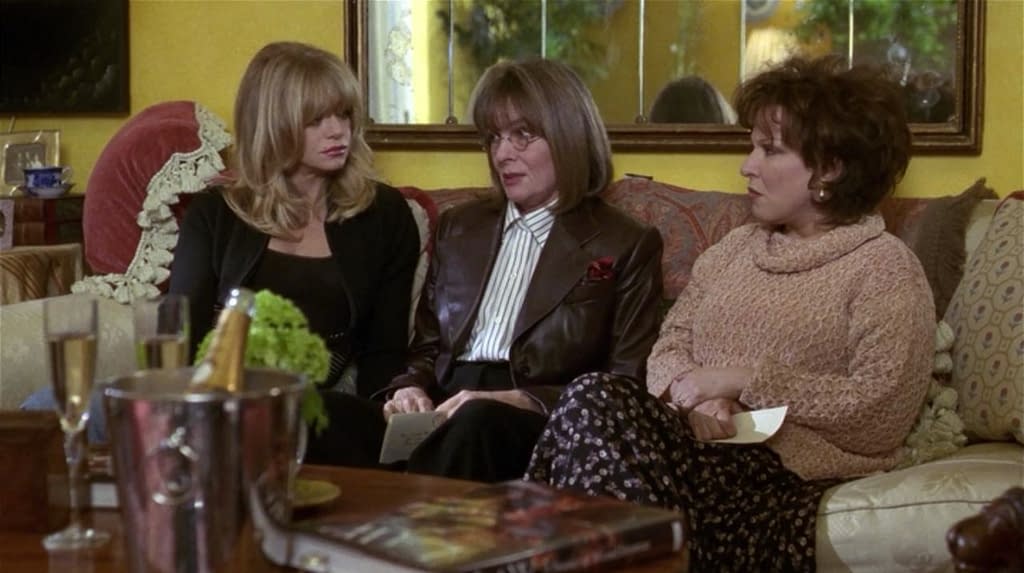 The First Wives Club is a 1996 comedy about three middle-aged women who met in college. Each woman went their separate ways after college, but when their fourth friend, Cynthia Swann Griffin (Stockard Channing), takes her own life, they meet up once again. It's then they realize they're all on the brink of divorce and band together to get revenge on their husbands.
Starring Goldie Hawn, Diane Keaton, and Bette Midler, the movie pays tribute to life-long friendship, sweet revenge, and marvelous music numbers.
4. Ruthless People – 1986 (6.9)
Directed by Jim Abrahams and David Zucker, Ruthless People is a crime comedy about two couples with different motives. The movie's title explains the story well, as manufacturing millionaire Sam Stone (Danny DeVito) despises his wife Barbara (Midler) and plans on killing her for inheritance. Only marrying her for the millions of dollars her father will leave her, he realizes it's going to be a while before he passes away. While planning to run away with his lover Carol (Anita Morris), he arrives home to "end" his marriage but finds that Barbara isn't there.
In an ode to getting revenge on Stone for ripping off their garment ideas, couple Ken Kessler (Judge Reinhold) and Sandy Kessler (Helen Slater) kidnap Barabra and promise to kill her. But what none of them know is, Barbara is much smarter than any of them and has a few tricks up her own sleeve.
3. Beaches – 1988 (6.9)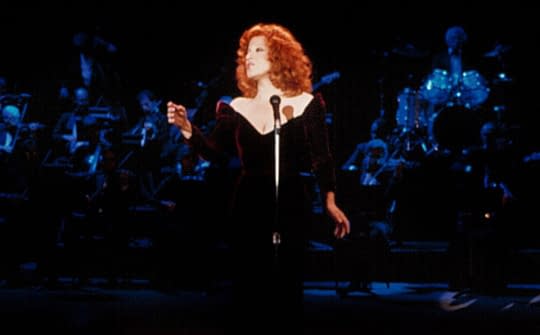 Filmmaker Garry Marshall is known for some of the most beloved rom-com movies like Pretty Woman and Overboard, and in 1988, he decided to release an instant classic called Beaches. Midler stars as CC Bloom, a once-child performer who has an unbreakable bond with a wealthy woman named Hilary Whitney Essex (Hershey). As they grow older, their friendship never wavers, as they write letters to one another and eventually move in together.
The story centers on the trial and tribulations of their interweaving lives, where they eventually find themselves in love with the same man.
2. Hocus Pocus – 1993 (6.9)
One of Bette Midler's most well-known performances is in the 1993 Halloween classic, Hocus Pocus. Starring alongside Kathy Najimy and Sarah Jessica Parker, the trio made history as being one of the most beloved witch sisters in movie history. Three hundred years after the Sanderson sisters were sentenced to death for practicing witchcraft, they come back with a vengeance, thanks to a black candle and a teenager named Max (Omri Katz).
From that point on, Max, his little sister Dani (Thora Birch), and his crush Allison (Vinessa Shaw) are hunted by the sisters to get Winifred's (Midler) spellbook back so they can wrangle in children to regain everlasting youth.
1. The Rose – 1979 (7.0)
Bette Midler's most well-performed movie is Mark Rydell's 1979 drama romance, The Rose. Midler plays the role of Rose, a female rock star who has major similarities to Janis Joplin. The movie mostly focuses on Rose's career, her past substance abuse, finding love, and the success she's found up until this point.
Although she's done well for herself, Rose is utterly lonely and wants to return to her hometown in Florida. Will she find what she's looking for, or will she go down the wrong path? The Rose is an emotionally moving story with an energizing performance by Midler and the rest of the cast.