Peace Sunday: We Have a Dream Concert 1982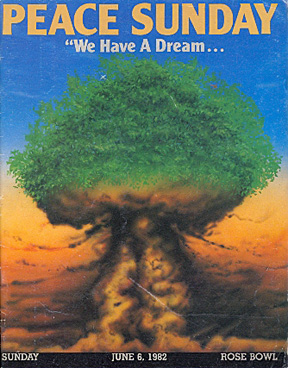 The '70s and '80s were decades that were chock full of big concerts being held for the best of reasons. Sometimes it was to draw attention to human rights issues (the Secret Policeman's Ball, the Conspiracy of Hope tour), sometimes it was provide humanitarian aid (the Concert for Bangladesh, Live Aid), and sometimes – but particularly in the late '70s and early '80s – it was to take a stand and protest nuclear weapons. In 1979, Madison Square Garden was booked from September 19th through the 23rd for the legendary "No Nukes" concerts in New York, which resulted in a triple-album document of the event that featured performances from – hang on, let us take a breath – the Doobie Brothers, Bonnie Raitt, John Hall, James Taylor, Carly Simon, Jackson Browne, Nicolette Larson, Ry Cooder, Sweet Honey in the Rock, Gil Scott-Heron, Jesse Colin Young, Raydio, Chaka Khan, Poco, Tom Petty and the Heartbreakers, Bruce Springsteen and the E Street Band, and Crosby, Stills and Nash. Whew! And that's not even all of the artists who participated: others who were part of the event but didn't find their way onto the distillation of the five shows include Peter Allen, Stephen Bishop, Paul Simon, and Peter Tosh.
In addition to the No Nukes concerts in '79, there was also a notable nuclear disarmament rally on June 12, 1982…notable because it's been called the single largest protest in American history, but also because the event included a concert in Central Park which featured performances from Springsteen, Taylor, Browne, Joan Baez, Linda Ronstadt, and Gary U.S. Bonds, among others. Somewhat less remembered, however, is an event which took place six days earlier – or 32 years ago today, if you hadn't yet picked up on why we decided to write about it – on the other side of the country, at the Rose Bowl in Pasadena, California. It was known as Peace Sunday, and its tagline pointedly paraphrased Dr. Martin Luther King, Jr., with
the poster for the event
featuring the words "We Have a Dream" sitting just above an artist's rendition of a mushroom cloud rising up and transforming into a tree. Yes, we know, it sounds like something Abe Simpson or Jack Donaghy would dismiss as a bunch of hippie malarkey, but they sure did pull together a hell of a lineup for the concert: the participants for this one included Gil Scott Heron, Jesse Colin Young, Graham Nash, Bonnie Raitt, Donovan, Timothy B. Schmidt and Don Felder, Crosby, Stills & Nash, Taj Mahal, Stevie Wonder, Joan Baez, Bob Dylan, Dan Fogelberg, Stevie Nicks, Linda Ronstadt, Bette Midler, Jackson Browne, Garry U.S. Bonds, and Tom Petty. The total attendance wasn't too shabby, either, with over 85,000 people turning up to listen to the music.
June 6, 1982 Rose Bowl, Pasadena, CA
Over 85,000 people showed up at this concert to promote nuclear disarmament. Performers (in order or appearance):
Gil Scott Heron
,
Jesse Colin Young
, Graham Nash, Bonnie Raitt, Donovan, Timothy B. Schmidt, Don Felder, Crosby, Stills & Nash,
Steven Stills
, Taj Mahal, Stevie Wonder,
Joan Baez
, Bob Dylan, Dan Fogelberg,
Stevie Nicks
,
Linda Ronstadt
,
Nicolette Larson
, Bette Midler,
Jackson Browne
, Gary U. S. Bonds, Tom Petty.
Waddy Wachtel – Guitar, Background Vocals – with Stevie Nicks and Linda Ronstadt
Program: Gil Scott Heron – Alien Gil Scott Heron – Please Save The Children Gil Scott Heron – Shut 'Em Down Reverend Jesse Jackson speech Jesse Colin Young – Imagine Jesse Colin Young – Get Together (with Freebo, Susie Young, Graham Nash, Jerry Corbitt) Graham Nash – Military Madness Bonnie Raitt & Graham Nash – Love Has No Pride Donovan – Sunshine Superman Donovan – Season Of The Witch Donovan – Mellow Yellow Timothy B. Schmidt & Don Felder – I Can't Tell You Why Crosby, Stills & Nash – Long Time Coming Crosby, Stills & Nash – Chicago Stephen Stills – Love The One You're With Stephen Stills – For What It's Worth Stephen Stills – Dark Star Stephen Stills & Dave Mason – Hoochie Coochie Man Stephen Stills & Dave Mason – Rocky Mountain Way Taj Mahal – Mailbox Blues Taj Mahal – Stagger Lee Stevie Wonder – Front Line Stevie Wonder – speech and poem Stevie Wonder – Master Blaster Stevie Wonder – Do I Do Stevie Wonder – "We Demand World Peace Today" chant Joan Baez – Do Right Woman Joan Baez – Warriors Of The Sun Joan Baez – Imagine Joan Baez – Diamonds And Rust Joan Baez & Bob Dylan – With God On Our Side Joan Baez & Bob Dylan – A Pirate Looks At Forty Joan Baez & Bob Dylan – Blowin' In The Wind Dan Fogelberg – The Garden Dan Fogelberg – You're Leaving Now Dan Fogelberg – Face the Fire Dan Fogelberg – There's a Place in the World for a Gambler Stevie Nicks – Edge Of Seventeen Stevie Nicks – Sara Stevie Nicks – I Need To Know Stevie Nicks – Rhiannon Ed Asner – speech Linda Ronstadt – Blue Bayou Linda Ronstadt –
The Shoop Shoop Song (It's In His Kiss)
(with Rosemary Butler & Nicolette Larson) Linda Ronstadt & Nicolette Larson – I Only Want To Be With You Linda Ronstadt – Get Closer Linda Ronstadt – Back In The U.S.A. Bette Midler – The Rose Jackson Browne & Graham Nash – Crow On The Cradle Jackson Browne – Running On Empty Jackson Browne – Doctor My Eyes Gary U.S. Bonds & Jackson Browne – Happy Birthday Gary U.S. Bonds & Jackson Browne – This Little Girl Gary U. S. Bonds & Jackson Browne – The Pretender Tom Petty – Well Alright Tom Petty – Not Fade Away Everyone – Teach Your Children Everyone – Give Peace A Chance