ET Online
19 Reasons Why 'Hocus Pocus' Is the Best Halloween Movie of All Time!
by Leanne Aguilera 4:30 PM PDT, October 19, 2016
Let's get one thing straight: Hocus Pocus is the best Halloween movie of all time.
In fact, we love the witchy flick so much that we traveled to Walt Disney World to get our very own Sanderson Sisters-inspired makeover and got an up close look at the "Hocus Pocus Villain Spelltacular" show in the Magic Kingdom. It was wonderfully wicked.
And our obsession with Hocus Pocus continues to grow thanks to Freeform's annual 13 Nights of Halloween line-up, which will play the iconic 1993 Disney film a grand total of TEN times starting tonight at 9 p.m. ET/PT until Monday, Oct. 31. (You can check out the full spooky schedule here!)
To help you get even more excited to watch a virgin light the black flame candle over and over again, ET is breaking down all the reasons why Hocus Pocus is Halloween's greatest cinematic masterpiece.
Don't believe us?
Get ready and watch us prove it"¦
1. Because the Sanderson sisters are the perfect trio of witchy wickedness.
2. Because Bette Midler as Winifred is still hands down the best role she's ever played.
3. Because Kathy Najimy is flawless as Mary and can SMELL when children are near.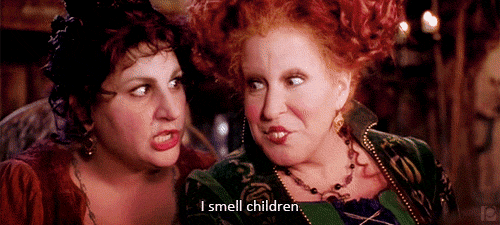 4. Because Sarah Jessica Parker steals each and every single scene in the movie as the boy-obsessed sister Sarah.
5. Seriously just look at how great she is"¦
6. She's perfect.
7.  Because Thackery Bix is a badass human"¦
8. And an adorably ferocious cat.
9. Because even though Max Dennison was a virgin, we all wanted to snuggle up with him.
10. Because Dani is the most fierce 8-year-old we've ever seen.
11. Because the reveal of Earnie's new nickname is still the best haircut of the '90s
12. Because Max cleverly references the movie's title in the best way possible.
13. Because the "I Put a Spell" on your performance made us want to dance until we died.
14. Because Billy was around before zombies became trendy.
15. Because "amok" is the greatest word to chant over and over again.
16. Because we've all desperately wanted to fly on broomstick.
17. Because Sarah's siren song to the children of Salem gets stuck in our heads all year long.
18. Because we all straight up cried when Thackery Binx kissed Dani goodbye and reunited with his little sister.
19. And because Hocus Pocus taught us to cherish each day like its your las.