Starts At 60
Bette Midler edits guns into 'Sound of Music' scene in powerful protest
By Staff
2-25-18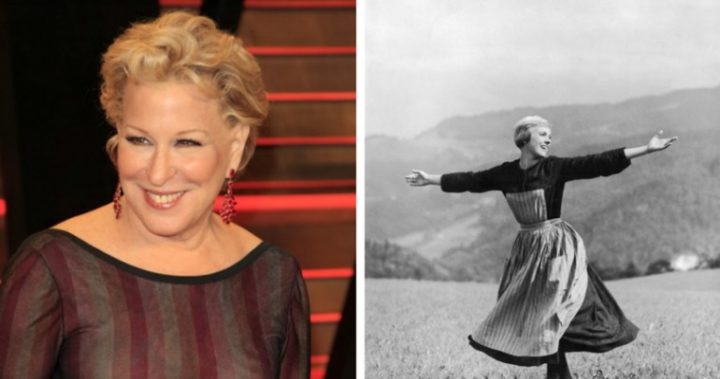 Celebrities across the world are campaigning against US gun laws after a horrific Florida school shooting, but now Bette Midler has taken her protest to a whole new level.
The 72-year-old actress and comedian is known for airing her views on social media site Twitter, and her latest post took direct aim at President Donald Trump's new calls to arm school teachers with fire arms.
Using the iconic opening scene from The Sound of Music, Midler edited on two guns into actress Julie Andrews' hands, which appeared to fire as she spun in circles on the hill singing 'The Hills Are Alive'. Letting the powerful video do the talking, she simply captioned the post: "Enter the choir teacher…"
Enter the choir teacher… pic.twitter.com/dut8Sm2GtV

— Bette Midler (@BetteMidler) February 25, 2018
The tweet received mixed reactions from other users, with many sharing photos of a Photoshopped Trump being held down by FBI, while another photo showed an army man with "art teacher" written across his bullet-proof vest.
One user commented: "You are hysterical, lady!!! And yet, it's sad," while another added: "The hills are alive with gunfire".
Midler herself had shared the "art teacher" post shortly before, as she continues to campaign against Trump's calls for teachers in schools to be armed. She also tweeted: "'Maybe we'll give 'em a little bonus'. Trump tells teachers who 'make $30,000 a year & have to pay for their own school supplies' to arm up."
The US president tweeted on Saturday that teachers should be trained to handle firearms and receive annual bonuses for their efforts.
"Armed Educators (and trusted people who work within a school) love our students and will protect them. Very smart people. Must be firearms adept & have annual training. Should get yearly bonus. Shootings will not happen again – a big & very inexpensive deterrent. Up to States," he wrote.
It comes after 17 people were killed when Nikolas Cruz opened fire with a AR-15 semi-automatic assault rifle at Marjory Stoneman Douglas High School in Florida on Valentine's Day last week.
Trump is facing increasing pressure to increase background checks on those purchasing firearms and tighten laws around the types of weapons available to civilians. The Florida shooting sparked outcry across the US and forced debate about American gun laws back into the spotlight, with thousands of students across the country marching for gun reform.
Rather than seeking to reduce the amount of firearms across the country though, Trump has repeatedly proposed arming teachers with weapons, saying it was "time to make our schools a much harder target for attackers — we don't want them in our schools".